While Denmark's Royal Arena canceled their card for March, European MMA 4 moves forward with another quality card on March 2nd event at Viborg Stadionhal in Viborg. The 4th card of the promotion is headlined by Dane David Rosmon, who has won his last 4 of 5 bouts including a RNC finish at European MMA 3, faces veteran Mario Stapel of Germany. Ivica Truscek (Croatia) will face Ayub Tashkilot (Denmark) in the co-main event. Truscek has lost 6 of his last 7, while up-and-coming "Zap" has won his last 6 of 7. Emil Weber Meek, who was scheduled to fight at Royal Arena 3, will step in to face Danish veteran Frodi Hansen in the biggest challenge in the young Norwegian's professional career.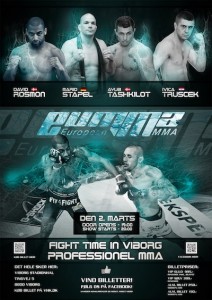 Times for the televised bout are shown below. Doors open at 19.00, and the first bout starts at 19.45.
The card is being billed as the first MMA event in Viborg. See the recently announced fight card below.
Amateur Warm up fight
19.45 – 72 kg Michael Larsen Fightgym.dk vs. Roman Mykytenko Viborg MMA
MAIN CARD – Professionel Fights
Television start
20.00 – 62 kg Matija Truscek (Croatia) 1-1-0 Vs. Kristian Hansen (Denmark) 1-1-0
20.25 – 62 kg Huseyin Garabet (United Kingdom) Vs. Shamal Tashkilot (Denmark) 1-2-0
21.50 – 66 kg Aleksander Sredanovic (Holland) 2-0-0 Vs. Glenn Aannundsen (Denmark) 1-1-0
21.15 – 77 kg Emil Weber Meek (Norway) 1-1-0 Vs. Frodi Hansen (Denmark) 7-5-0
22.40 – 120 kg Wieslaw Kwasniewski (Poland) 2-0-0 Vs. Christian Colombo (Denmark) 4-1-0
Co-Main Event
22.10 – 70 kg Ivica Truscek (Croatia) 20-14-0 Vs. Ayub Tashkilot (Denmark) 9-3-0
Main Event
22.35 – 77 kg Mario Stapel (Germany) 19-16-0 Vs. David Rosmon (Denmark) 9-7-0