European MMA 4 will go down tonight at Viborg Stadionhal in Viborg, Denmark. The card, which is being promoted as the first MMA event in Viborg, is headlined by Dane David Rosmon versus Germany's Mario Stapel. Rosmon has won his last 4 of 5 bouts including a RNC finish at European MMA 3, and will have a stiff challenge against the Hit Squad veteran "Serious" who has racked up 19 wins and 16 losses.
The popular Ivica Truscek (Croatia) will also take on local Ayub Tashkilot (Denmark) in the co-main event. Truscek has lost 6 of his last 7, while up-and-coming "Zap" has won his last 6 of 7.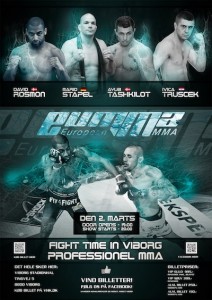 Emil "Maverick" Meek jumps onto the card on late notice to face veteran Frodi Hansen. The Norwegian did his fight camp at American Top Team in Florida to prepare for a bout at Royal Arena, but with the promotions cancellation of the event, he has found a new home with European MMA taking on the Dane Hansen. Hansen has won the last 3 of 4, while Meek is coming off a loss in Denmark at Fighter Gala 26, where he broke his arm early in the bout.
Doors open at 19:00, and first professional bout is at 20:00 local time.
Amateur
72 kg Michael Larsen Fightgym.dk vs. Roman Mykytenko Viborg MMA
Professional
62 kg Matija Truscek (Croatia) 1-1-0 Vs. Kristian Hansen (Denmark) 1-1-0
62 kg Enes Bafra Vs. Shamal Tashkilot (Denmark) 1-2-0
66 kg Aleksander Sredanovic (Holland) 2-0-0 Vs. Glenn Aannundsen (Denmark) 1-1-0
77 kg Emil Weber Meek (Norway) 1-1-0 Vs. Frodi Hansen (Denmark) 7-5-0
120 kg Wieslaw Kwasniewski (Poland) 2-0-0 Vs. Christian Colombo (Denmark) 4-1-0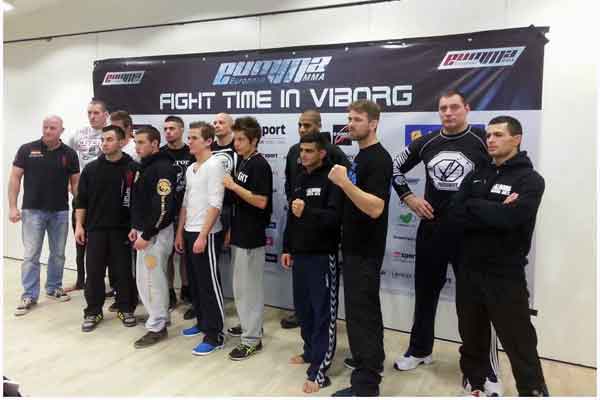 Co-Main Event
70 kg Ivica Truscek (Croatia) 20-14-0 Vs. Ayub Tashkilot (Denmark) 9-3-0
Main Event
77 kg Mario Stapel (Germany) 19-16-0 Vs. David Rosmon (Denmark) 9-7-0
Watch it for free at www.kanalsport.dk. Click on the Unibet banner above to open an account and bet on the main events!