Botnia Punishment has put together another fantastic fight card of international fighters facing up-and-coming Finn prospects on March 23. The event Botnia Punishment XI is headlined by Finland's Katja Kankaanpää and Japan's Mei Yamaguchi, in a much anticipated bouts between two of the top woman's fighters in the world.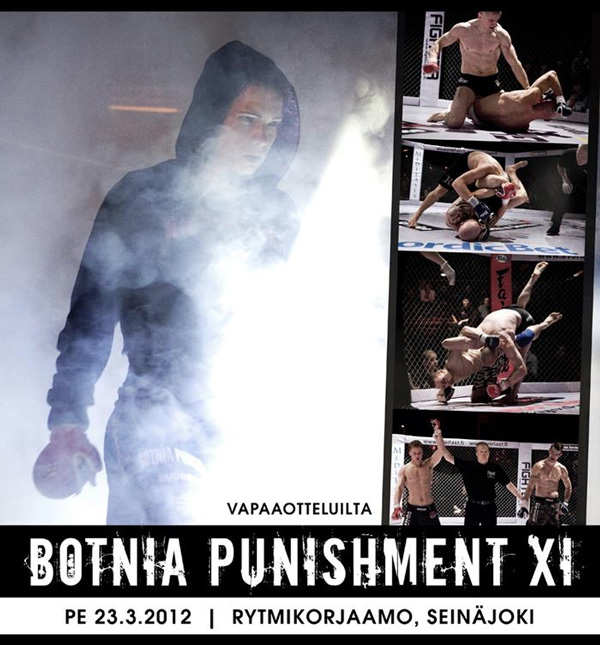 The popular promotion again stages its event at the Rytmikorjaamo in Seinäjoki, Finland. Their previous event "X" in September was hailed for an exciting back-and-forth brawl between the UK's James " Scraps " Saville and Norwegian veteran Thomas "Moon Lee" Hytten, and strong showings by many of the local talent.  Returning to the card from Team Botnia Punishment are Glenn Sparv, who disposed of Czech Republic's Jan Doskocil in impressive fashion at X, and Team BP's Juhani Aho who was caught in a triangle in the first round against the undefeated Finn Tommi Marttinen.
Another bout to keep an eye on is Finland's Greger Forsell training out of Sports Academy No1/ Alliance who will battle against Sergej Grecicho. Grecicho is an amazing ground fighter and has already submitted top Finnish wrestler Jerry Kvarnstrom, and his has only lost to UFC's Jason Young and Tom Miinimäki sine 2006. The Lithuanian will be put to the test against "Grego", who has won the 2010 ADCC European trails and is a BJJ European Champion at black belt.
The big buzz around this card is the bout between Yamaguchi and Kankaanpää. Valkyrie Flyweight Champion "V.V" Mei Yamaguchi (winner of 7 of her last 8) will take on MMA Viking's Nordic's "Woman Fighter of the Year" Katja Kankaanpää at 52kg (114.4 pounds).  Tickets go on sale February 10 at www.netticket.fi.  Read the exclusive interview and lastest fight card below:
Exclusive Interview
MMA Viking talks with Botnia Punishment organizers Markku Lähde and Tomi Nevanpää about the upcoming event.
"For the first time in the history of Botnia Punishment the main event will be a fight between women."

MMA Viking : What should fans look forward to most about BP XI?
Botnia Punishment : As before, we have put a lot of effort in the fight card and in the fighters, so that we can provide an interesting night of fights for as many viewers as possible. This time we have professional fighters from Japan, Brazil, England, Czech Republic, Lithuania and Finland of course.  We won't try to predict the clear winners from any of these matches, that's how interesting and exciting the matches will be.
On the other hand we didn't want to ignore our own, talented amateur fighters who we want to provide an opportunity to fight in a great event in front of the home crowd. A small change in this event is that this time the fights will be in the ring instead in the cage.
MMA Viking : Can this card be seen on-line?
Botnia Punishment : People can watch the event live on the Internet. We want to serve our friends of MMA and our partners by offering the opportunity to watch the matches live. In Finland the distances are quite long and not everyone has the opportunity to be in attendance. Also Rytmikorjaamo-club will be sold out once again, by showing the fights online more fans will have the opportunity to watch them. To ensure high quality of the stream, we will limit the number of viewers.  You can find more information about Botnia Punishment XI by following MMAViking.com, Facebook and botniapunishment.com.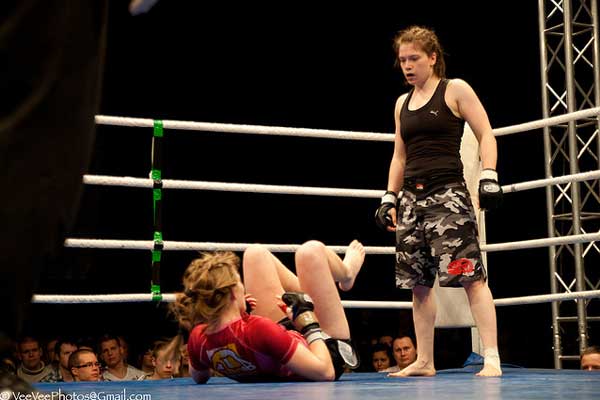 MMA Viking : Katja is ranked #1 in the Nordics.  How does she compare to the rest of the fighters in Europe and the world?  What should we expect from her bout with Yamaguchi?
Botnia Punishment : We were extremely happy when the Nordic ranking list was published. We think that Katja's rank is accolade for herself and for her coaching team for the hard and determined work they have done in Pohjanmaa.  In our opinion, Katja is one of the best in Europe, especially now when she dropped down to -52kg.
Katja is 13th in the world's ranking list in -57kg. That division has lot of great fighters in the top 10. Now when Katja drops down to flyweight, she will not give size advantage to her opponents. We are very excited to get a top level fighter like Mei Yamaguchi to be in Seinäjoki, Finland. The quality of fighters in Japan is staggering especially when looking lighter divisions, so Yamaguchi will be an excellent test for Katja.
The preparation for the match has already started with Marcelo Giudici and Jarkko Latomäki in charge. Katja is fierce, unyielding fighter who has a good chance to win this fight. Katja is also mentally very strong competitor and will lay everything out there both in preparation and in the match. Determination can be seen in the history of Katja. She has black belts in two different styles of Karate, purple belt in BJJ, 1st place twice in Submission Wrestling Finnish Open and perfect 5-0-0 MMA record. We believe that on Friday, March 23, we will see a fierce match in which both will give everything they got and a little bit more.
MMA Viking : How does this compare with other Botnia Punishment Cards?
Botnia Punishment : The basic idea of the previous Botnia Punishment events remains the same, there is no reason to make drastic changes to successful event. We want to maintain a great atmosphere in the event. We make changes based on the feedback our fans give us.
As said before, we want to support young and talented fighters who have earned their spot in the fight card with hard work and dedication. On the other hand, we also want to offer to our fans an opportunity to see fights where more experienced fighters will test each other. These fighters are close to being elite fighters in Europe and the World. For the first time in the history of Botnia Punishment the main event will be a fight between women.
MMA Viking : When and how can you buy tickets?
Botnia Punishment : Tickets will go on sale February 10 at www.netticket.fi. Tickets allocated for the presale were sold out at the last event. Looking at the fight card, this event will be another sell out, once again.
Fight Card
-52kg 3×5 min
Katja Kankaanpää, Team BP / Giudici Team, FIN 5-0-0 vs Mei Yamaguchi, Japan 9-3-1
-65,8kg 3×5 min
Greger Forsell, Sports Academy No1/ Alliance, FIN 4-0-1 vs Sergej Grecicho, The Knight of Plunge, LIT 10-4-1
-77,1kg 3×5 min
Glenn Sparv, Team BP, FIN 4-1-0 vs Danny Mitchell, AVT fight team, England 10-3-1
-59kg 3×5 min
Michal Hamrsmid, GCF Team, Chech Rep. 20-9-1 vs Mikael Silander, EKH, FIN 6-0-0
-82kg 2×5 min
Junior Beltrao, Brasil 3-1-0 vs Jani Myllynen, Gladiator Factory / Team east Front, FIN 1-1-1
-68kg 2×5 min
Juhani Aho, MMA Seinäjoki / Team BP 0-1-0 vs Hannu Suhonen, MMA Utti / Team East Front 0-1-0
Amateur:
-61,2kg 3×3 min
Mikko Lehtinen KKU vs TBA
-62kg 3×3 min
Timo Suihkonen KKU vs Herkko Lokka MMA Kuopio
-65,8kg 3×3 min
Daniel Winiarcyzk KKU vs TBA
-77,1kg 3×3 min
Jesper Mattlar VKK vs TBA
-88kg 3×3 min
Matias Rantala, Mäntän sutemi vs vs TBA
Visit the Botnia Punishment Event Page on Facebook at https://www.facebook.com/events/218931024859200/
"Like" us on Facebook for updates on the Botnia Punishment XI and Nordic MMA.