Exclusive interview from MMA Viking with Victor Cheng immediately after winning the Strikeforce contract through Team Shamrock in 2009.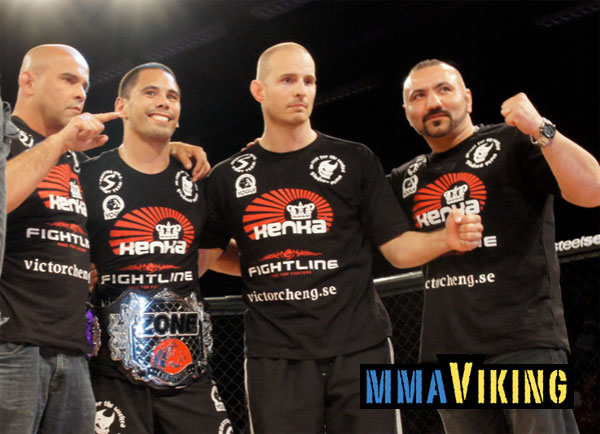 1. Besides the terrible weather in Sweden, why did you decide to go to tryouts in California?
Cheng: I got invited by Frank Shamrock one week before. We saw it as a great opportunity and my team and I decided to go.
2. What was your impression of Frank?
Cheng: I met Frank in the spa area after my first training session on the Thursday. We made plans to meet the following day to train together. It was a great training session, were we spared for one hour. Frank was very humble and his training was very self controlled. Frank is a very friendly and down to earth guy.
3. Do you think that your success will help make MMA more popular in Sweden?
Cheng: Hard question. Going in to MMA, started with me wanting to push myself to be the best I can be. A lot of people that know me did not think the sport reflected me as a person and if anything, I hope my success in the sport will take away some of the ignorance and bad reputation from MMA.
4. Do you think a major organization like the UFC or Strikeforce would ever have a show in Sweden?
Cheng: Who knows, maybe in the future? At the moment there are a lot of rules and regulations for sanctioning professional MMA events, but if the sport can get a better reputation maybe things will change?
5. Who is your favorite fighter, and why?
Cheng: I have so many favorites. But if there is one person that possess all the quality's I admire in a fighter I would have to say Randy Couture. He is not only a great fighter but he seems to have a lot of character.
6. How did you get into MMA, and what has been your training so far?
Cheng: I have a Jujutsu background and have trained karate, boxing, kick boxing and thaiboxing. So it was a natural step to start my MMA training.
7. Lastly, do you have any sponsors you would like to mention?
Cheng: Olimp, TAPOUT (in Sweden), Pitstop, Fight Gear, Kenka and Oskar´s
We thank Victor for his time, and look forward to his continued success!