Fight Night 11 will take placein Kuopio, Finland on September 20th.  The event will bring together an international flavor with Finns taking on fighters from the Nordics including Sweden and Denmark, plus Germany and France.  
Finn Jaakko Väyrynen (6-5-0) and Swede Martin Fouda (4-3-1) will headline the card with a classic battle of neighboring countries.  Fresh off his weekend win at Carelia Fight X, veteran Jerry Kvarnström (11-5) will take on prospect Tommi Marttinen (7-1-0).  Local Elias Kunnas will face Dane Shamal Tashkilot.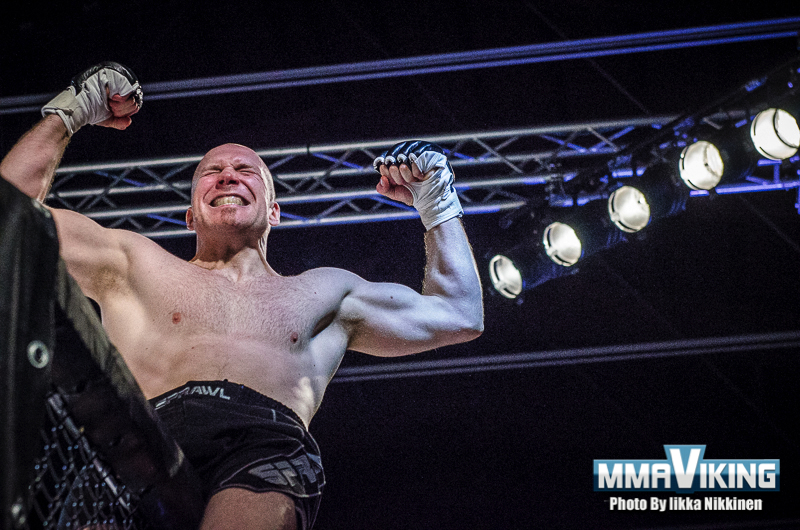 Gladiator Factory, Team East Front and MMA Lappeenranta in association with Finnish Mixed Martial Arts Federation (SVOL) are presenting professional Mixed Martial Arts event in Kuopio-Halli in Kuopio.  There will be 8 professional bouts in the event. All professional bouts are held under Unified Rules of MMA.  All fights are sanctioned by Finnish Mixed Martial Arts Federation (SVOL).  See the fight card below.
Fight Card
Amateur C-rules
Tinja Lesonen, Gladiator Factory vs Heli Siltala, Jyväskylän Fight Club
IMMAF
Johanna Toivanen, MMA Kuopio vs Inka Auvinen, MMA Lappeenranta
IMMAF
Karri Itkonen, Gladiator Factory vs John Tedeschi, MMA Kemi
77.1kg
Mikko Ahmala (2-2-0), Oulun Kamppailuklubi vs Yacin Daji (5-5-0), France
70.3kg
Teemu Matilainen (0-1-0), Team East Front vs Herve Claire (1-0-0), France
70.3kg
Tommi Marttinen (7-1-0), Team East Front vs Jerry Kvarnström (11-5-0), Turun Urheilijat
63.0kg (catchweight)
Elias Kunnas (4-2-1, 1nc), Team East Front vs Shamal Tashkilot (3-3-0), Denmark
56.8kg
Suvi Salmimies (1-0-0), Team East Front vs Tanja Hoffman (2-3-0), Germany
62.0kg
Herkko Lokka (Debut), MMA Kuopio vs Joni Sarkala (0-2-0), Shooto Lahti
77.1kg
Lauri Tonteri (3-3-0), Team East Front vs Ville Vanhanen (1-3-0), Jyväskylän Fight Club
63.0kg (catchweight)
Jaakko Väyrynen (6-5-0), Team East Front vs Martin Fouda (4-3-1), Sweden