Rami Aziz is on a six fight winning streak, including two recent victories in Desert Force, but the Sweden based fighter isn't being considered for a title shot for his new promotion. "I really feel that I'm the best featherweight in Desert Force and I'm ready to prove that." says Aziz to MMAViking.com that wants to take on the best Desert Force has to offer.
Aziz has been relegated to prelim bouts for his first two bouts. "I greatly enjoy competing for Desert Force, who are doing an amazing job promoting the sport of mixed martial arts in the Middle East. At the same time I feel a little overlooked when it comes to more high-profile fights." says the fighter to MMAViking.com.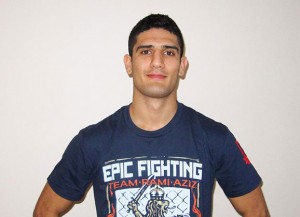 His 7 win and 2 loss record includes a solid win over Finn Jaakko Vayrynen at GCE in Finland last December, and a more recent win over Algerian Elias Boudegzdame (7-3-0) at Desert Force 13 last month has showed he is getting better and better. "I know they won't give me my title shot just yet and Yousef Al-Hamad (3-1) keeps running from me, so I would like to challenge their former lightweight champion Haider Rasheed (4-1) instead."
"Going up against Rasheed who has been the champion in a weight class above mine and who is a Brazilian jiu-jitsu black belt would give me the opportunity to show what I'm made of. If I can finish Rasheed, I think I deserve a title shot." – Aziz
Aziz was born in Iraq, but lives and trains in Gothenburg. The 23 year old has signed a multi-fight agreement with Desert Force.