Rami Aziz (7-3) was submitted by Chabane Chaibeddra (10-4) tonight at Desert Force 16 in Riyadh, Saudi Arabia. "I lost by some reverse choke after 1 minute." says the Swedish Top Team Fighter about the quick finish.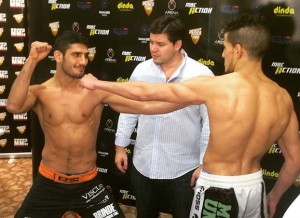 "I will come back and hopefully fight in April or May again." says Aziz who was riding a 6 fight winning streak. "Now I will go home and take care of my daughter and pregnant wife. Nothing is more important than the family. This lost is just part of the game." posts the fighter on Facebook.
It was the first fight that Aziz has been stopped since his debut fight in 2009, where he had an elbow injury TKO.