MMAViking can confirm that Finland's top ranked lightweight Anton Kuivanen (16-4) has been signed by the UFC. Kuivanen will make his Octagon debut at the UFC on Fuel TV event on February 15th in Omaha, Nebraska.  The event will be headlined by the bout between welterweight top contenders Diego Sanchez and Jake Ellenberger at the 10,000 seat auditorium. In his debut the 28 year old Finn will face American prospect Justin Salas (9-3) who is coming off big wins over Rob Emerson and Joe Ellenberger and will also fight for the first time in the UFC.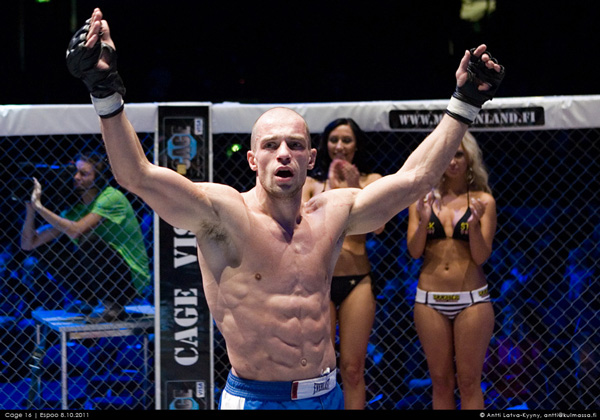 MMAViking  has been keeping close tabs on the Finn. "It's only a matter of time until I fight under the UFC banner" said Kuivanen in a recent exclusive interview. The Finn will have just five weeks to get ready for this UFC debut but he should be close to peak condition already. Just before Christmas Kuivanen spent five weeks training hard at the American Top Team's gym in Florida helping fighters like Jorge Masvidal and Yves Edwards get ready for their fights.

Manager Olli Hartikainen comments on the multi fight deal with the UFC:
"It's was great that Anton's and his crew's hard work finally paid off. Kuivanen has a great professional team behind him that made signing with the UFC possible. I believe this is a significant step not only for Anton but for the Finnish MMA. There are lots of high quality MMA fighters in Finland and I hope that this will open up opportunities for other Finns too."
Kuivanen, who is currently ranked #2 in the European lightweight division, enters the Octagon riding a nine fight win streak. He has run up an impressive 16 win and 4 loss record, including recent victories against highly regarded Thiago Meller (17-5), Ivan Buchinger (18-3) and Tim Radcliffe (12-4).  A crowd favorite in his home country Kuivanen is known for putting up exciting fights and with his aggressive and explosive style he has eight submission and four KO's among his 16 wins.
Despite the fact that Finland has numerous highly ranked fighters, Kuivanen will be only the second Finn to enter the Octagon. The first Finn to fight in the UFC was Tony Halme (aka Ludvig Borga in pro wrestling) who fought and got choked out by Randy Couture in the UFC 13 back in 1997.
Anton Kuivanen is also featured in the Bloody Elbow's 2012 Scouting Report as is his first opponent in the UFC Justin Salas
Like MMAViking and Anton Kuivanen on the Facebook!