Fight UK today announced plans for a "huge 2012". Below is the Press Release sent out by the organization, including the announcement of Mohsen Bahari and Jack Hermansson fighting out of Norway.
Scandinavian wrecking machines Mohsen Bahari and Jack Hermansson, both featured in this year's Bloody Elbow scouting report, have signed to fight at FIGHT UK 7 and opponents will be announced in the upcoming weeks. The event is booked for Friday 6th April and is already filling up with promising bouts.
Hermansson, a Cage Warriors veteran and Team Hellboy member, will be contesting for the vacant middleweight belt and will no doubt be looking to impose his devastating attacking style on whoever lines up opposite him.
I'm very excited to get back in the business. It was a while a go now and I really looking forward to show everybody how I have grown as a fighter and of course a title fight makes it even more exiting. I promise that whoever I am fighting I'm going get the victory in a dominant fashion. – Jack Hermansson, Middleweight Title contender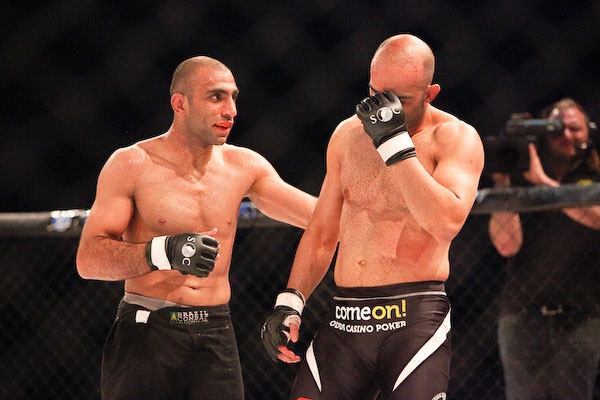 Mohsen Bahari hails from the same camp and, similarly to his team mate, has been cleaving a path of destruction through the welterweight division. Bahari is sure to bring the kind of blunt force knockout power to FIGHT UK that saw him dispose of Leeroy Barnes in just 40 seconds.
Jack Hermansson and Mohsen Bahari are absolute savages. You can't even say they're the toughest guys that nobody has ever heard of anymore since their profiles have risen recently; both these guys are destroyers .I can't wait to see who steps up to face them and I really can't wait to get there and call the action – Ben "The Pen" Cartlidge – Fight UK Commentator
FUK 7 Fight Card – http://www.fightukmma.co.uk/fight-uk-mma-7/