Finn Glenn Sparv is targeting Australian veteran Ian Bone at Nitro 10 for Saturday, October 26th at the Logan Entertainment Center in Logan, Australia.  Sparv, who is now spending time at Team Quest Thailand, is a Botnia Punishment & Team Hobbit MMA fighter with a record of 6 wins and 2 losses.  "Amazing fight!!!" posts Sparv on his Facebook page as he calls out the Australian fighter.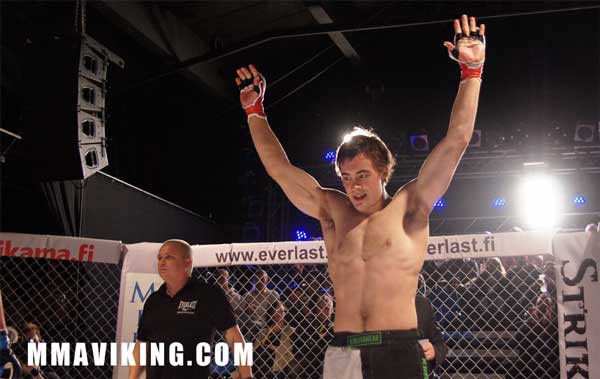 The Vaasa fighter took on Russian Vjatseslav Andrejev at Lappeenranta Fight Night 8 in April. Sparv that bout with a sloppy takedown attempt that put him in trouble against the Russian opponent laying down heavy leather.  Sparv eventually took Andrejev back and pounded him with heavy strikes that made the ref wave off the fight.  Before this bout, the Finn had an exciting bout with Sweden's Jonatan Westin where he lost by decision.
"Getting hyped up pretty good right now so they have to give it to me" says Sparv to MMAViking.com about the proposed match-up.
The Finn is targeting Bone who has a record of 10 wins and 7 losses.  The Body Torque fighter is from Australia and has been fighting professional MMA since 2007.  He started his career wining his first 6 out of 8 bouts, however recently has been on a downslide winning only one of his last four.  "Hitman" will squeeze in one more bout before facing Sparv, as he is set to take on Rob Guiffrida at Roshambo MMA 2 in Australia in September.
Watch SparvHighlight Video
Nitro 10 will take place Saturday October 26th at the Logan Entertainment Center in Logan, Australia.  Most bouts are streamed live, so stay tuned for more information.

Ian Bone – Picture from SHERDOG.COM
While Sparv says the bout is "not yet official", he is still hopefully the bout signature will be coming soon.