Finnish flyweight Mikael "Hulk" Silander is taking on Ireland's Neil Seery today for the CWFC flyweight title. You can read the play-by-play and results.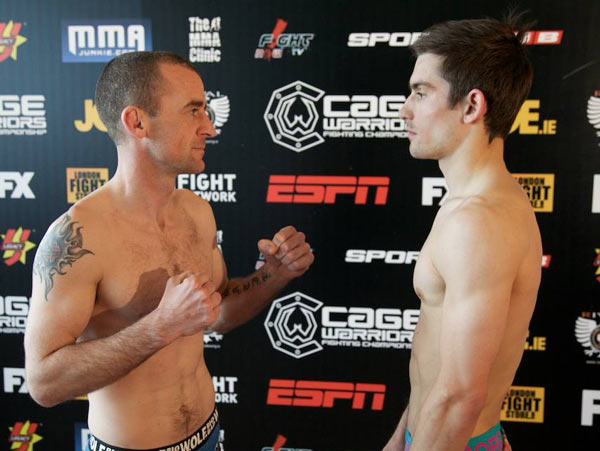 Live Results and Play-by-Play
Silander is the first to enter the cage, but it's the second fighter Neil Seery that gets the big cheers.
Silander is slightly taller than the Dublin fighter as the meet in the center of the cage.
Round 1
The finn is wearing white shorts with black trim. Seery tries to use a jab early, and catches Silander with an overhand right. The 125 lbs. are quick, and look for big punches early. Nice punch from Silander and he drives his opponent to the cage, where the Finn shows his strength. The local gets free, and now looks for some bombs. The two continue to trade with less than two minutes to in, and a standing head triangle, and its tight. Silander is cranking it, but no tap. So close, but Seery is out. Silander gets back on top, and with time running out tries to lock up a guillotine.
Round 1 for Silander
Round 2
Both fighters are still fresh and throwing sharp punches. Nice combination 1 minute in from Silander, but Seery lands a couple of solid shots, and Silander shoots in for a slick double-leg take-down. Three minutes on the clock, but Seery is able to escape
Seery catches the Finn off guard with a take-down of his own, but the two scramble and it's Silander with a double-leg take down. Seery looks to lock up a guillotine as The finn brings it to the ground. There is blood from the head of the Finn. After a minute on the ground, the two are brought to the feet. Seery is landing again with some nice shots. Silander with a nice headkick, and the pace quickens to a flurry at the end of the round.
Round 2 for Seery
Round 3
Seery again has the advantage on the feet, landing some nice punches. The Ireland fighter switches stances allowing for diversity from the local.
Another head but, with Silander complaining and the ref stops the bout to warn the fighter. Silander is rocked with a big left hand, and he is wobbled. Seery lands another right hand. Silander has enough, and he shoots in for a double leg and finishes it. No real offense from the Finn, and this fight might be stood up soon. Silander working to work his top game, but it's Seery that looks for an armbar near the cage. And the Irish fighter locks it up and forces a tap for a finish and a win. 3:57 into round 3.
This bout was awarded "Fight of the Night" for the Cage Warriors 55 card.