Iceland's Gunnar Nelson will face Russian Omari Akhmedov March 8th at the UFC in London.  The UFC made the rumored bout official today.
"Gunnar Nelson will put his undefeated record on the line against Omari Akhmedov at #UFCLondon on March 8th" Tweeted the UFC UK.  Last week, it was the Dagestan fighter that let the cat out of the bag by Tweeting  "Verbally agreed to fight vs Gunnar Nelson, March 8, London UFC FN. It should be fun)"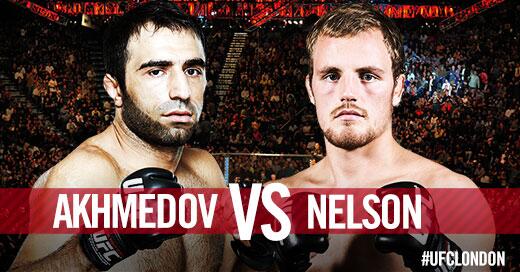 Akhmedov is a 26 year old middleweight, who will be dropping to welterweight to face Nelson. The Russian fighter has a 12 win and 1 loss record, and is a Sambo expert.
He victorious in Brazil against Thiago Perpetuo in a fight of the night with a KO at 3:31 in round 1 at last month's UFC Fight Night 32.
Nelson most recently made news by surviving a car crash where he was a passenger in a pickup.  The car rolled down a hill and into icy river just one meter from deep, rushing waters.
The welterweight sensation from Mjölnir has not stepped into the Octagon since February where he faced Jorge Santiago. Nelson won this bout, which was also against an opponent in Santiago that was dropping from middleweight to welterweight.
Nelson has an overall record of an undefeated 11 wins, 0 losses, and 1 draw. He previously beat DaMarques Johnson in his Octagon debut in 2012.
The March 8th card also includes Nordic Swedes Alexander Gustafsson and Ilir Latifi, and the event will kick-off the UFC European Tour.