Finn Patrik Pietilä (3-2) will be headlining his first card as Fight Night Finland (FNF) puts on their 11th show on November 14th. "It's freaking awesome!! I started MMA 2012 January and now I am headlining this event" says the Lahden Gentai / Primus Fight Team member to MMAViking.com.
Pietilä is carrying a three fight win streak.  The Finn will face Egor Oleksii from Lithuania who upset Primus Fight Team's Patrik Kapanen with a third round armbar on October 10th.
In addition to Pietilä, the Karkkila Fight Night card will feature Finn Aleksi Toivonen, both of whom were victorious at FNF's previous event in Turku.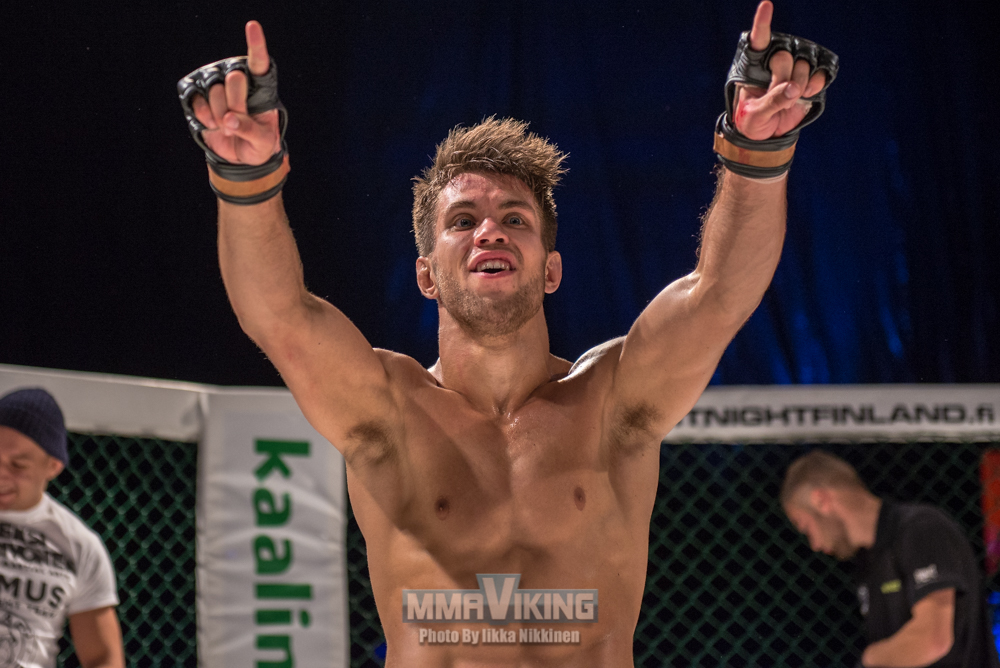 Toivonen is facing Harri Määttä from Oulu. Toivonen is a decorated grappler and Määttä is coming back from a two and a half year long layoff.
"He's undefeated, all around a very good fighter. Harri is a great test to see where im at. Im really looking forward on laying on top of him for three long rounds." – Toivonen
Niko Myllynen has also been signed to the card, but is without an opponent. Myllynen previously fought at Cage 31 in september and secured a victory there with a RNC over Ash Griffiths on the first round.
The card will have IMMAF and Professional MMA bouts. Featured on the card is a standup bout between Amateur world MMA champ Minna Grusander and European Muay Thai Champ Heli Salapuro.
Atte Alakortesniemi and Aleksi Lukkarinen have previously fought as amateurs and both are now making their pro debuts. Their amateur contest was won by Aleksi Lukkarinen. Alakortesniemi has a victory over Kennet Mattsson.
Fight Card
PRO MMA RULES
70.3 kg
Patrik Pietilä vs Egor Oleksii, Lithuania
70.3 kg
Niko Myllynen vs TBA
59 kg
Aleksi Toivonen vs Harri Määttä
75 kg
Atte Alakortesniemi vs Aleksi Lukkarinen
73 kg
Hannu Nylund vs Jesse Koivuniemi
IMMAF
83.9 kg
Lassi Isometsä GB Gym vs Mikko Kolehmainen MMA Hämptön
83.9 kg
Mikko Koivumaki Sankukai vs TBA
77.1 kg
Riku Westman Hipko vs TBA
70.3 kg
Mirko Mäkinen MMA Karkkila vs Tommi Alatalo Barreto Lahti
70.3 kg
Devid Leichner GB Gym vs Kevin Nieminen BJJCenter
+ 93 kg
Antti Halonen GB Gym vs Timo Anttila Grappling Team Pori, Pystyottelu
OTHER
53 kg
Heli Salapuro vs Minna Grusander