For those watching the Nicolas Dalby's unlikely comeback in round three of his main card fight at Fight Night Dublin, it might have just looked like one of the biggest momentum swings in the Octagon that you have ever seen. For the 'Sharpshooter' and coach Tue Trnka, the 60 seconds between rounds two and three was a culmination of being at each others side nearly every day for the past 10 years (10 years, and 2 days to be exact).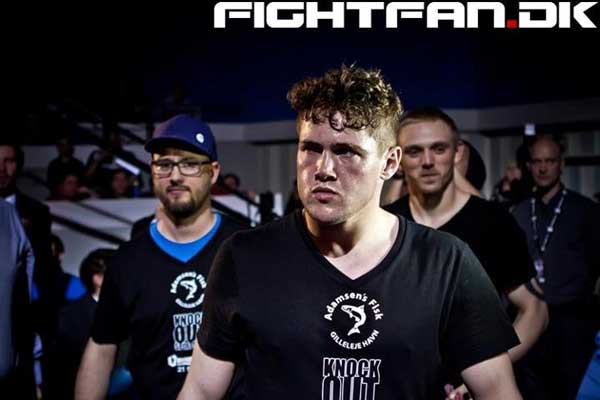 On October 22, 2005 Nicolas Dalby was just 20 years old and stepped into the cage for his first amateur fight at Fightergalla 1. Only a few weeks prior to that, he started working Tue Trnka and after his debut he decided that he would train full time with the Copenhagen coach.
Without on blemish on his record since then, it was a 30 year old Dalby headed back to the same coach, this time feeling dejected in the Octagon in front of 10,000 screaming fans and a relentless, undefeated fighter getting ready to try to finish him off.
"I was thinking about quitting" says Dalby to MMAViking.com.
The Dane had little effective offense and was being beat to every punch, absorbing straight left hands to the face, knees to the body, hard kicks to his lead leg, and even getting dropped. "Nothing was working." said the 30 year old.
The Rumble Sports head coach knew early that fight the wasn't going Dalby's way. "He tagged you with an uppercut, buddy." said Trnka as his pupil stumbled back to the corner after the first round asking "Whoahhhhhh…. What was that?".
The undefeated welterweight had just picked himself up off the floor after getting knocked down and swarmed on by a massive Darren Till (13-0-1) who was looking to stop the Dane before he was saved by the bell.
OHHH! @DarrenTill2 drops Dalby to end the first round! #UFCDublin https://t.co/nRE9LUQN8a

— UFC (@ufc) October 24, 2015
What fight fans don't know, is that Dalby had spent 8 weeks of his camp training as a southpaw. And the gameplan was to give the southpaw a taste of his own medicine with a surprise "switch hitting" strategy Trnka revealed to MMAViking.com. But, for some reason Dalby didn't use it in the first 10 minutes.
I guess he was "saving the good stuff" laughs the still emotionally drained coach, who tries his best to recollect all his thoughts and action in the "emotional roller coaster" battle.
"I didn't feel like being there." – Dalby
"I had that feeling that I wanted to save the weapon. I didn't want to do it from the beginning." says Dalby that took 10 minutes of punishment from the awkward angles the southpaw presented without making any adjustments.  
All the buildup of the "O MUST GO" of the undefeated fighter matchup and the pressure of a country's hopes of their only UFC fighter looked to be getting the best of the Sharpshooter.
"I knew that I had to make the speech of a lifetime." – Trnka
Dalby walked back after the second and told me "I think I'm done… I don't want to go on." says Trnka.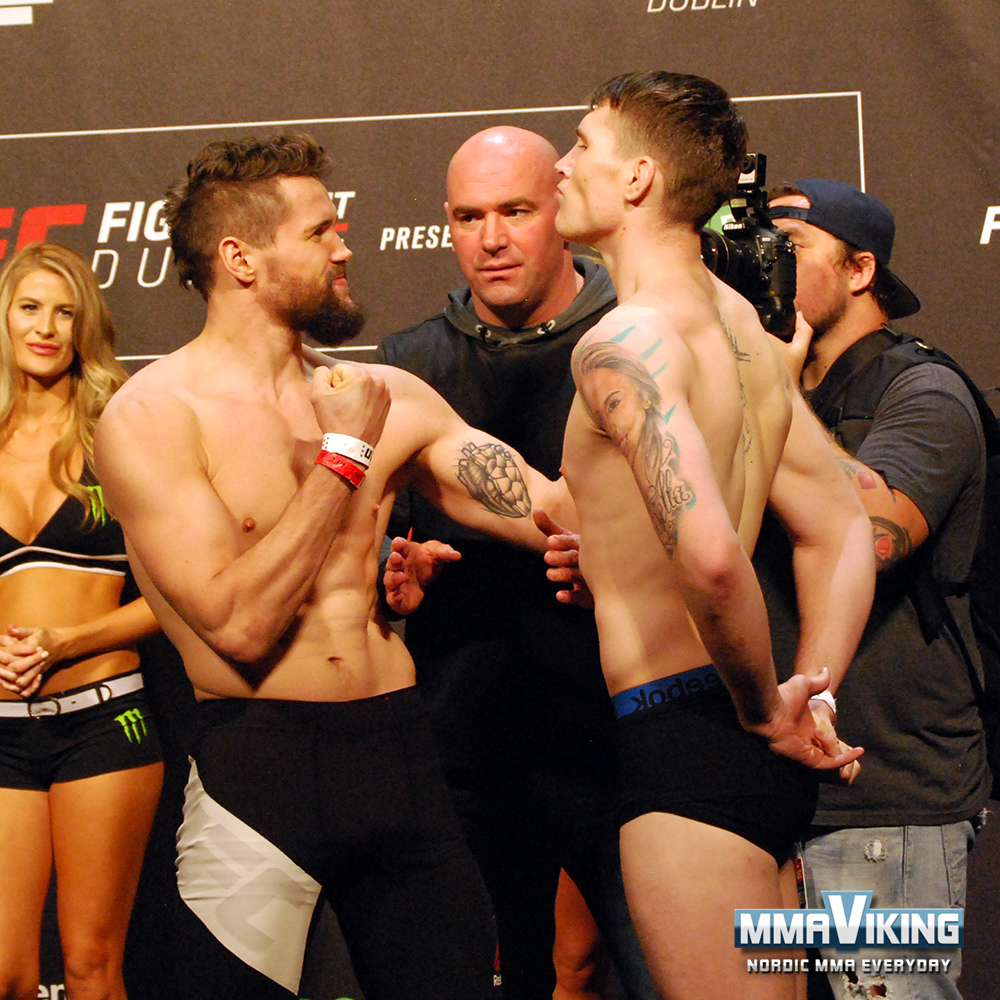 "I had to change his life, in less than 60 seconds." remembers the head of Rumble Sports as he searched for a message that could get through to his mentally and physically beaten fighter. "I looked deep into his eyes and soul, I told him listen."
The message was clear, and Trnka had a vision for a three-step plan to turn it around.
1. FAITH
"I absolutely know you can win this fight, you just need to do what I tell you. If I believe in you, can you believe in yourself?" remembers Tue about using his fighter's faith in him, when Dalby's faith in himself was gone. "Yes, I can believe in myself", was Dalby's answer. "I just had to reignite his own selfbelief via his faith in me."
2. MOTIVATION
"This is for the rest of your life, son! You have an entire nation behind you, and you need to go out there and represent Dannebrog (the Danish flag). No more waiting! You need to make that decision, right now. WILL YOU OR WON'T YOU FIGHT." asked the coach. "I WILL FIGHT" said Dalby.
3. TECHNIQUE
"Alright then, I need you to attack hard! You must change the angles, use your switchhitting and throw the one-two and bring up the left highkick as a southpaw." ended the message to get his man emotionally charged and ready to go with a specific plan of attack.
Trnka remembers joining his best friend and other cornerman Mats Nilsson. "Listen…. He is going to do it!" said one coach to the other as the fighters touched gloves for the final frame.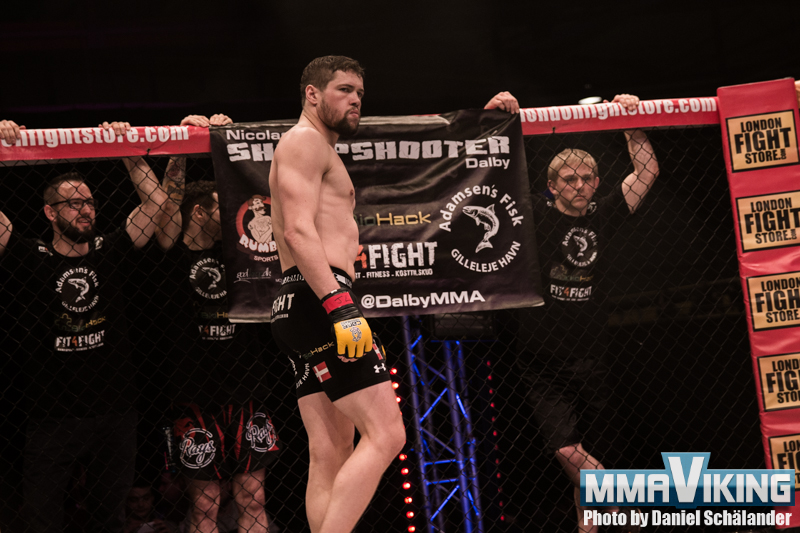 The rest is history.  Dalby went out with "sparks coming out of his ass" and is was a head headkick to start the round and another headkick two minutes in (with a switch hitting stance) that lead to a dominant 10-8 round in two of the judges eyes leading to a miraculous come from behind majority draw.
"He turned the ship around" recollects Nicolas about the pep talk. I don't remember his words, but I remember the feeling." says the Rumble Sports fighter that is happy the fight is behind him.
"I will wait a couple weeks" before watching that fight admits the welterweight that earned himself Fight of the Night honors, $50,000, and a spot at the UFC post-fight press conference.
"Most of the fights we win, I really don't have to be coaching at. The fighters are winning from the get-go, and it's all about reminding them about details, they already know. Anyone from the gym can do that" admits Tue of his role with the Rumble Sports squad that have dominated many fights in and outside of Denmark without any cageside assistance.
"I guess all I have been doing for these last 10 years was one big build-up to this very moment." – Trnka
"As a coach, you are not defined by the easy fights you win. You are defined by the fights you are losing badly, and you manage turn around." says Tue who conjured up inspiration of his speech to Dalby from this Teddy Atlas saying.
"Maybe I am reading into it, but in some weird way it was a perfect way we can celebrate the 10 year anniversary. Helping me overcome the hardship and turning it around to being a win." says Dalby, who has savored the comeback feelings. "It was perfect."