Top ranked Finnish lightweight Juha-Pekka Vainikainen lost to Shamil Zavurov at the New Fighting Championship yesterday in Makhachkala, Russia.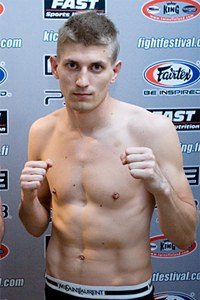 Vainikainen and Zavurov battled over three rounds, and the fight went to a decision at "Battle of the Stars".
The Finn hadn't loss in over two years and had racked up impressive 9-0-1 with seven finishes in his last ten fights dating back to October of 2010.
Among those are wins over UFC veterans Kyle Watson, Steve Lopez and Brian Geraghty. Vainikainen's was coming off a win this past October at Fight Festival 32 where the Finn choked out his opponent Antun Racic with a guillotine choke in the second round.
The bout against Zavurov is a setback for the Finn on the verge of getting back to a bigger promotion.  Vainkainen now holds a record of 20 wins and 6 losses.
Shamil Zavurov is a former M-1 veteran and now holds an impressive 20 win and 2 loss record. Zavurov lost the M-1 belt in a rematch to Yasubey Enomote a year ago when the Swiss made Zavurov tapped to a guillotine choke in the fifth round with just 50 seconds left in the bout. In April the 28 year old destroyed Ukranian Anatoly Safronov in three minutes and won by TKO. Zavurov holds notable wins over Yasubey Enomote, Tom Gallicchio and Vener Galiev.
Zavurov vs Vainikainen at New FC