Sirwan Kakai (12-3) will make his Bellator promotional debut against Joe Taimanglo (21-6) on the fourth and final main card slot on March 4th.  The Bellator 151 card goes down at the Winstar World Casino & Resort in Thackerville, Oklahoma.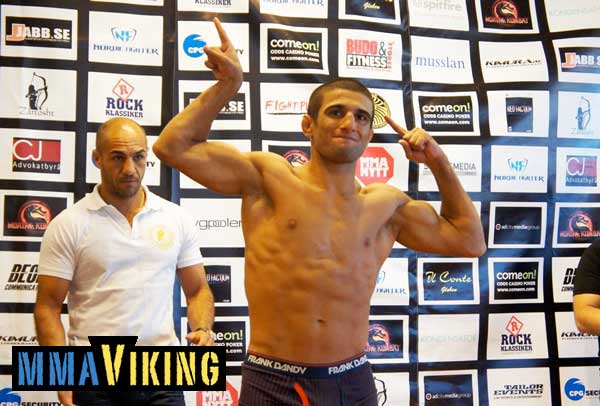 Kakai is one of Bellator MMA's latest signings, joining the fray after a two-fight stint in the UFC where he had one win and one loss. "Zohan," 26, hails from Sweden and owns 10 finishes in his 12 victories as a professional fighter. With a bantamweight title fight one-week prior and another marquee 135-pound pairing in the main event, it will be interesting to see what a win does for the American Top Team in the grand scheme of things.
Taimanglo will be making his seventh appearance under the Bellator MMA umbrella, and is riding a two-fight winning streak. A Guam-native, "The Juggernaut" has stopped his opponent in 21 of his victories and has only lost twice in his last 14 fights. Look for the 31-year-old to make an impression against the bantamweight division's newest commodity.
https://www.instagram.com/p/BBLNzvyubTc
Check out the full fight card here.
Updated "Bellator 151: Warren vs. Caldwell" Fight Card:
Bellator MMA Bantamweight Main Event: Joe Warren (13-4) vs. Darrion Caldwell (8-0)
Bellator MMA Welterweight Co-Main Event: Gilbert Smith (12-4) vs. Fernando Gonzalez (24-13)
Bellator MMA Featherweight Feature Bout: Goiti Yamauchi (19-2) vs. Bubba Jenkins (10-2)
Bellator MMA Bantamweight Feature Bout: Sirwan Kakai (12-3) vs. Joe Taimanglo (21-6-1)
Preliminary Card:
Bellator MMA Featherweight Preliminary Bout: Chris Jones (10-3) vs. Ray Wood (5-1)
Bellator MMA Bantamweight Preliminary Bout: Steve Garcia (6-0) vs. Ricky Turcios (5-0)
Bellator MMA Welterweight Preliminary Bout: Justin Patterson (6-1) vs. Chance Rencountre (8-1)
Bellator MMA Featherweight Preliminary Bout: Treston Thomison (8-4) vs. Aaron Roberson (5-3)
Bellator MMA Welterweight Preliminary Bout: Roger Carroll (16-13) vs. Neiman Gracie (3-0)
Bellator MMA Middleweight Preliminary Bout: Derek Palmer (Debut) vs. Jermayne Barnes (0-1)
Bellator MMA Featherweight Preliminary Bout: Shane Peterson (13-4) vs. Stephen Banaszak (5-5)