Top ranked Katja Kankaanpää (8 wins, 1 loss, #1 Nordic Woman) remains a staple draw of Lappeenranta Fight Night 10. Although the card took two big hits today, first losing Toni Tauru and Mikko Rupponen (reported by Fightsport.fi) to the card, Killer Bunny will take center stage on the co-headlining bout again as one of the premiere women fighters in the world . The Fight Night 10 card in Lappeenranta goes down this Saturday, May 17th.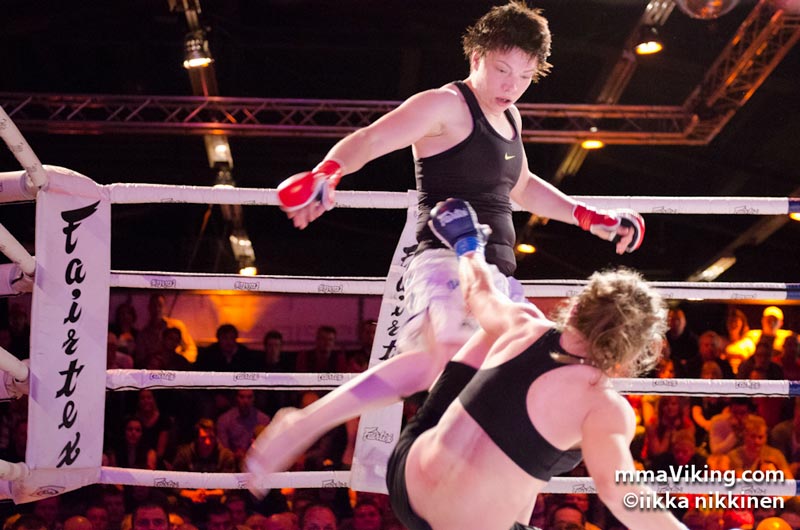 Finn Jani Ridasmaa (4-2-0), Team East Front, will  be headlining the card against the UK's Andrew Elliot (4-1), Silverbacks MMA.
The promotion sent out an updated fight card and viewing information, which can be seen below.
Press Release
Highly anticipated clash between Europe´s top female strawweights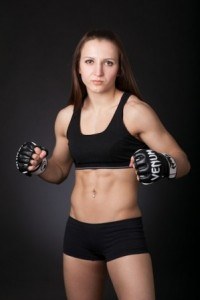 On May 17, 2014 in Lappeenranta Finland, all eyes will be on the co-main event of the evening when local powerhouse Katja Kankaanpaa will face Ukraine´s grappling specialist Alyona Rassohyna at Lappeenranta Fight Night 10.
Both are experienced MMA artists with extraordinary fighting styles and a guarantee for an entertaining 3-rounder.
Kankaanpaa with 8-1-1 needs to get back on the winning track since her decision loss to Joanne Calderwood on December 7, 2013. Back in the days she dominated some of the best in the business and gained international reputation.
For the 23 year old Rassohyna, this could be the breakthrough fight to step onto the big stage. With 8-2-0 and a four fight winning streak (all by submission/armbar) she was still not on the radar of most of the matchmakers but proved that she belongs to the best.
EVENT INFO:
FIGHT NIGHT 10
17th May 2014, Lappeenranta Finland, Icehockey Hall, Kisakatu, Kisapuisto
Tickets: Buy Here
Watch live on pay-per-view stream (appears on fight date):
WWW.FIGHTNIGHT.FI (7 EUR/whole event)
Event starts 6:00pm (EEST)

FIGHT CARD
Jani Ridasmaa (4-2-0), Team East Front vs. Andrew Elliot (4-1), Silverbacks MMA, UK (Main Event)
Katja Kankaanpää (8-1-1), Team Botnia Punishment vs. Alyona Rassohyna (8-2-0), Ukraine (Co-main event)
Antti Virtanen (7-5-1), MMA Imatra vs. Anton Telepnev (7-3-0), Venäjä
Jamba Elonen-Kulmala (9-4-0), Espoon Kehähait vs. Vitaly Branchuk (11-3-0), Ukraine
Aleksi Mäntykivi (4-3-0), Team East Front vs. Paul Attwood (1-0-0), Silverbacks MMA, UK
Vuokko Katainen (2-1-0), Team East Front vs.Kate Jackson (4-2-0) Koncept Gym, UK
Lauri Tonteri (3-3-0), Team East Front vs. Paul McGinty, SilverBacks MMA, UK
Suvi Salmimies (0-0-0), Team East Front vs.Clemence Schreiber (0-3), Crossfight, France