Swede middleweight Kristian Lexell will face Sam Boo in Karlstad, Sweden this Saturday night on the Vision "Fight Night 1" card. When officials sent the latest fight card on Wednesday, "Lex" was still left off the card without an opponent.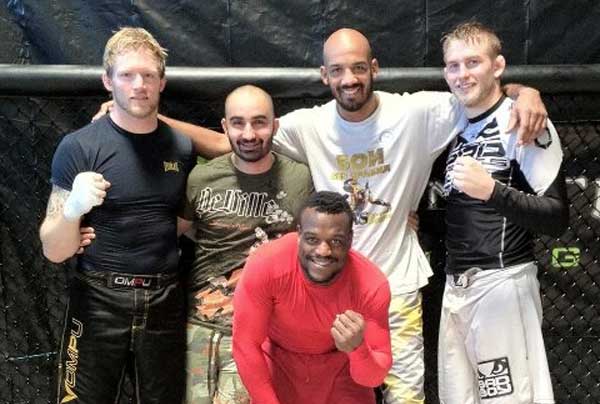 "Yes, unfortunately it doesn't look like I'm getting a fight. They're still trying and there's still a little hope." Lexell told MMA Viking yesterday, but it looks like an opponent came through in the House of Pain opponent out of England Sam Boo.  The tip on the opponent came from Kimura's Simon Kolle, who was on-hand at the weigh-ins.
About Kristian Lexell:
Kristian Lexell is a veteran of fight sports, with MMA bouts going back to 2001, plus boxing and Muay thai experience. The Swede returned to the cage in 2011 after a four year absence, and has since collected two wins with one loss. Known as "Lex", the powerful middleweight trains at Stockholm's Nexus Fight Center. The Gothenburg native won MMA Viking's KO of the Year in 2011 with his KO of Allan Love at Battle of Botnia 4. Lex most recently won a Muay Thai match at Söderslaget in December at Nexus Fightcenter.
For more information visit Sherdog's FightFinder and www.kristianlexell.net. Lex is sponsored by OMPU (www.ompu.com) and Sthlm Shoot (www.nexusfightcenter.se).
Fight Card
Jani Lax VS Bobby Mcvitie – kl20,50 – TF -70,3kg
Jonatan Westin vs Robert Radomski – kl20,25 – TF -77,1kg
Thomas Moon Lee vs Niklas Bäckström kl20,00 – CTF- 65,8kg
Dennis Erdogan vs Niclas Danielsson kl19,40 -77,1kg
Sharyar Shayar vs Marcus Andersson kl19,20 – 83,9kg
Johan Sjölin vs Botan Tokay kl19,00 – 65,8kg
Håkon Foss vs Nisse Påholm kl18,40 – 77,1kg
Jonas Krus vs Mikael Gustavsson – kl18,20 -120,0kg
Kenny Karlsson vs Emil Alqvist – kl18,00 -70,3kg
Kristian Lexell vs Sam Boo –  – 83,9kg