This Sunday in Gothenburg Sweden is it time for the The Zone FC's "Demolition". In the promotions 10th outing, their is a lot of buzz with the top Nordic middleweights Tor "The Hammer" Troeng taking on Mats Nilsson in one of the most high-profile Swede-versus-Swede MMA bouts ever. In addition, there are three much anticipated title fights featuring top Swedish prospects Assan Njie, Martin Svensson, and Sirwan Kakai facing international competition.  As a reminder, this is Sweden so all the professional MMA fights are three rounds, even the title fights.
Welterweight 170 lbs – The Zone FC Title Bout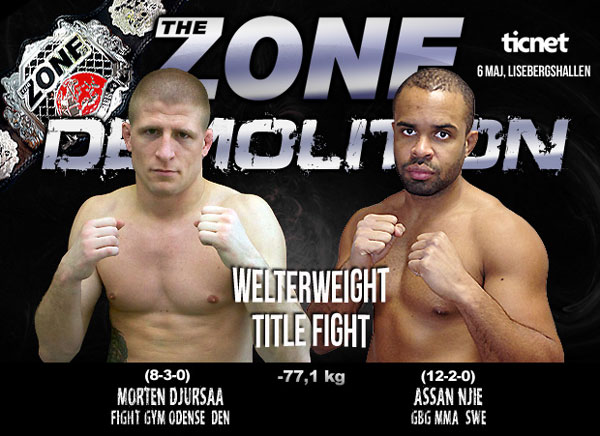 Assan "The Black Attack" Njie
Country: Sweden
Record: 12-2-0
MMA Viking Nordic Ranking : #4
Last Fight: Win over Steven Ray by submission (guillotine choke) 2:29 R2
5 Last Fights: 5-0-0
Morten Djursaa
Country: Denmark
Record: 8-3-0
MMA Viking Nordic Ranking : Not Ranked in Top 5
Last Fight: Win over Andrius Ordoyan by TKO 4:07 R1
5 last fights: 4-1-0
Danish Champion in Thaiboxning 2006
After the champion in the weight class Besam Yousef got signed by UFC, The Zone called Assan Njie that fights out of GBG MMA and give him a shot at the now vacant title after moving down from middleweight. After Njie's slick win at Cage Warriors Fight Night 4 over the UK fighter Steven Ray by a guillotine choke in the second round, Njie looks ready to take on anyone.
Njie is also used to fighting on home soil after being on Superior Challenge fight-cards three times, winning all those fights against competitors like Sean Salmon, Beslan Isaev and Tomas Kuzela. But this will be his first fight in Gothenburg. His first opponent was the Croatian fighter Ivica Truscek but he got injured during his camp.
As replacement comes the Danish fighter Morten Djursaa that fight out of Odense in Denmark. During his career he has won the Danish championship in thaiboxing, headline an event in his hometown of Odense and won that fight by TKO. But he also have a loss to The Zone FC featherweight Champions Martin Svensson, but that was 4 years ago and Djursaa har evolved since that fight and is now in a title fight.
Featherweight 145lbs – The Zone FC Title Bout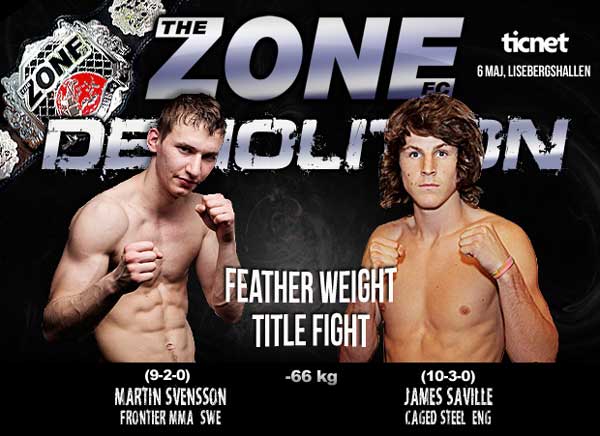 Martin Svensson
Country: Sweden
Record: 9-2-0
MMA Viking Nordic Ranking : #3
Last Fight: Win Over John Cullen by submission (triangel) R5
5 last fights: 4-1-0
Note: Is reigning featherweight champion for Scottish Fight Challenge
James "Scraps" Saville
Country: Great Britain
Record: 10-3-0
Last fight: Win Over Doug Higgins by TKO 0:19 R1
5 last fights: 5-0-0
Note: Didn't have a camp or even train in a gym for his last fight.  Took the bout during a trip traveling abroad.
Martin Svensson fights for Frontier MMA and can be called a belt collector. He has The Zone FC belt, and also the Scottish Fighting Challenge title.  Svensson is also one of the tallest featherweights out there in the fighting world, even Dana White couldn't belive that Svensson would be able to make weight once during a The Ultimate Fighter audition. He started off his career like a submission artist and has a great groundgame. But is as well a treat on his feet thanks to his reach and power in his hands. Svensson has also become a bit of a fan favorite in Gothenburg after being on The Zone FC fight-card a total of 6 times before this fight. Among those fight lies one highlight KO after a flying knee against Frank Barman. Many also believed that Svensson would be one of the guys that would get a UFC contract when they held UFC Sweden the other month. Another win here could help his case.
His opponent is James Saville that fights out of Caged Steel placed in the UK. In his 10 wins 9 of them have come in the first round. But before his last fight against Doug Higgins he backpacked with his girlfriend around in New Zealand so he couldn't have a real camp, he didn't even trained in a gym. But instead he ran along the beaches, swam in the rivers and meditated and used motivational images to picture the fight. So when it came to fight night he was prepared and won the fight with a 19 seconds KO. Which is quite impressive.   The fight between Saville and Svensson will be a fight to remember.
Bantamweight 170 lbs – The Zone FC Title Bout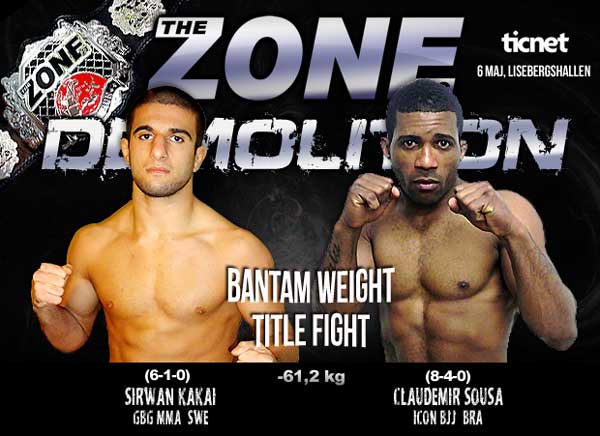 Sirwan "Zohan" Kakai
Country: Sweden
Record: 6-1-0
MMA Viking Nordic Ranking : #1
Last Fight: Win Over James Doolan by submission (guillotine choke) 3:07 R2
5 last fights: 5-0-0
Claudemir "Tico" Souza
Country: Switzerland/Brazil
Record: 8-4-0, 1 NC
Last Fight: Loss to Nicolas Joannes by TKO 1:09 R1
5 last fights: 3-2-0
Notice: 12 of 13 fights when Souza was involved has resulted in a KO or a submission i the first round.
The one fighter that most Swedish MMA fans thought was missing from the UFC Sweden card was Sirwan Kakai.  He looks to take things within his control with a shot at the new Bantamweight title in The Zone FC. He is fighting out of GBG MMA and American Top Team. In addition to being the top Nordic fighter according to MMAViking.com, he is ranked as the fourth best bantamweight in entire Europe according to Ground and Pound. He is coming into this bout with six straight wins that includes one of the best fights that The Zone audience has ever seen against fellow swede Thomas Bäck in a three round war that ended in a unanimous decision win for Kakai. After that fight Kakai become a fan favorite in Gothenburg. With a win here many doors will open for bigger challenges for him.
But first he must fight Claudemir Souza who is a Brazilian thats fights out of Switzerland and more precisly Icon BJJ. Souza has a talent for being part of fast finishing matches, twelve out of thirteen have ended in the first round and his longest bout was a lose to Oliver Pastosin that ended in round 2. So he does not have experience of going all three rounds in a MMA bout so far in his career. Even if Souza comes in to this fight with a loss he got dangerous BJJ game and have heavy hand. Both fighters got solid ground-game, but Kakai should have an advantage in this one.

Middleweight 185 lbs: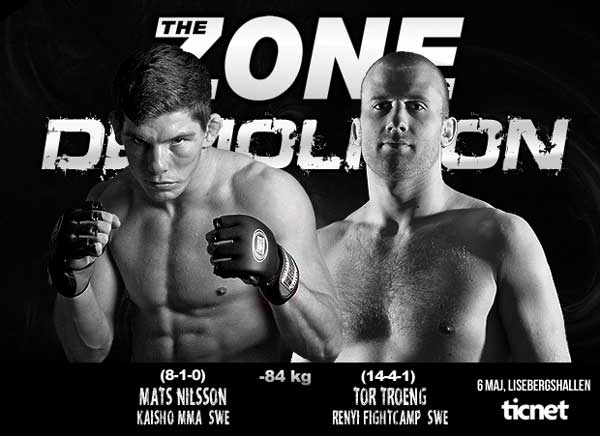 Tor "The Hammer" Troeng
Country: Sweden
Record: 14-4-1
MMA Viking Nordic Ranking : #2
Last fight: Win Over Andre Reinders via TKO 3:17 R1
5 last fights: 4-1-0
Note: Work as a scientist at Umeå University plus being a Pro MMA fighter.
Mats Nilsson
Country: Sweden
Record: 9-1-1
MMA Viking Nordic Ranking : #1
Last fight: Win Over Alavutdin Gadjiev by submission (armbar) 0:24 R1
5 last fights: 5-0-0
Note: Is a double World Champion in Submission Wrestling in the -90 kg class (for FILA grappling).
Tor Troeng is propably both smarter than you and better fighter. Combining his science work for Umeå University at the same time he his a pro MMA fighter. That is a combo that is really rare. But he also have good talents in the cage. Fighting out of Renyi fight camp. Troeng is coming in to this bout with three wins. The latest loss come against a former number one UFC contender in Thales Leites by a submission. That was on Superior Challenge 6 and was the only loss Troeng has had on Swedish soil.
His opponent is no other then the double world champion in submission wrestling Mats Nillson that fights out of Kaisho MMA in Skåne. This will be his last fight outside Cage Warriors for a while, since after his impressive win against TUF veteran Tom Speer by submission Cage Warriors signed Nilsson to a exclusive contract. But before he signed that contract he already signed for this fight. Nilsson is coming in to this fight with five straight wins there four was by submission. Nilsson has fought for The Zone FC four time before this fight. One time was against now UFC fighter Magnus Cedenblad, whom Nilsson defeated by submission in round one. The fight between Troeng and Nilsson is also the biggest matchup this far for The Zone FC in star power and the rumors among Swedish fans is that the winner may get being signed by UFC.
Heavyweight 265 lbs: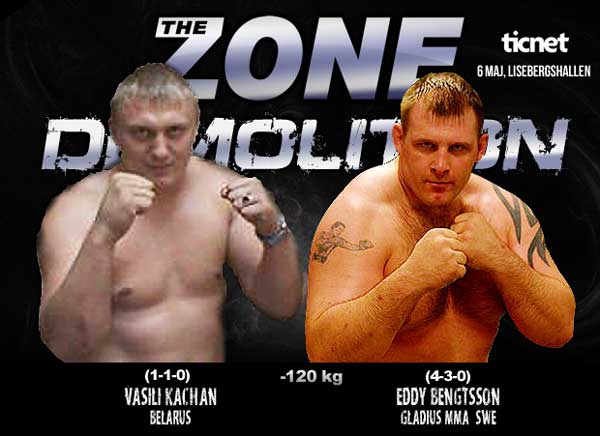 Eddy Bengtsson
Country: Sweden
Record: 4-3-0
MMA Viking Nordic Ranking : #3
Last Fight: L Dave Keeley via TKO 4:40 R1
5 last fights: 2-3-0
Note: Has competed in wrestling for Sweden in the Olympics.

Vasiliy Kachan
Country: Belarus
Record: 1-1-0
Decsion wins: 1
Last fight: Loss to Karol Celinski by submission (punches) 3:12 R2
Note: Has an wrestling background.
Eddy Bengtsson is a big name outside MMA circles thanks to the facts he is a former wrestler that have competed in the Olympics as well as world championship. Bengtsson has also told his story in the swedish magazine Filter about his depression, food obsession and more. But now hes back and trying to qualify for the London olympics and during that Bengtsson keep up fighting in pro MMA. Among the fights he have a loss to Aleksandr Elimianenko the little brother of the legendary Fedor. Plus that Bengtsson all four times he have fight on The Zone FC won all of those fights. He goes in to the fight as a favorite. The opponent Vasiliy Kachan also coming from a wrestling background but doesn't have the resume that Bengtsson have.
Fight Card
Roger Lyngbrant, Märsta Alliance (Sweden) Versus Fredrik Jostelius, Gladius MMA (Sweden)
– 61,2 kg
Frantz Slioa, Hilti Stockholm (Sweden) Versus Rami Aziz, GBG MMA (Sweden)
-65,8 kg
Fernando Gonzalez, Hilti Stockholm (Sweden) Versus Per Franklin, Gladius MMA (Sweden)
-77,1 kg
Ricardo Chavez, Växjö Titans MMA (Sweden) Versus Martin Akhtar, Malmö Muay Thai (Sweden)
-61,2 kg
Johan Jorup, Linköping KC (Sweden) Versus Magnus Strandner, GBG MMA (Sweden)
-93,0 kg
Jonathan Svensson, Vallentuna Boxing Camp (Sweden) Versus Kristoffer Källgren, Escalate MMA (Sweden)
-70,3 kg
Tor Troéng, RenYi FightCamp (Sweden) Versus Mats Nilsson, Kaisho MMA (Sweden)
-83,9 kg – Fight Announcement
TBA Versus Eddy Bengtsson Gladius MMA (Sweden)
-120,2 kg
Bantam Weight Title fight – Fight Announcement
Claudemir Sousa, Icon BJJ (Switzerland) Versus Sirwan Kakai, GBG MMA (Sweden)
-61,2 kg
Feather Weight Title Fight – Fight Announcement
James Saville, Caged Steel (UK) Versus Martin Svensson, Frontier MMA (Sweden)
-65,8 kg
Welterweight Title Fight – Fight Announcement
Morten Djursaa, Fight Gym Odense den (Denmark) Versus Assan Njie, GBG MMA (Sweden)
-77,1 kg
About Author
Dennis Johansson got interested in MMA when he first saw The Ultimate Fighter, and became hooked by the time the Griffin VS Bonner finale finished. Johansson lives in Trollhättan, Sweden, and writes for webbsporten.se, a new all-sports site in Swedish. He is a contributor to MMAViking.com and aspires to get in the cage for at least one MMA fight.  Follow him on Twitter @Wannabeexpert.