The Zone FC has put together title fight with the up-and-coming Swede Victor Cheng versus the UFC veteran Lucio Linhares. The Zone FC officials announced the bout this morning. Read the press release below.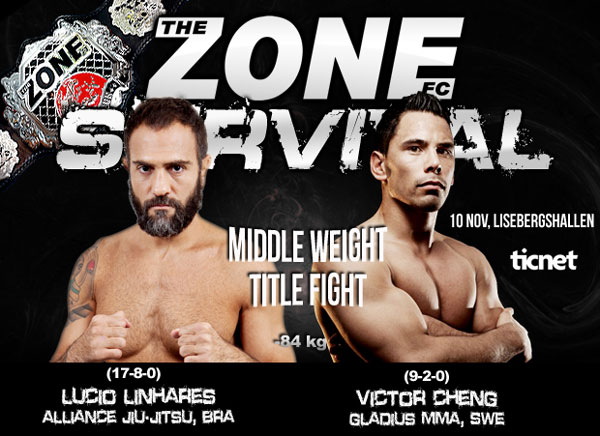 Press Release
Linhares Vs Cheng in middle weight title clash at The Zone FC 11 – Survival
Victor Cheng from Gladius MMA, with a pro record of 9-2-0, and reging middle weight title holder, will fight against Lucio "Spartan" Linhares at the Zone FC 11 – Survival the 10th of November.
Linhares comes from Brazil but lives nowdays in Finland.He is a former UFC-fighter and holds victories against Xavier Foupa-Pokam, Karl Amoussou, Sean Salmon, Tor Troneg and Matti Mäkelä.
Cheng says he must fight at the top of his game to take the win.
Linhares looks forward to fight in Sweden and try to take home the title to Finland.
Tickets can be bought at Ticnet: http://www.ticnet.se/event/the-zone-fc-11-survival-biljetter/218347
Lucio Linhares at Sherdog
http://www.sherdog.com/fighter/Lucio-Linhares-10543
Victor Cheng at Sherdog
http://www.sherdog.com/fighter/Victor-Cheng-32444

The Zone FC 11 – Survival Fight Card