The biggest card in Danish MMA history is here, and MMA Viking's Ryan O'Leary and Daniel Schälander are cageside for live updates of Cage Warriors 103. Get your live PBP here and pics, with interviews and articles.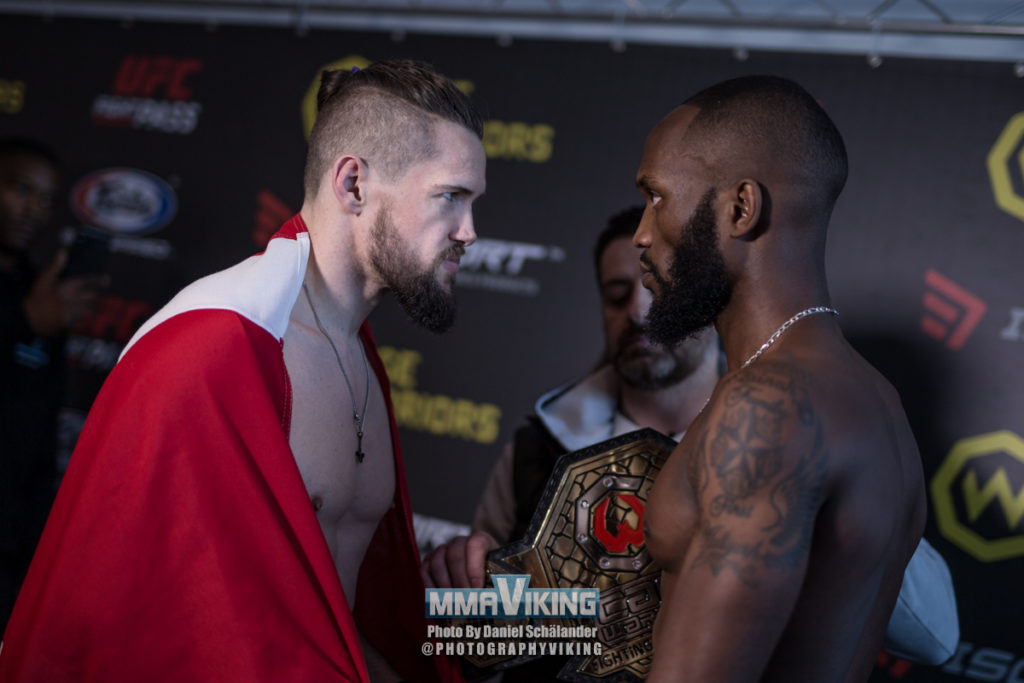 Prelim Card
Elijas Paknys vs. Mikkel Vestergaard Laursen – 192lbs Catchweight – CANCELLED



Johan Segas vs. Mack Promanee – Bantamweight
A real faced paced fight that goes the distance. Promanee nearly submits Segas in the third with an armbar, but it went to the judges taht all gave it to Segas.
Andreas Gustafsson vs. Ismar Blagoje – Middleweight
Round 1 – Berg in control early with his wrestling ability, and a big slam. Has back, but Ismar trying to escape before getting caught in a front head lock. Gustafsson again takes back, then a side control, and starts to squeeze a head and arm, trapping the arm with his inside leg and it is tight squeeze and extension of the arm! Submission victory for Gustafsson at 4:02. "Just throw overhands, wrestle him down, and punish him."
Manolo Zecchini vs. Danny Mathiasen – Lightweight
Round 1 – Mathias is rocked, staggering on his feet, but finds a way to a take-down and the crowd is going crazy for the Dane. But, Mathiasen can't keep it on the ground and they are back to the feet. A BIG overhand right from the Italian rocks the local again. Danny landing some kicks low. We got a good one here.

Round 2 – The Italian has back, then Mathiasen reverses position and even some ground and pound. A crushing low right kick by the Dane, and another. The visiting fighter does not want any part of this.


Danny is pushing forward and gets a take-down. Both fighters are tired. The Dane flattens him and and pounding away! This could be it, and the ref jumps in! TKO in the second. What heart from Danny to get the win!

"We new he was a big hitter, and the plan was to survive the first round. It was crazy."
Main Card
Mads Burnell vs Ahmed Vila – Featherweight
Round 1 – After a few strikes Burnell quickly takes the fight to ground and begins to work. He gets into side control and looks for a submission which he gets with ease. He traps the arm and leg of Vila and locks in a Japanese neck tie to get the win after only 50 seconds.
Mark O. Madsen vs Thibaud Larchet – Welterweight
Round 1 – Both men don't engage much at the start until Madsen get the clinch. Madsen rocks Larchet with a big right hand but Larchet recovers very well. Madsen is on the front foot and secures a takedown. Madsen is utilizing his wrestling ability perfectly mixing in some huge ground and pound. Madsen tries for a guillotine near the end of the round but is unsuccessful and finishes the round on top.
Round 2 – Madsen is landing that overhand nicely as Larchet tries to counter punch from distance. Madsen secures the takedown and is just grinding away from side control. Larchet manages to get up by the cage landing a backfist in the process. Madsen rocks and opens up the nose of Larchet with a three punch combination. The round ends with Madsen moving forward hunting down his opponent.
Round 3 – Madsen enters perfectly to get a double leg takedown and lands into half guard. Larchet tries for an armbar but is reversed and Madsen takes the back. He drags Larchet back down and gets back on top, Madsen is tiring his opponent out here. Larchet gets the back of Madsen with 30 seconds left in the round. Madsen tries to slam him off to no success, the round ends with Larchet on the back of Madsen trying to get a miracle win. Madsen wins the fight via unanimous decision. "It's a fight, you do whatever you have to"
Søren Bak vs Morgan Charriere – Interim Featherweight Title Fight
Round 1 – Bak instantly throws a big right hand that lands but he's getting caught by Charriere. Bak is put up against the cage, he tries to land a throw but it ends up in a scramble and both men end up on the feet. Charriere gets a takedown but gives up his neck in the process. The round ends with the Frenchman in Bak's guard after taking advantage of another failed throw.
Round 2 – Bak is looking a bit sharper in this round, he manages to land a throw and has himself in a very dominant position. He takes the back with a lot of time left in the round, now he's hunting a finish. Charriere gives up a body triangle but then manages to bridge and turn into the guard of Bak. There is an accidental illegal up kick in a scramble from Bak that brings a halt to the action. Bak attempts a takedown which looks to be successful but his opponent rolls into a kneebar which is little to late to finish the fight as the round ends.
Round 3 – Charriere catches a kick from Bak and drops him, he follows it up with a punch that rocks Bak. Bak almost locks in a submission but the fight end back up on the feet after a scramble. Bak secures a takedown to get into a dominant position, his opponent reverses the position and almost gets a heel hook before Bak take the back. Both men continues to reverse eachother's transitions until Bak manages to get into side control and maintain position. A quick guillotine attempt from Bak is not successful and the round is brought to a close.
Round 4 – It's championship rounds time and Bak starts the round walking the Frenchman down. After a slow start both men battle for position on the mat before the fight ends back on the feet. Charriere isn't defending takedowns as well in this round and ends up on his back with under a minute left. Bak gets into a crucifx position but horn goes to bring a close to the round. The crowd were really getting behind their countryman in that round.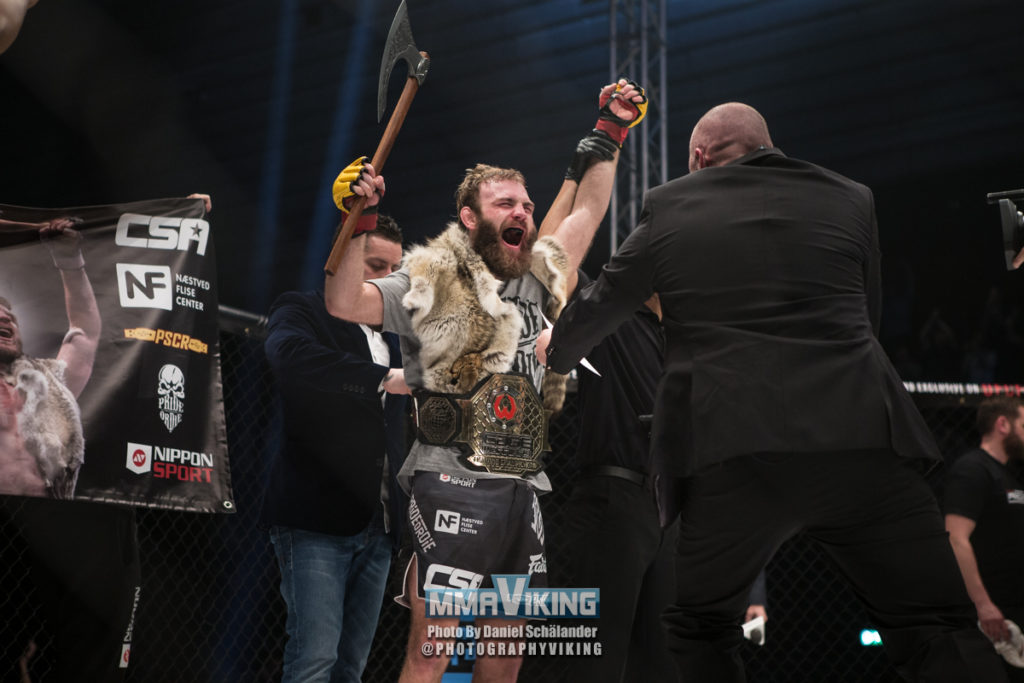 Round 5 – Bak starts the round by punishing the leg of Charriere. The inside leg kick from Bak is really limiting the movement of Charriere. Both men are trading in the pocket now. Charriere stops the takedown and is on the front foot now. Charriere is landing some big strikes and is hunting a finish. Bak gets a bodylock to halt the onslaught from Charriere. The round comes to a close very soon after. 5 hard rounds are brought to a close and Soren Bak captures his second Cage Warriors title via majority decision. "This is history, I'm the first Danish person to hold these two belts".
Nicolas Dalby vs Alex Lohoré – Interim Welterweight Title Fight
Round 1 – The fight starts relatively slow, both men throwing a strike or two ever now and again. Dalby is on the front foot, keeping the Frenchman guessing. Dalby was gaining momentum but Lohoré comes back with a punch strike of his own. Lohoré finishes the round with a takedown and choke attempt. Overall Dalby was the more active fighter though.
Round 2 – Dalby mixing up his strikes nicely, Lohoré yet to throw anything significant with two minutes left in the round. Lohoré gets Dalby back against the fence and tries for a takedown. Dalby now has Lohoré against the fence, very little action though. Dalby fires a headkick after they disengage and the round ends moments later.
Round 3 – Dalby instantly throws a headkick to start the round and sets the pace, he's been the much more active fighter. Alex Lohoré takes a deep breath after getting hit with a body kick, Dalby goes after the takedown and has him against the fence now. Dalby maintains control and lands some knees from the position then secures a takedown. Dalby lands a huge knee and left hook as they get back to their feet. The round end with Dalby pressing Lohoré against the cage.
Round 4 – A huge left high kick from Dalby drops Lohoré! Dalby lands some more punches and puts his opponent against the fence. Lohoré is struggling and gets caught with an elbow and a flurry of strikes after they disengage. Dalby throws a huge left hook that spins his opponents head one way and his body another. Marc Goddard steps in quickly to bring the fight to a close. Dalby had to fight off officials to get his signature celebration in and is crowned interim champion moments later.