Fight Night Finland (FNF) 9 takes place Saturday night in Turku, Finland at the Kupittaan Urheiluhalli and MMAViking.com will be reporting live with play-by-play, pictures, and interviews. A few last minute shakeups include the removal of lost it's much hyped matchup between Timo-Juhani Hirvikangas (10-2) and James Pennington (10-2), with Tipi getting hurt…. but Finn Janne Elonen-Kulmala (10-4) has gladly stepped in.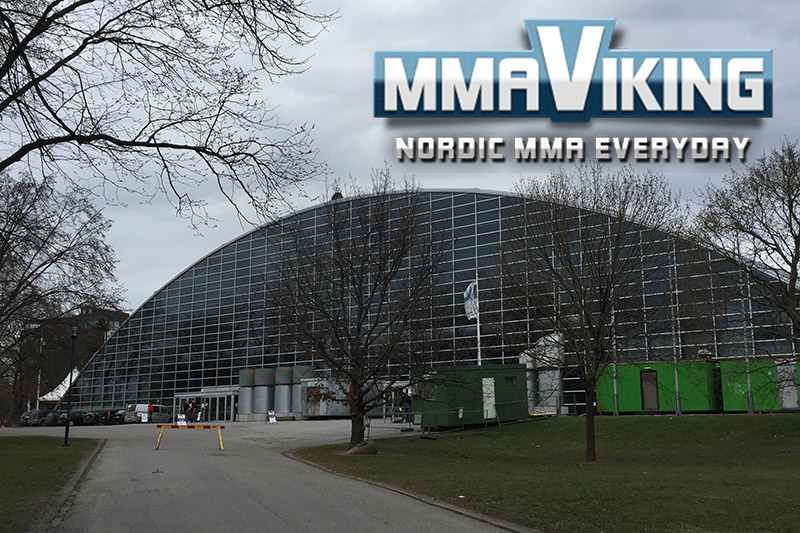 Teemu Packalen (6-0) also had at least three official opponents, and now ends up facing Frenchman Suleiman Bouhata (9-5). Notable Finns also on the card include veterans Juho Valamaa facing international competition in Davy Gallon, which is now the main event.
FNF 9 – Turku
The fights started at 18:00 local time. Looks to be about 1,000 people here as people are still coming into the arena, which is in the middle of an indoor track not too far from downtown Turku. Nice weather today, with sun shinning. The ring girls however are wearing leg warmers, which is a bit retro but stylish. Fireworks kick off the show that will be mixed of amateur and pro fights. Amateur are IMMAF rules, where the fighters wear shin pads.
Additional snapshots will be posted on Instagram at mmaviking. Below is the fight order of the card, and results as they happen.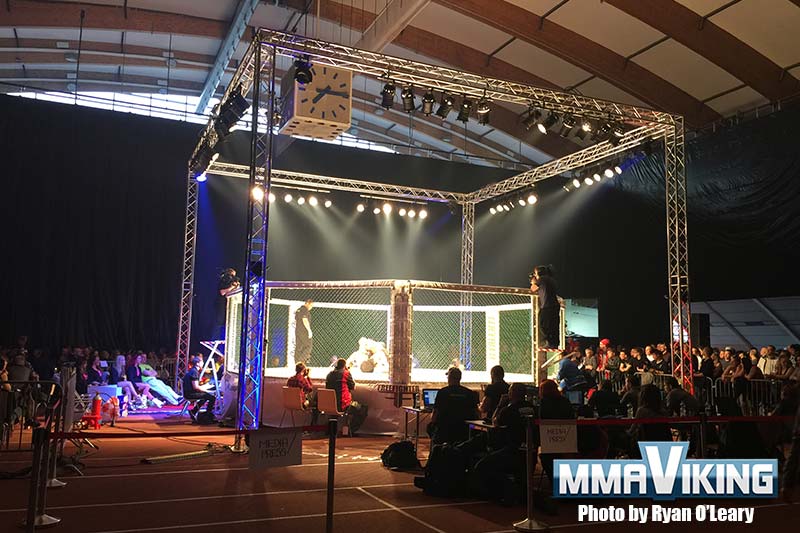 MMA IMMAF:
Aleksi Putkonen GB Gym vs Matias Pahkala KBT Oulu – 77.1 kg
Matias is the first to enter the cage, and has a big smile on his face. Ultimately, it is Pahkala who wins by submission in round 2.
Daniel Schälander Allstars Sweden vs Max Sairanen Ahjo Fighting Center – 65.8 kg
The two exchange on the feet. Both fighter look relaxed. Sairanen going for kicks, but Schälander makes him pay with a takedown. In side control and the Swede has position. The Finn roles for a kneebar, and a body triangle for Spider Pig in response. Schälander gets back and now moves to a rear-naked choke, which he gets. It is all over and the Allstars Training Center fighter wins! Schälander give a shout out to Finland, and tells the crowd it is his second home with his Finnish mother.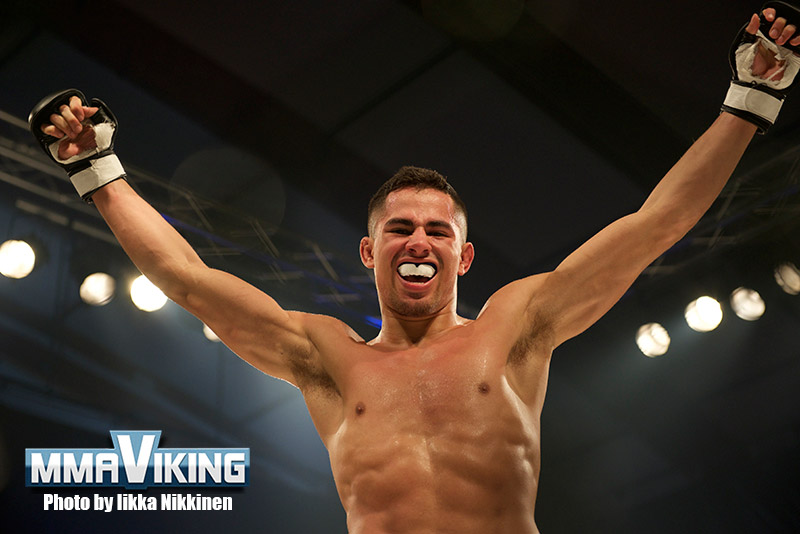 Minna Grusander FFG vs Veera Nykänen GB Gym – 52.2 kg
Grusander wins by submission in the second round.
MMA PROFESSIONAL
Patrik Kapanen Finland vs Samuel Nordlund Finland – 71 kg
Fantastic battle we have here as both fighters are slugging it out, going back and forth with left and right bombs. But the round ends, and it looks like Nordlund is limping. The fight is over after the first, as Nordlund cannot continue. The winner is Primus fight team's Kapanen.
Mika Kuronen Finland vs Matias Rantala Finland – 83.9 kg
Rantala and Kuronen have two rounds of rock-em-sock-em robots, but in the third it is Matias Rantala that takes control and ends the fight with elbow after elbow forcing the ref to jump in to stop the bout in the round 3. Matias Rantala wins by TKO in round 3
Kennet Mattson Finland vs Niko Myllynen Finland – 70.3 kg
Round 1
Mattsson lands some big punches to start the fight, and shoots in for a take-down. The GB Gym fighter gets it to the ground, and now moves to back, and now moves to a body triangle. Myllynen does a good job and slips out and is now on top. Mattsson is able to escape and the fight moves to the feet, before a solid punch from Myllynen bringing the fight back to the ground.
MMAViking Score – Mattsson 10-9
Round 2
Mattsson looks to be the more tired of the two. But the Primus fighter snatches a leg trying to get the fight to the ground, and he does. A body triangle again keeps Mattsson on top, and he seeks out an armbar, but it isn't there as the round ends.
MMAViking Score – Mattsson 10-9
Round 3
Myllynen misses a spinning elbow and Mattsson shoots in for a takedown. Mattsson is on top without much action, and the ref stands them up.
Myllynen gets a takedown, but the GB Gym fighter seems comfortable working some rubber guard and now with a triangle that looks tight, but it isn't there. As Myllynen gets up he tries to snatch a guillotine, but can't get it either. Again, it is Mattsson hunting for a triangle as the round ends.
MMAViking Score – Mattsson 10-9 (Mattsson 30-27) – Official Score – Mattsson Winner by Unanimous Decision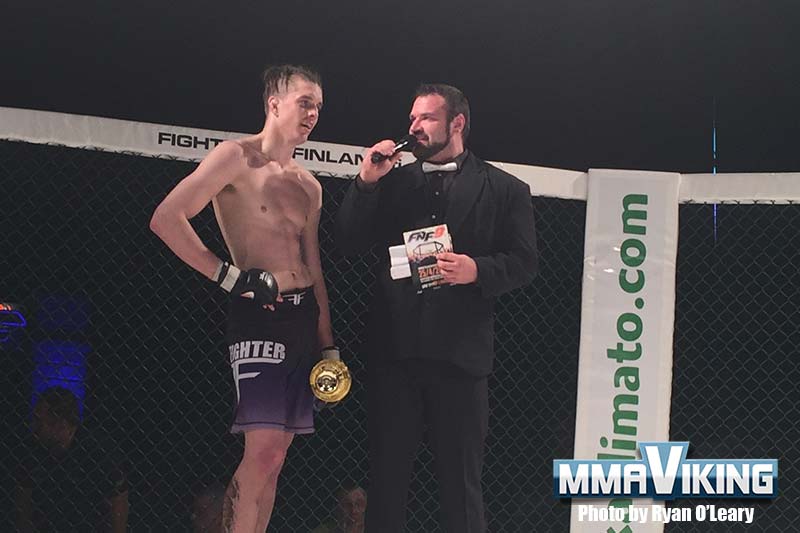 Kai Puolakka Finland vs Manuel Garcia Spain – 77.1 kg
Garcia did not show up for weigh-ins! There will be no fight, and this guy should never be booked for a fight ever again.  Spread the news, that he is bad news.
Teemu Packalen Finland vs Suleiman Bouhata France – 70.3 kg
Packalen stalks the bigger opponent early, but it is Bouhata that lands a good punch. The visiting fighter shoots in for a take-down, but it is Packalen that locks in a guillotine. It is tight and it is over! 23 second submission for Packalen.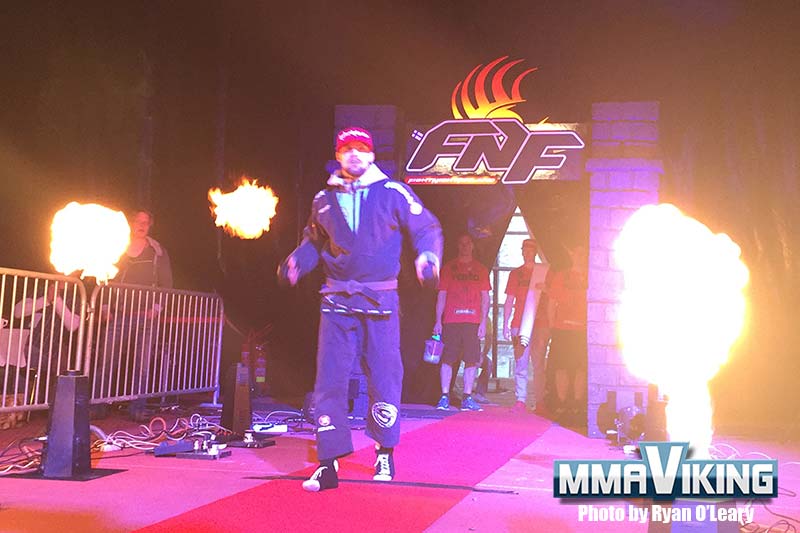 Janne Elonen Kulmala Finland vs James Pennington England – 63 kg
Round 1
Big left hand, and nice kick from Jamba early. The Power Weasel looks much bigger here, and uses his length for a takedown. "Beautiful work weasel" yells his coach.  Good right hand from the Brit. These two are swinging. One two punch lands for Pennington. Brief take-down for Jamba, and then again the Finn is on top. Nice left elbow for Kulmala, who looks to be cut. Elbows from the bottom doing some damage for Pennington.
MMAViking Score – Pennington 10-9
Round 2
A solid left hand lands from Kulmala and another lands and lands and lands and lands and lands as Pennington crumbles to the mat … and it is over in 27 seconds of round 2. Kulmala by TKO in devastating fashion.
Juho Valamaa Finland vs Davy Gallon France – 77.1 kg
Round 1
The two strike early, crisp shots. Both initiating and countering in a high paced battle. Juho sneaks in left kicks to mix up the attack. Now it is the French fighter that attacks low. Left-right-left for the Finn that lands a solid attack of punches… and a liver shot, and Gallon is down. It is going to be over as Valamaa jumps in to finish with punches. TKO in round 1 to end the fight and the great night of fights.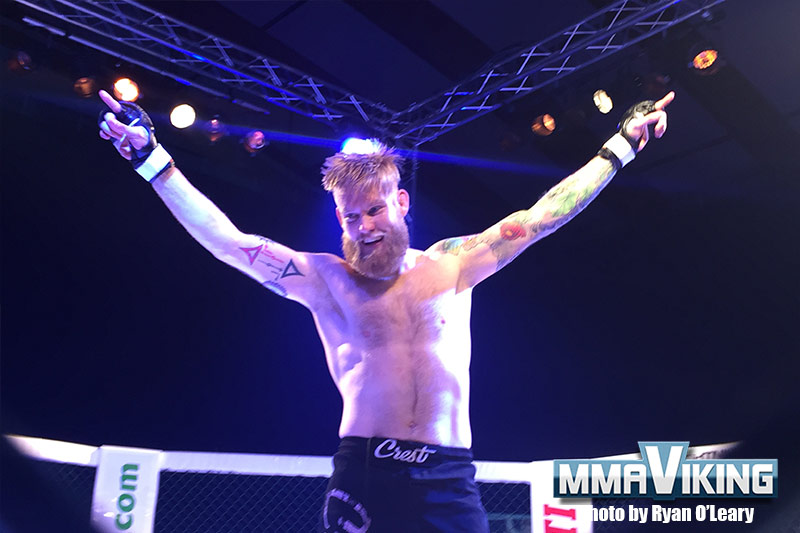 We will have fight galleries of each fight posted shortly, so come back to MMAViking.com for more coverage.