"Come back when we do 170 lbs." says Dana White to a 25 year old featherweight Martin Svensson over four years ago during The Ultimate Fighter: Team Bisping vs. Team Miller tryouts, as the "Big Swede" tipped the scales at 180 lbs and told Dana white he could hit the 145 lbs. limit. "You are fucking huge" laughed the UFC president who couldn't imagine the 6 foot 2 inch fighter making the weight.
Today, Martin Svensson takes White's advice and heads back to Las Vegas on his 30th birthday to take a spot at either lightweight or welterweight. "I will tryout for both. I just want to get into the house." says the Frontier MMA Academy fighter to MMAViking.com shortly before flying to America.
Flashback Video from 2011 TUF Tryouts"
"This time I will just try and be myself. I am a good guy, and I have a good personality." says Svensson about his strategy to get into the house.
While the fighter hasn't fought since August of last year where he beat Dave Hill by unanimous decision at Cage Warriors 71, he doesn't have any problem in getting attention. "There are a lot of people calling me out. People just want to fight me, I don't know what I have done." jokes the fight from Hörby.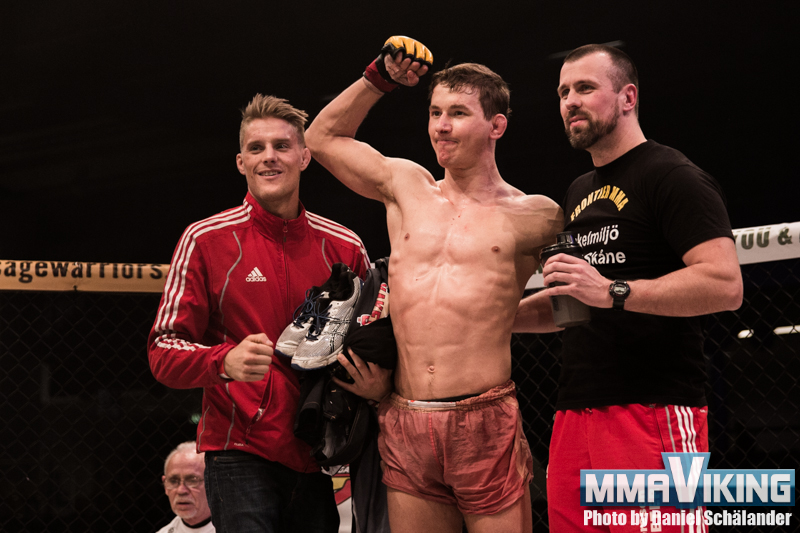 We may just be looking at a future reality star if Svensson has his wish. "I am going to apply for every show there is." says Svensson that has already been featured on Swedish Masters Chef for his talents in the kitchen, and sets eyes on other shows like Big Brother in the future. "I hope to get into TUF, then I'll be on 2 reality shows."
"I want to thank Bobby and Frontier MMA, Kakelmiljö in Skåne and Fitness 24seven for making this trip possible." says the Svensson, who will be one of five Swedes headed to the TUF tryouts on Monday.