MMAViking.com is cageside in Stockholm, Sweden to report on today's IRFA 9 event at Solnahallen. Swede Zebaztian Kadestam versus Norway's Håkon Foss is the main event. Sweden based Guram Kutateladze (4-2) versus Frontline Academy's Joachim Tollefsen (2-0) will be the co-main MMA bout. Get your live updates here with post-fight video interviews and cageside photos coming shortly after!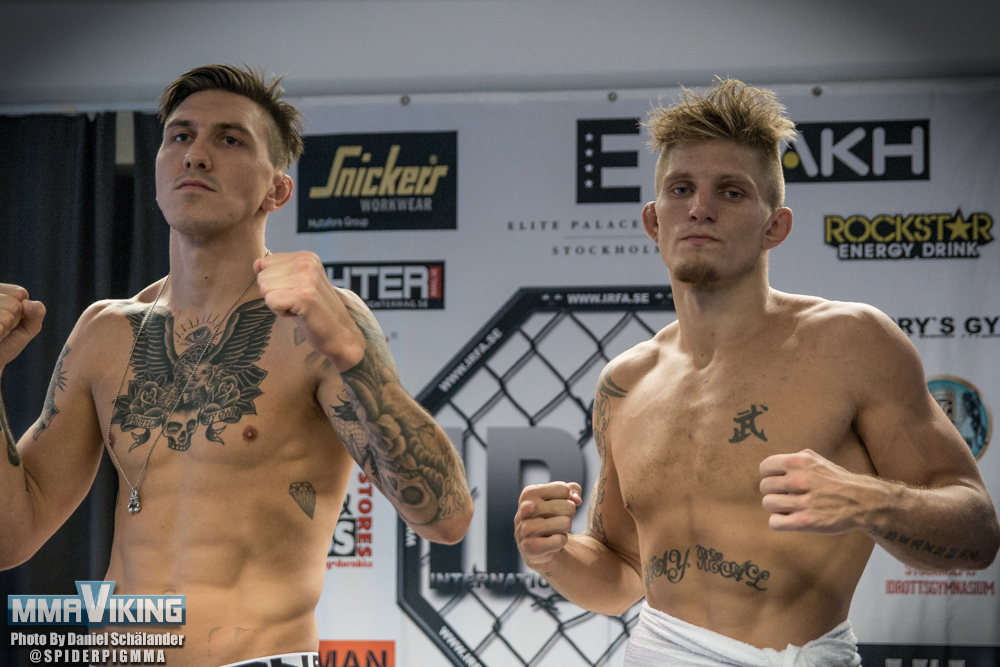 IRFA 9 Results & Play-by-Play
SHOOT FIGHTS
Temur Malick (Sweden) vs. Sebastian Gonzalez (Sweden)
Here we go. Temur has eyes wide open looking into Gonzalez eyes, and he is slammed with a BIG right hand from Gonzalez. Temur now using his reach and using his jab well, but not finding his spot yet. Another BIG right hand and it drops Malick to his back. Temur gets up, but he is stunned. Somehow it is Temur that now lands a short uppercut and Gonzalez is down! Gonzalez is stumbling around, and it is all over! Amazing comeback!!!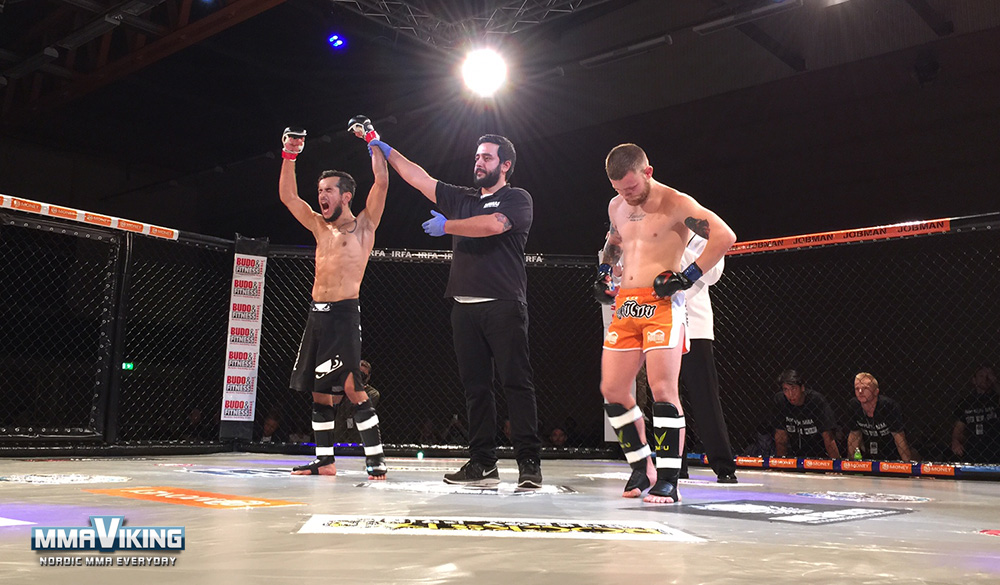 Malick by TKO in 3:00 of first round.
Martin Eriksson (Sweden) vs. Robin Larsson (Sweden)
Martin clinches early, looking for a takedown, but these two look like they plan to slug it out. Another tie-up against the cage, and Robin shows that he has some high kicks, too. Robin now shoots for a takedown, but can't get it. Now he does with a nice head and arm throw. Back to the feet, and Martin looks for a standing guillotine, but it isn't tight, and back to a slug fest. Larsson gets back on top, and dominating top position. Looking for subission, and time runs out.
Larsson wins by 10-9 decision on all cards.
AMATEUR MMA
Jill Holmstrom (Sweden) vs. Milla Riekki (Finland)
Round 1
The lone Finn on the card looks like she came to fight, throwing good strikes and now in on a body lock. Now Jill has control and a body lock, and lands some good strikes. The two continue to grapple in the first round, with no clear advantage. But, Milla looks to be the more tired of the two here.
Round 2
Nice jab from the Swede, and the two tie-up and now move to the cage. Holmstrom gets a take-down and moves swiftly to a head and arm choke, but can't get it, quickly to an armbar… can't get it. Now a triangle, and Jill showing her versatility here. But Milla fights off submissions, and is free on the cage. Good round for the Swede.
Round 3
Holmstrom beginning to show her grappling skills are superior here. Rear naked choke is grabbed in the scramble from Milla and it looks tight, and now the Finn tries to finish with punches, but Jill won't let it happen. Back to the feet. 30 seconds left in the round, and Jill tries to takedown the Finn, but slams herself to her back.
Holmstrom wins by UD.
Josef Yilmaz (Sweden) vs. Daniel Bergstrom (Sweden)
Round 1
Yilmaz goes with a lowkick, but Bergstrom shoots in after catching the leg. Bergstrom looks to love the ground game, and gets a rear-naked choke, and gets it at 1:16 in the first.
Bergstrom wins by submisstion
PRO MMA
Guram Kutateladze (Sweden) vs. Joachim Tollefsen (Norway)
Round 1
Both fighters look cautious early.  Akira is in the corner of Guram, and switches between English and Swedish… but no avantage as Joachim knows both.  Guram lands a big right headkcik, and pounds on the downed Joachim.  The Frontline fighter battles and is now looking for a triangle or armbar.  Guram rushes in on top, and now is reversed.  An armbar from the Sweden based fighter, but now both standing.  Joachim has the reach here, but Guram looking for the left high-kick… but Joachim with one of his own… we got a fight!
Good left jab from Jaochim, and Guram looking to counter with a big right hand.  Guram kicks low, now high.  First round over, and it was a good one!  The advantage in that round may be the big kick at the beginning of the round.
Round 2
Another counter right for Guram that is waiting to punch over the left hand jab.  Guram has power in his kicks as the snap on the legs of the Norwegian.  Another good low kick, but Joachim is the one moving forward here and seems to be controlling where the fight takes place.  Good right hand from Guram, and he seems relaxed…. Guram lands a big right hand and rocks Tollefsen.  The Frontline fighter dives for a take-down, and flops to his back.  There is blood now, but looks like it may be Guram's that is on top.  Joachim kicks him off, and stands to the feet.  Both fighters look tired.  Good body kick from Joachim.  Guram worried about his nose.  Good right hand and follow-up from the Georgia fighter.
Round 3
Good low kick from Guram again, but Joachim seems to be one combination away from turning this fight around.  The fighters are showing their kicking range, going low and high.  Guram almost lands an axe kick.  Guram lands a BIG left hand, and Joachim goes down.  Looking to finish, but Joachim fights back.  This fight was a few punches from being over, but the heart of Tollefsen is coming through.  The Redline fighter continues with top position, and lands punches as time is running out.
Kutateladze wins by unanimous decision 30-37.
Zebaztian Kadestam (Sweden) vs Håkon Foss (Norway)
Round 1
The Bandit makes Foss wait and wait, as his own rappers sing him out. Now the fight begins, and the Swede looks to have added about 10 kilos to his frame. Foss with a kick early to set the tone. Good right kick from Zeb that echos throughout the gym. "Kadestam, Kadestam, Kadestam" the crowd yells. Foss goes for a takedown, but is put on his back. Both standing now, and Foss looking to land a left hand. Foss tries a flying knee, but falls down and is on is back. The crowd is going nuts for Zeb. Foss, looks happy on his back, going for a triangle. You can tell the Norwegian is catching his breath here, and both to the feet they go. Off a kick, it is Foss that goes for a take-down with nice technique, but the cage stops the take-down from happening. That's a round for Kadestam.
Round 2
Foss charges in with a nice combination. Good right kick low from Zeb, and that kick has found a home on the redenning left knee of the frontline fighter. Foss reacts with a double-leg take-down, and he gets it! Foss has Kadestam against the cage, one leg in… but loses position, and it is now the Swede that has back. Foss reverses! Wild grappling exchange, and Kadestam tries to get up, but it is Foss that throws him up and to his back. Foss with an anaconda choke, and looks tight.. but loses it and a tiring Kadestam goes for a guillotine. Foss ends up on his back in this high-paced second round.
Jonathan Svensson is giving Kadestam instructions from the top, and Foss looking for a triangle. Great matchup and fight we have here in the main event. Good one, two punch from Kadestam on top. "Come Up" yells Bahari from the Frontline. Second round is over, and I think that's another one for Kadestam.
Round 3
Foss on fire here early, landing punch after punch…. HUGE RIGHT HAND. Now it is Kadestam that has to shoot in to save himself. The tide has turned! Foss is going for it. Looking for some sort of front headlock choke. Kadestam flops to his back. Foss moves in right for the kill. Now takes back and punching down on the Swede.
Foss needs some way to finish this. He goes for a neck crank, but it won't get it done. Trying to get his forearm in for a rear-naked, but can't do it. Kadestam keeps pushing the arm up. Now punches from Foss with the full body lock. Kadestam is able to get on top, and now takes back. To the feet, and Kadestam is exhausted. Foss lands a good knee in the clinch. Good right from Foss. Kadestam with a double leg, but Foss spins around. Foss is way to high and slips over the top, time running out here, but back to the feet. Big round for Foss! 10-8 round. I think it is a draw. Fans win!!!
Nordic fight of the year! Holy moly!
Foss wins in split decision 28-29, 29-27, 29-28.