Two true veterans of Nordic MMA will clash as Denmark's Morten Djursaa (12-5) will face Sweden's Diego Gonzalez (19-11) at the Odense Congress Center (OCC) tonight for MMA GALLA's first event ever.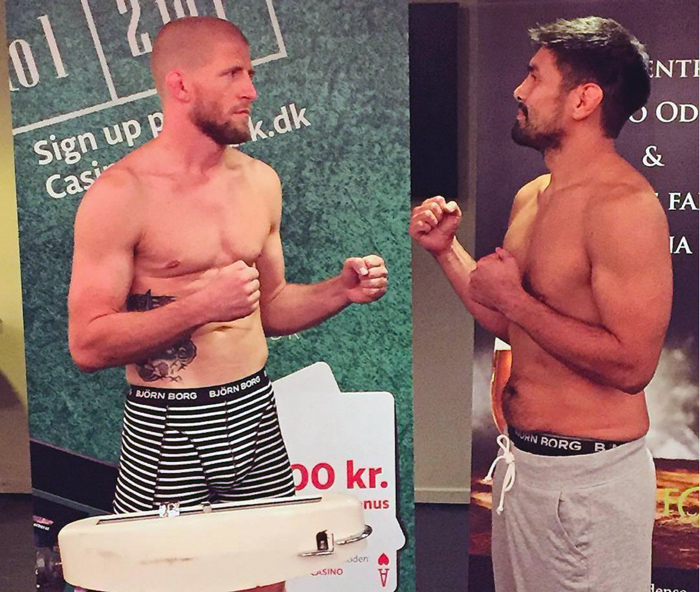 There are four pro fights on the card, and MMAViking.com is cageside for live reporting and pictures. Dane Mads Burnell is the co-headliner and there is a Nordic showdown as Gard Olve Sagen out of Norway takes on Michael Larsen out of Denmark.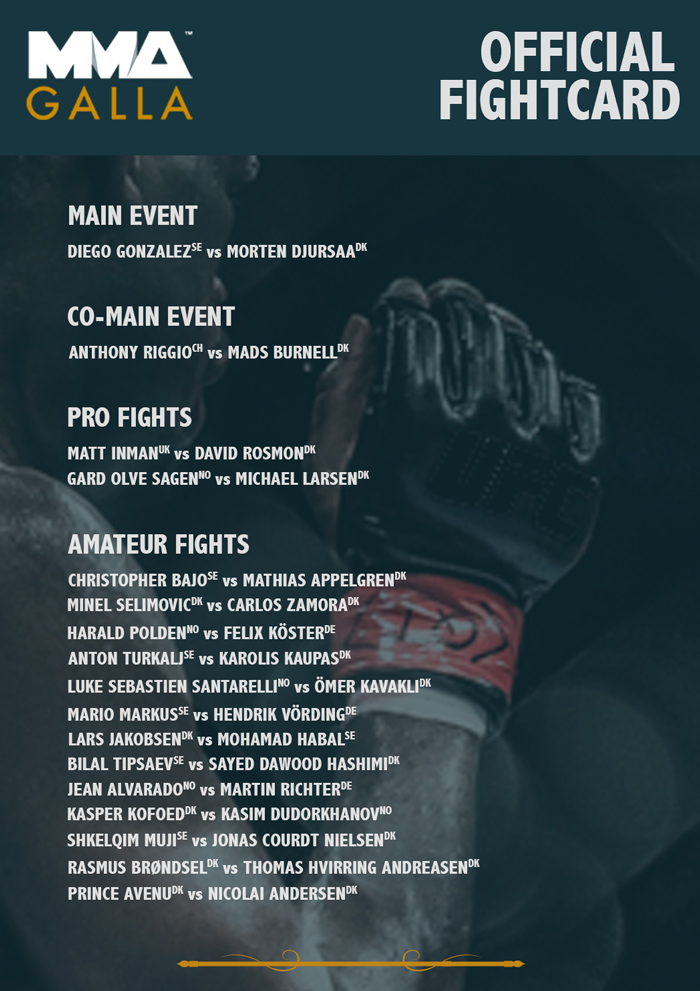 Live Results
Amateur fights
Prince Avenu vs Nicolai Andersen
Winner: Prince Avenu (1st round, rear-naked choke)
Rasmus Brøndsel vs. Thomas Hvirring Andreasen
Winner: Rasmus Brøndsel (1st round, triangle choke)
Shkelqim Muji vs. Jonas Courdt Nielsen
Winner: Jonas Courdt Nielsen (2nd round, armbar)
Kasper Kofoed vs. Kasim Dudorkhanov
Winner:  Kasim Dudorkhanov (DEC 3-0)
Jean Alvarado vs. Martin Richter
Winner: Jean Alvarado (1st round, armbar)
Kristian Skogmo vs. Lars Jakobsen
Winner: Kristian Skogmo (1st round, tap to strikes)
Mario Markus vs. Hendrik Vörding
Winner: Mario Markus (1st round, guillotine choke)
Luke Sebastien Santarelli vs.Ömer Kavakli
Winner: Luke Sebastien Santarelli (2nd round, armbar)
Anton Turkalj vs. Karolis Kaupas
Winner: Anton Turkalj (2nd round, rear-naked choke)
Harold Polden vs. Felix Köster
Winner: Harold Polden (1st round, TKO)
Minel Selimovic vs. Carlos Zamora
Winner: Carlos Zamora (1st round, TKO)
Christopher Bajo vs. Mathias Appelgren
Winner: Christopher Bajo (2nd round, triangle choke)
Pro fights
Gard Olve Sagen vs. Michael Larsen
Round 1 – Local kid, Michael Larsen, gets a lot of hometown support from the crowd. He comes straight out of the corner with a flying knee to get the crowd really going. Back and forth with jabs and kicks. Michael connects with a couple of good punches. Gard connects with a some good lowkicks. With one minute left. Michael connects with a flying knee, and drops Gard. He goes down with him and tries to submit him. But Gard counters and ends up on top. Both Fighters get up and the round ends with Gard shooting on Michael, getting him down. But while standing over him he also kicks Michael who is seated against the cage. Gard is deducted a point by referee Damir Hadzovic (yes, the UFC fighter) and the round ends immediately after.
Round 2 – Gard shoots straight away, taking Michael down. Presses Michael up against the cage, punching and elbowing away. Michael is struggling to get out. But after a good two minutes he finally gets up, only to be taken down again. This time he is quick to get up and out. He immediately conntects with some good punches and kicks. And Gard reacts with taking Michael down once again. They are quick to get up though and Michael continues to outstrike Gard, while the Norweigian wants to get to the ground. The round ends with another takedown from Gard. Both fighters look really tired at this point.
Round 3 – They start out hugging eachother showing good sportsmanship and respect to eachother. Gard goes for the takedown again. Michael quickly gets up from it though. They continue to exchange punches and kicks with Michael looking the better in the striking game. But they are both really tired at this point. Gard catches the neck of Michael and chokes him out in a guillotine choke and Michael is forced to tap out.
Winner: Gard Olve Sagen (3rd round, guillotine choke) 
Matt Inman vs. David Rosmon
Round 1 – They start out exchanging kicks and punches. Buth landing some good ones. The english veteran goes for a clinch and has David pushed up against the cage for a long period. But is not really doing any damage. David fights hard to improve his position but is hit with some knees. He eventually succeds but it's clear that Inman wants to clinch and keep David close, so he once again catches him and pushes David up against the cage. Inman knees the body and thighs of David, but nothing that looks really damaging. With one minute left, David is in a position to shoot, he doesn't get Inman down though, but now David is pushing Inman up against the cage. He can't get Inman down and the round ends.
Round 2 – Early in the round, David catches a kick from Inman and uses it to push Inman up against the cage. He fights hard to try and get Inman to the ground, but the former Cage Warrior is defending well. Eventuelly, Inman turns the tables and once again it's David who is pushed against the cage. This time Inman creates a bit of distance and connects with some punches. David jumps up and tries to pull Inman down in his guard, but Inman keeps standing and forces David down on his back, pressing him up against the cage. Inman chooses to give up on the position though and let's David get back up. David is catched in a front headlock and Inman rolls him over and end up in full mount. He succeeds to get in a couple of good punches before the round ends.
Round 3 – David hits some good kicks right from the start. But is once more pushed against the cage in a clinch. David is taken down but has the leg of Inman. Doesn't succeed in making any kind of submission attempt though Inman is on top and let's punches and elbows rain down on David until the referee stops the fight.
Winner: Matt Inman (3rd round, tko)
Anthony Riggio vs. Mads Burnell
Round 1 – Burnell looks like he wants to control the fight and pushes forward against Riggio. He manages to take down the swiss fighter and quickly taps him out in a choke.
Winner: Mads Burnell (1st round, Japanese necktie)
Diego Gonzalez vs. Morten Djursaa
Round 1 – The first round was a pretty close affair. Unfortunately my laptop died so all my notes are gone
Round 2 – again a pretty close affair. Gonzalez wants to clinch. Gets a huge takedown. And also tries a guillotine. They get up again and Djursaa hits some decent punches and kicks as the round ends
Round 3 – an early takedown by Gonzalez. But they both get back up. One more takedown by Gonzalez. But again Djursaa avoids taking much damage. Gonzalez takes Djursaas back but nothing comes of it and Djursaa changes the tide and is on top. Back up again. The round ends with another Gonzalez takedown
Winner: Morten Djursaa (Dec 3-0)