Reza Madadi movie documentary "MAD DOG – from Chaos to Comeback" premiers in movie theaters on October 7th and he will step into the Octagon at UFC 204 on October 8th. MMAViking.com talked to Mad Dog about the re-release of the finished film that will be shown at SF Bio in Stockholm, Göteborg, Malmö, Uppsala, and Umeå. "It's a big weekend for me."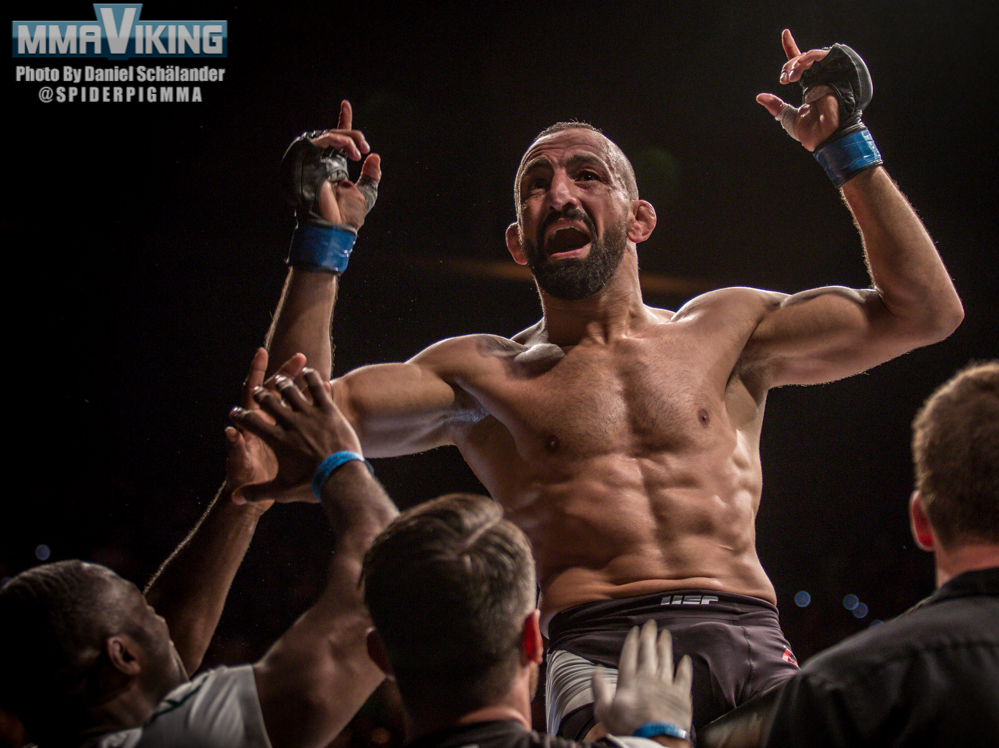 "I didn't understand how big it was" says Madadi about the initial reaction to the original cut of the film that premiered last December on Aftonbladet.se. "It's a big hit" says the Iranian born fighter raised in Sweden about the film seen nearly 100,000 times becoming the most popular sports documentary ever on the channel  and given a thumbs up by critics.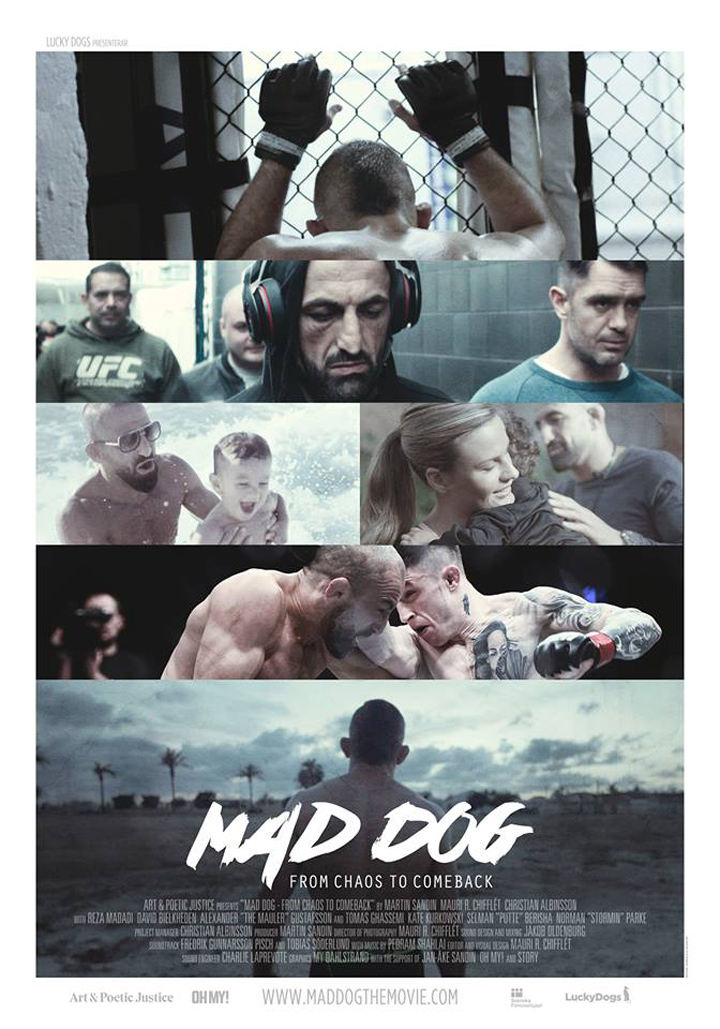 For those unfamiliar with Reza Madadi, in the Summer of 2013, he was on top of the mixed martial arts world after upsetting American Michael Johnson in front of thousands supporting fans at a sold out UFC event in his home town of Stockholm.  However, he made headlines across the country and beyond for being arrested for possible involvement in an smash-and-grab at a high-end store in downtown Stockholm.  The UFC and all sponsors immediately dropped him and was portrayed in the media and on Internet forums as a convicted man before any trial took place. Ultimately, a district court sentenced him to prison for one year and nine months in what many thought would be the end of his MMA career and push him out of the public eye.
"There was a lot of bad stuff about me on different websites, so I wanted to show the people who I am. This is my life." says Madadi that allowed filmakers to show some footage of his 14 months in prison, time with his wife and newly born son, and how he marched back into the UFC for a comeback fight well over two years after his last fight.
"I really hope my story gives inspiration to always have hope."
For those that saw the initial film cut, they are in for a nice surprise when they step into the theater to see the re-released film. "It doesn't have the same ending. They added 20 minutes, so more interviews and the Rotterdam fight." reveals Madadi about the film that will now includes his most recent fight, a victory a win over Yan Cabral, instead of a loss to Norman Parke in his first return to the cage.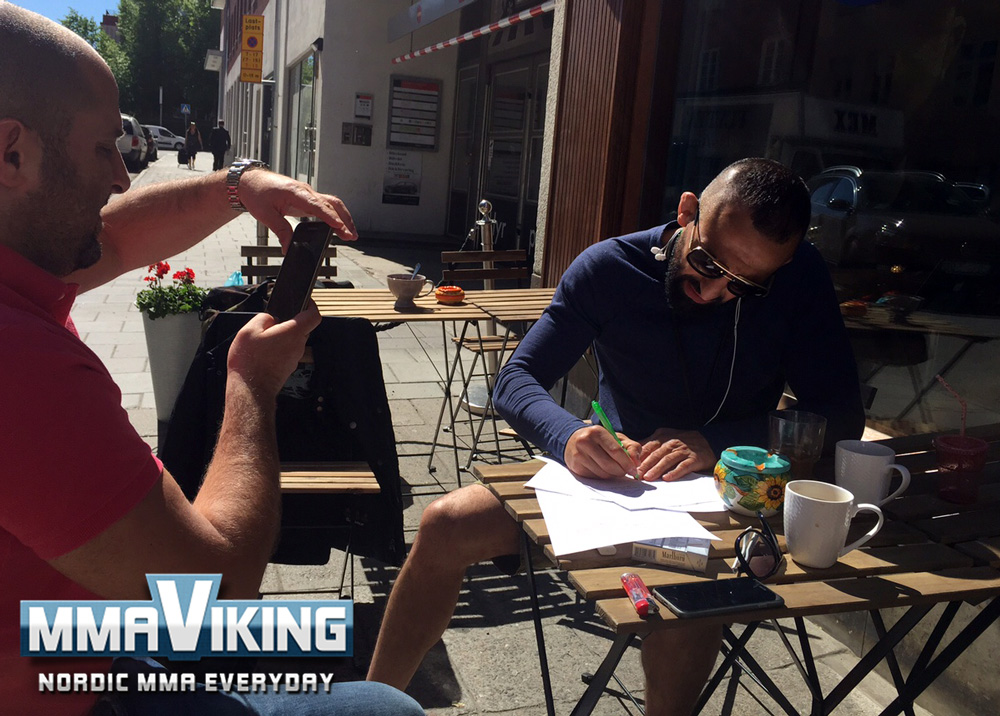 "Some people have an opinion on you, and you can never change it. Some people you can change." – Madadi
"We have followed him for over three years. This is the story of a self made man who had to convince the world he deserved a second chance. It's a fascinating story that portrays an exciting and complex person." says producers and directors Martin Sandin and Mauri R. Chifflet.
"My journey is not just about going to prison and coming back. If you lost your company, then don't ever give up. Or you study… whatever."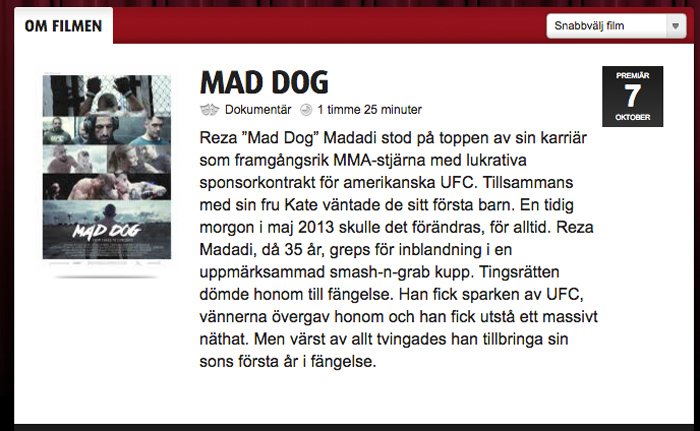 "Of 100-200 movies, my film was one of them selected" continues Reza about SF Bio's decision to pick up the movie for release. The trailer can be seen in theaters today, and the October 7 release be a good warmup to Madadi's fight on October 8.
"In life, everybody falls down. But it is more important to come back."
Exclusive Video Interview