Martin Svensson was on TV on Wednesday getting his first win in the TUF 22 house against American Thanh Le. The "Big Swede" reveals to MMAViking.com that he was lucky to even get an opportunity to get a fight to get onto the reality show. "I wasn't supposed to fight" says the Frontier MMA fighter that got an email to be a "reserve 4 or 5 days before".
The squad. ? #TeamMcGregor pic.twitter.com/sNW7kHbay1

— Conor McG Brasil (@TheNotoriousBRA) September 17, 2015
While the former featherweight says he will now only fight at lightweight, he wasn't too pleased about the idea of even making the 155 lbs weight without getting a fight.
But, 18 hours before the bouts to get into the house another fighter wasn't allowed to fight because the doctor didn't clear him. The Swede got the call and went on to win on short notice in dominant fashion to get on the show after his 4th trip to the tryouts.
What did you think of Sweden's @M_Svensson_MMA fight on #TUF22? Recap the episode: https://t.co/aU4aHIbJof pic.twitter.com/eSQSASoUq3

— UFC Europe (@UFCEurope) November 6, 2015
For the first time, there was more than just one Swede on the The Ultimate Fighter show… but, it was two Stockholm fighters Frantz Slioa and David Teymur with Svensson from Hörby.
For the most part, they could have been living on different planets. "I never talked to them before" says Svensson, who had been in an ongoing feud with teammate Niklas Backstrom and vocal about calling out Reza Madadi, and Slioa in particular had his eyes set on getting a fight with the fighter from Southern Sweden.
"Calling out fighters is part of the sport. You call out guys all the time." – Svensson
In an turn of events, it was Slioa and Svensson bonding after winning their fights to get into the house. "I quit snus (Swedish chewing tobacco) three years ago, and said I would only start using again when I got into the UFC" says Svensson. Then, after the elimination fight win, it was the Allstars Training Center fighter there to greet him with snus. "We celebrated together" recollects the Svensson, who calls his vice the "best thing in the world, next to MMA".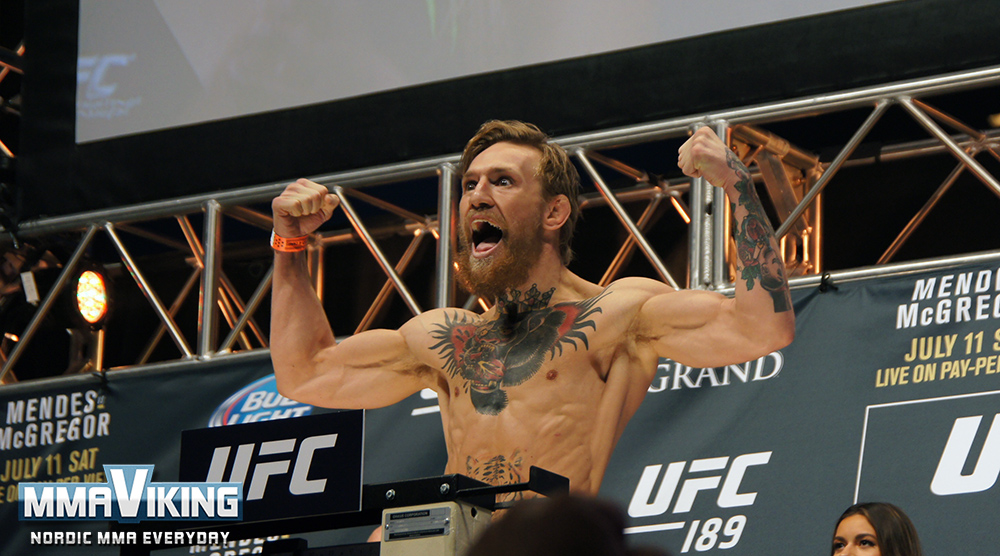 While the ground specialist was focused on his opponents, he did get some time to roll with his coach Conor McGregor who he sees as having world class jiu jitsu. "Really good" says an impressed Svensson, who was surprised at the size and lack of body fat of the Irishman.