Mathias Lodahl headlined UCL's debut in Denmark, but it turned to confusion and outrage when Frenchman Suleiman Bouhata landed what seemed to be several illegal elbows to the back of the Dane's head. Today, the DMMAF official has "overturned the fight to NO Contest" in response to the protest filed by the team at Rumble Sports.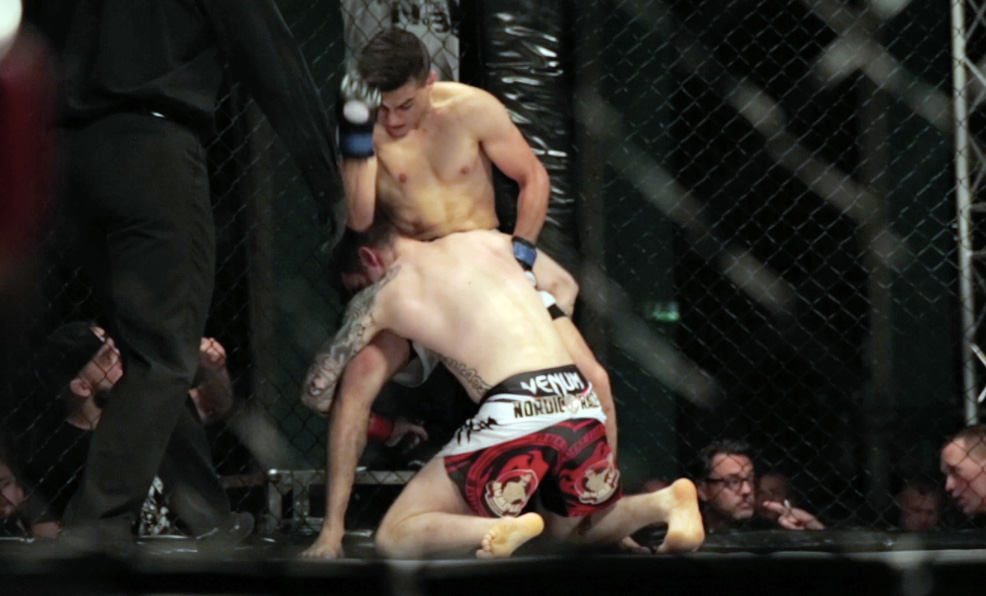 Lodahl looked to finish a single leg take-down against the cage early in the first round, but Bouhata used a series of elbows which crumbled Lodahl leading to a confusing and rowdy end of the fight back in May.
"I took a lot of 12-6 elbows to the back of my neck and was screaming to the Judges that they where illegal" said Lodahl to mmaViking.com shortly after the bout.
"However Im just glad that it is over now. Now I can move forward and focus on the next fight."
The original ruling was set to put the first loss on Lodahl's record, which had been perfect with 2 wins and 0 losses in his pro career, and 6 wins and 0 losses in his amateur career.  It will now stand as a NC.
Rumble Slomotion Video of Elbows

Ruling from DMMAF, as documented by Claus Larsen, President Danish MMA Federation :
DMMAF has now finalized the complaint, at the main event at on 23
May 2015 (bout between Mathias Lodahl vs. Soleiman Bouhata and we have
come to the following decision:
So we overturns the fight to NO Contest.
conclusion:
Fighter A; Bouhata
Fighter B; Lodhal
After reviewing the action via the link attached, it's clear To me that
fighter (A) made several illegal blows, via the downward elbow – I
counted around 9, there were possibly more. Obviously the angle and film
was not amazing, but in my opinion at least 7 and if not all of these
were illegal downward elbows.
After this first set, the referee jumped in, I imagine to tell fighter
(A) who then proceeded to do the same with his left elbow for 3-4
strikes before the fighter hit the deck. At this point fighter (A)
proceeded to throw some hammer fists, some of which appeared quite
clearly to be to the back of the head (illegal area) before fighter (B)
dropped to the canvas fully and the referee stepped in to call a
stoppage to the bout.
In my eyes, there were multiple illegal blows, caused by fighter (A) but
ultimately it is the referee's job to ensure fighter safety and stay on
top of such situations.
I my eyes- fighter (A) should have been warned after the first blow,
after no 1; he should have called a Timeout, sent Fighter (A) to a
mutual corner and inspected the wellbeing of fighter (B) to asses if he
was good to continue, if need be utilising the Doctor/ Medical team. If
fighter (B) was not fit to continue, the fight should have been called
off via disqualification. If he was fit to continue, fighter (A) should
have been warned and had points deducted (2 points, as these were
intentional blows and not a genuine mistake) with the fight resuming in
a stand up position.
"I think its fair. But I was hoping for a DQ and possibly a warning or some kind of consequences for the referee." says the Rumble Sports fighter to MMAViking.com today about the final ruling.