Superior Challenge officials have announced that Swede Matti Mäkelä will be facing Matteo Minonzio at Superior Challenge 9 taking place in Gothenburg on November 23 at Scandinavium.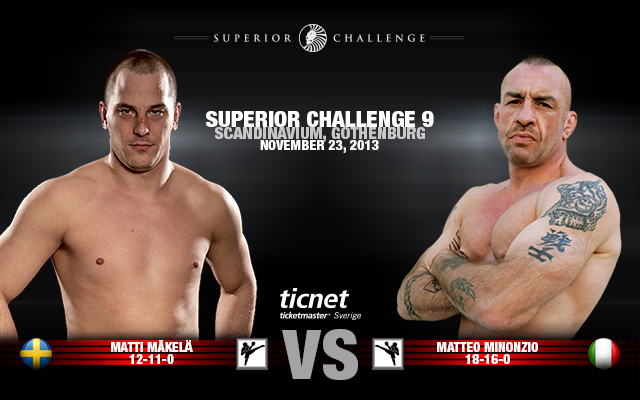 Mäkelä has had an impressive last two fights turning around his career. The Swede had lost 6 of 7 fights, before shocking former UFC fighter James McSweeney at Superior Challenge 8. He then went on to beat Henrique Shigemoto by rear naked choke in Switzerland in September. Look forward to another war when Mäkelä faces Muay Thai fighter Minonzio.
This bout will replace the matchup of Simeon Thoresen and Domingos Mestre, who were both injured prior to the bout.
Updated Fight Card
• Sami Aziz (Sweden) vs. Jens Pulver (USA)
• David Bielkheden (Sweden) vs. Besam Yousef (Sweden)
• Diego Gonzalez (Sweden) vs. Anton Kuivanen (Finland)
• Yosef Ali Mohammad (Sweden) vs. Duarte Fonseca (Portugal)
• David Glasnovic (Sweden) vs. Magnus Strandner (Sweden)
• Matti Mäkelä (Sweden) vs. Matteo Minonzio (Italy)
• Emil Weber Meek (Norway) vs. Per Franklin (Sweden)
• Simon Sköld (Sweden) vs. Guilherme Shigemoto (Japan)
• Michel Ersoy (Sweden) vs. Robin Gidlöv (Sweden)
• Martin Akhtar (Sweden) vs. Damien Pighiera (France)
Buy Tickets