Another Sweden based fighter will get a chance to topple current Superior Challenge champion Daniel Acacio, as 'Makambo' is set to face the Brazilian on May 3rd in Helsinborg for Superior Challenge X. The promotion announced the matchup today. Read the press release below.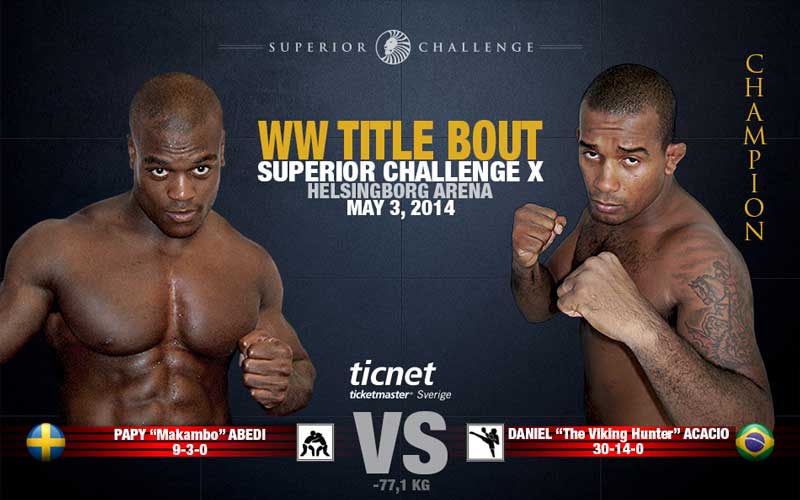 Press Release
Babak Aghavali , CEO Superior Group International :
Everyone who saw Superior Challenge 7 remembers when Papy went up the cage directly after Acacio's match against Gonzalez and challenged him for the belt . Now we finally get the opportunity to see the game. Makambo is a more qualified fighter today and really ripe for an opponent on Acacios level. Daniel is one of the most accomplished athletes we've had in Superior Challenge , and it 's an honor to have him as our champion. Papy is really psyched and really want to take home the belt to Sweden which is all he has talked about the past six months . The Viking Hunter feels comfortable in the throne but Makambo is probably the hungrier of the two. I think both fighters will be well prepared because it's very much prestige surrounding this match.
Papy Abedi will challenge Superior Challenge's reigning welterweight champion Daniel Acacio for the belt at Superior Challenge X May 3 in Helsingborg Arena.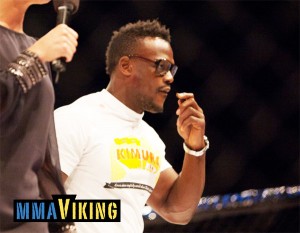 Acacio 30-14-0 has earned the nickname "The Viking Hunter" after winning a number of Swedes as Tor Troeng, Bobby "Danger" Rehman, David Bielkheden and Diego Gonzalez. The Brazilian is a very distinguished fighter who has trained with the best, competed against the best and won over the top. He won the Superior Challenge's first title fight at welterweight against David Bielkheden and defended the belt the following year against Diego Gonzalez.
Since then he has had ten matches and won seven of them, and it was right after the match at Superior Challenge 7 Papy went up in the ring and challenged Daniel on his belt. The Brazilian accepted the challenge but soon afterwards the Swede signed with the UFC and thus the match could not happen until now when he is released.
Abedi who has devoted most of his spare time over the past year to build training facilities for poor children in the Congo chose after their last match to never compete at welterweight again. But now that he has the opportunity to take home the Superior Challenge belt to Sweden, he decided to once again slimming down to -77.1 kg. This match at Superior Challenge X May 3 in Helsingborg Arena will be Acacio's second title defense of the organization and will be the evening's co-main event.