The Zone FC has added their third title fight to the upcoming "Demolition" card. Among the best Swede's outside the UFC control, the card is already set with Martin Svensson defending his belt and Sirwan Kakai fighting for one. Today, the organizers sent out a press release announcing Assan Njie's addition to the already stacked card.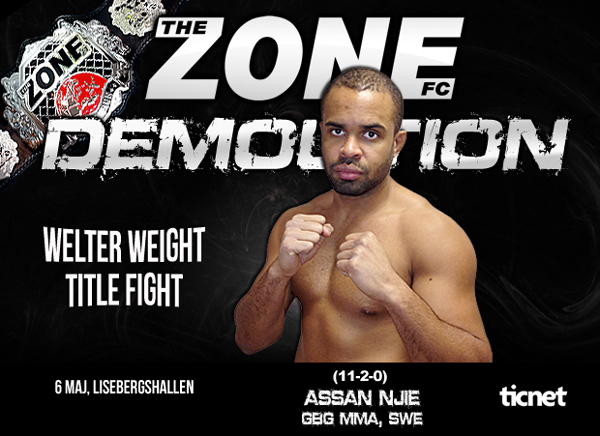 Press Release
"You can expect an explosive fight with another KO or submission win", Njie.
Assan "The Black Attack" Njie, the explosive 28-year old fighter from GBG MMA with a fight record of 11-2-0 has signed for a title fight at welter weight at The Zone FC – Demolition the 6th of May in Lisebergshallen, Gothenburg.
The welter weight title became vacant since Besam Yousef signed for UFC and was released from the organisation.
It will be Njies first fight in a new weight class, but he usually doesn't cut weight more then a couple of kilograms, so the shift of weight class is logical.
He has an explosive stand up game with great punching power a slick submission. 7 out of eleven wins has come on submission. Njie holds a devastating guillotine choke, which many fighters have experienced. Last time he fought in April 2011 he put Beslan Isaev to sleep with that strong guillotine.
Assan Njie is continuously improving and looking for new challenges. This will probable be his biggest challenge in his career so far.
Visit the Botnia Punishment Event Page on Facebook at https://www.facebook.com/events/218931024859200/
"Like" us on Facebook for updates on The Zone FC and Nordic MMA.