Rami Aziz (7-2) has booked his next bout at Desert Force 16 on March 23rd. The fight in Riyadh, Saudi Arabia will be against Chabane Chaibeddra (9-4), but won't be for the Desert Force title that he has been hunting down since entering the promotion. "It was supposed to fight for the belt. But Desert Force confirmed that the champion is injured, even the guy who lost the belt is injured." says the Swedish Top Team fighter to mmaViking.com.
Next fight 23rd March | Desert Force 16 | Riyadh, Saudi Arabia @mmaViking @mmanytt @kimurasweden @fightplay #mmase pic.twitter.com/gZotoy6Ytj

— Rami Aziz (@RamiAzizMMA) February 26, 2015
"I know that he´s a allround fighter with good striking and lots of flying moves. He never been fighting a good wrestler/grappler with good striking like me. And I know that it will be his weakest point." comments the 23 year old about his French opponent.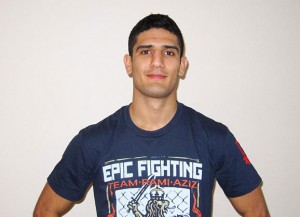 The featherweight based in Gothenburg is on a roll, winning 6 straight fights, with his two most recent fights with the Desert Force promotion.
Chaibeddra has a two fight winning streak of his own. The March fight with Aziz will be his debut with Desert Force.
It was long time I fought so i really needed to fight again. My manager Tim Leidecker did a great job and fixed this fight for me and I´m very happy to fight in March.
"I´ve been training a lot on my wrestling at Swedish Top Team. I have very good sparings partners with good coaches who are helping me to get better for every day." says the fighter that hasn't seen action since August.