Well, good readers: Here I am – as promised – in Chicago, US of A. I can tell you one thing: After having been here for 24 hours, I SO get why the call it the "Windy City"! Brr.. Anyways, getting ready to follow Simeon Thoresen in the last days of preparation for his 3rd UFC match on Saturday.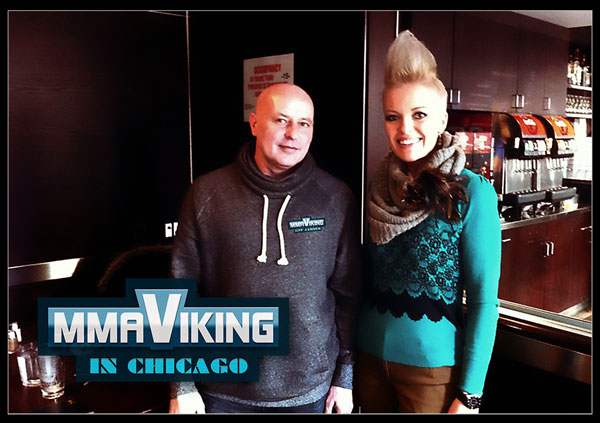 I did it. I got that press-pass I was grasping for, and now I can fulfil my promise to you: Report LIVE back at ya as the action goes down! My business-partner-in-crime, Kit Aarnes (on the left hand side of the picture – yes, the one without the crazy mohawk..) arrived today. He will be standing cage-side, taking all those picture-perfect moments on Saturday for you guys to enjoy – whilst I will be taking care of the interviewing and stunt reporting. Let's see if we can't get a funny re-invention of the flying lesson Jack Hermansson gave me :
Or, actually, I'm open to suggestions! If you have a great idea (maybe not so great for ME, but hey, anything to please you guys..Haha!) of what you would like to see a UFC fighter do to me – send me an e-mail: [email protected]. Best suggestion will be awarded with video footage! As I am writing this, I already feel regret crawling in my vains for opening this door of possibility to you.. Haha! Give it your best creative shot!
We start off on Thursday, with footage of Simeon and the other UFC guys working out. Although Simeon is not on the main card – and therefor not at the "Open Work Out" sessions (only Main Card'ers are) – we will still be able to report back to you from his private sessions with his boxing trainer Jonathan Espolin-Johnson, and fellow Frontline PRO team mate, Mohsen Bahari. Bahari will be Thoresen's cornerman on Saturday. The side-kick during preparations this time around, however by no means a 3rd wheel, is Håkon "Döden" Foss.
Whilst we await The Grin's arrival tomorrow, we re-post the interview I did with Simeon a month ago – for those of you who missed it, or those that just can't get enough of The Grin. Haha, enjoy!