Cage 44 goes down today in Helsinki. Mirva Vainio was cageside to capture the action in photos and descriptions. See your full event report here.
NIKO MYLLYNEN VS AMIN AYOUB
First match of the evening was a tight one. Myllynen was stronger standing up, and in a bit of a trouble on the mat where Ayob was able to get control and go for submission attempts, which Myllynen successfully defended.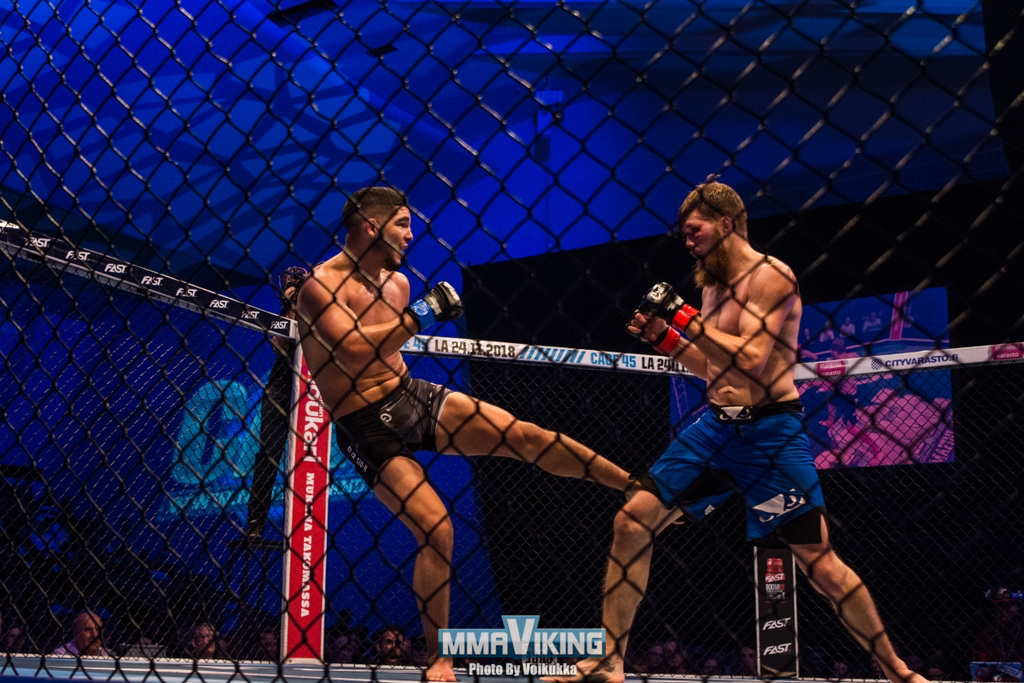 Ayoub with the uninimous decision over Myllynen.
MARKUS RYTÖHONKA VS MARKO TANI
This matchup was a traditional grappler vs. striker. Rytöhonka goes for a takedown and Tani's jiujitsu is no match for Rytöhonka who is smashing through hi  guard. Second round Tani gets a bloodgushing wound on his forehead and fight ends in third round in TKO as Tani in a turtle and Rytöhonka on his back striking.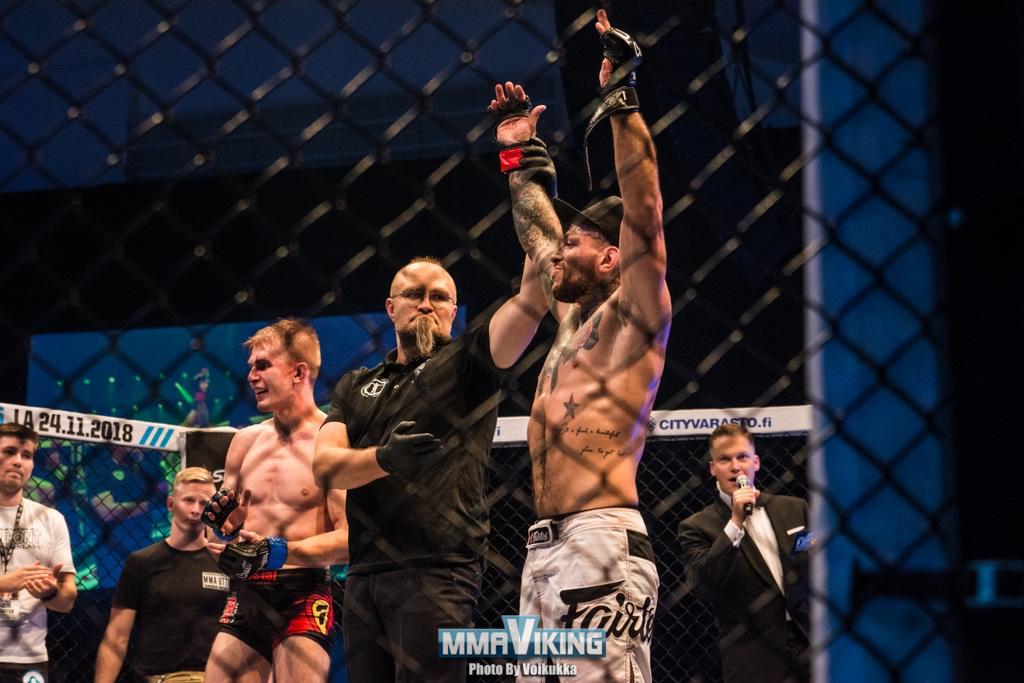 Rytohonka wins by TKO in third round at 1:47.
PATRIK KAPANEN VS TONI LAMPINEN
This fight started slowly, both fighters carefully measuring each other. Kapanen going more for body punches and strong control of the centre forcing Lampinen against the cage and going for takedowns. Lampinen served multiple high kicks and punches with his better reach and one knee that almost seems to drop Kapanen, who bounces back and match continues with Lampinen gaining the backcontrol on the mat, but Kapanen fights till the end and the match ends in full time to Lampinen's favor.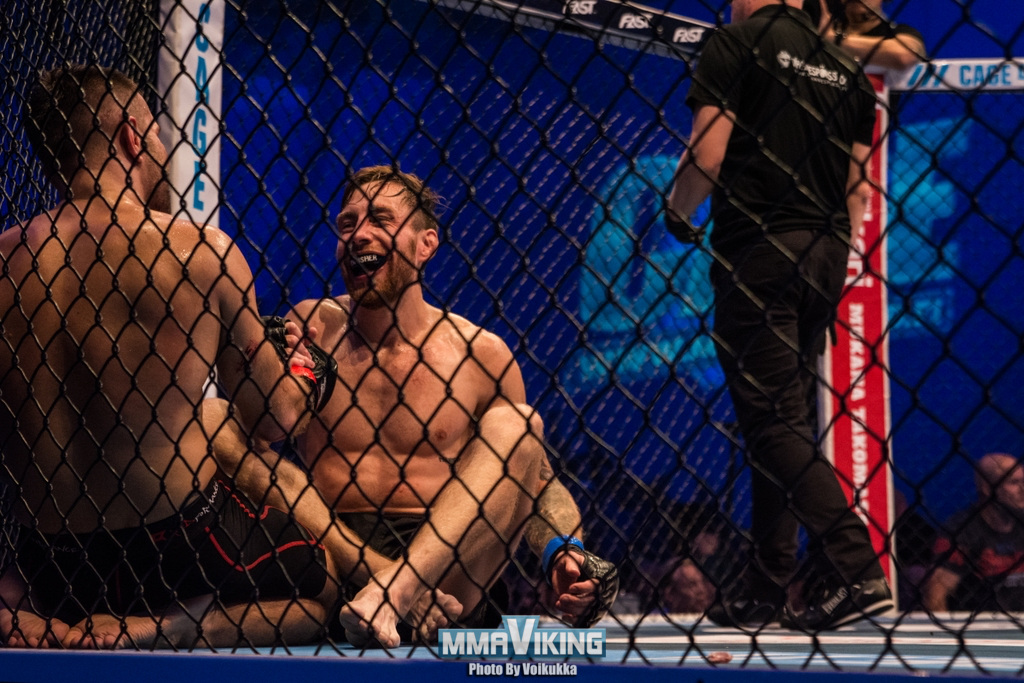 Lampinen wins by unanimous decision.
SUVI SALMIMIES VS VLADA YAVORSKAYA
Vlada has a strong beginning in the match, strike and takedown. Suvi goes for triangle and a armbar in defence in the ground, Vlada escapes and Suvi turns the game. Taking down, backmounting, and ending the fight in mount overwhelming Vlada with strong punches.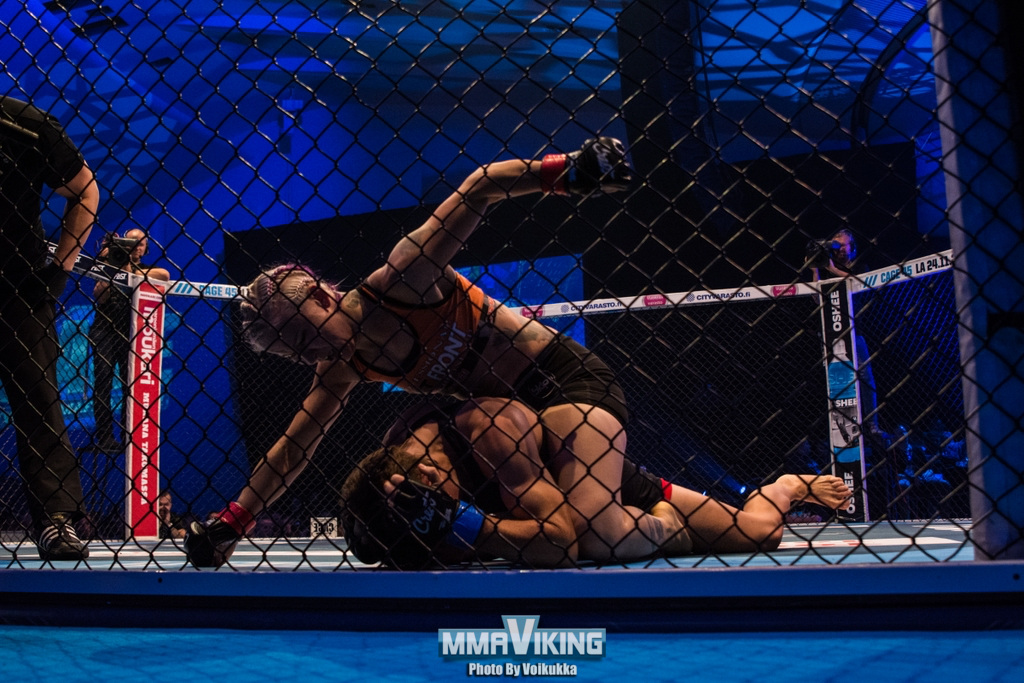 Salmimies wins by TKO in Round 1.
OLLI SANTALAHTI VS ALEX LOHORE
This match was an endorphin firefight. Lohore with his strong kicks, whose sound echoed even in the back of the room, Santalahti throwing punches and going for takedowns and even locking in a super tight kneebar in the first round. Santalahti succeeds multiple times in his takedown, but in the end of the second round his explosiveness started to clot and in the ground Lohore turns the tables and is able to gain the control and just smash with no signs of gassing, taking home the win.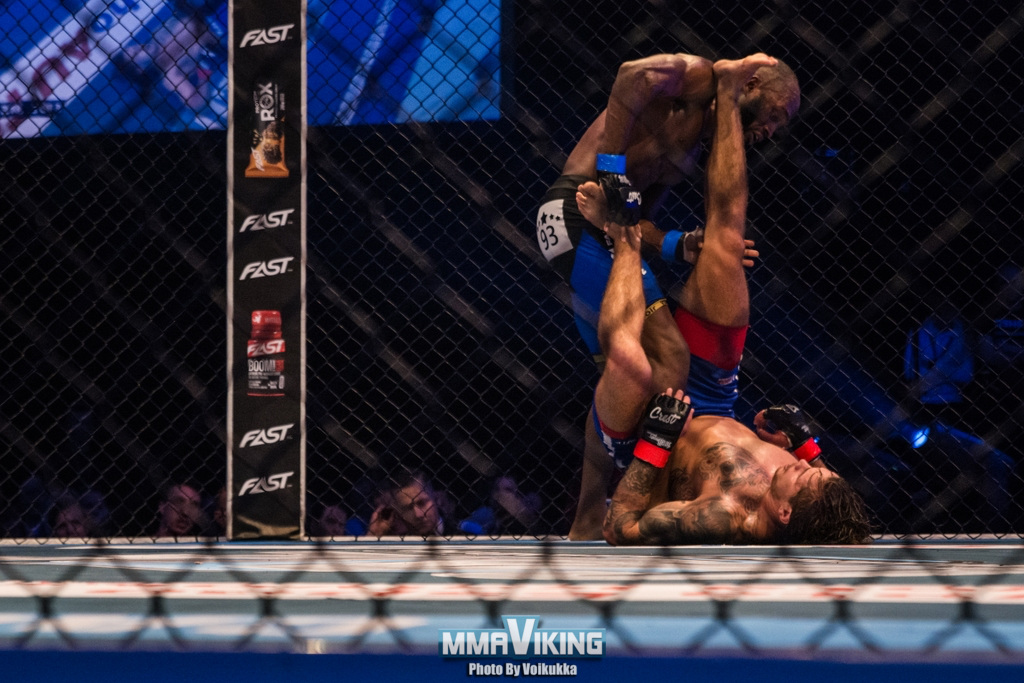 Lohore wins by unanimous decision.
EDWARD WALLS VS IVAN KIBALA
Walls and Kibala had a bit height difference so Walls had the advantage in his reach, and he started strong, but that did not stop Kibala returning Wallsis kicks and turning them to takedowns. Walls controls the match, with precision striking, but in the second round seems to get tired, and there are few danger zones when Kibala pressures on dangerously, but nevertheless win goes to Walls with full time.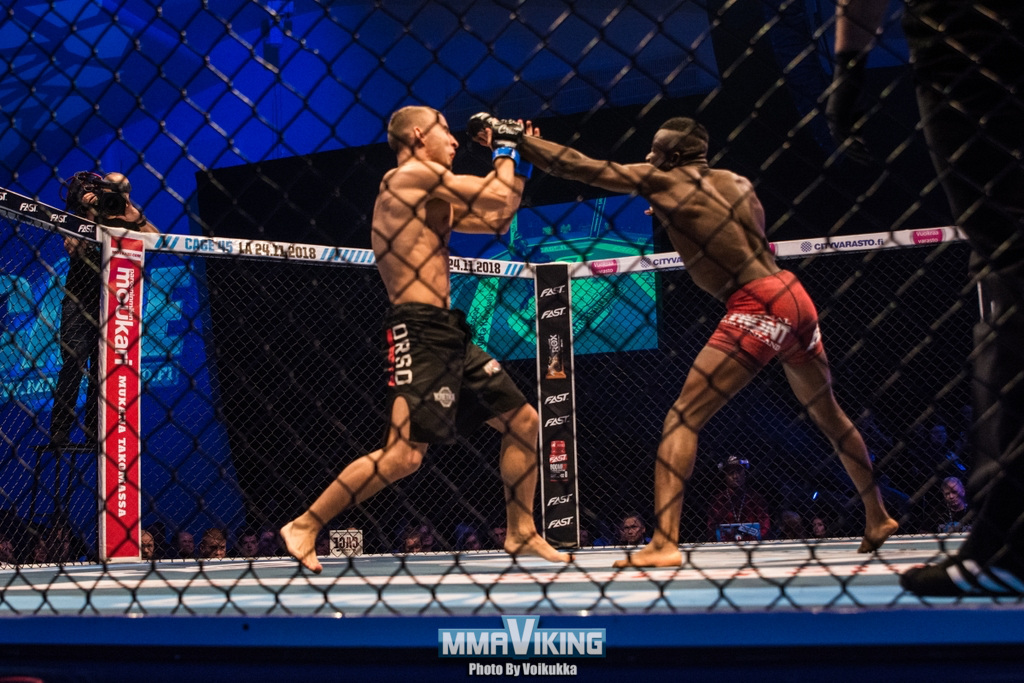 Walls wins by unanimous decision.
ALEKSI TOIVONEN VS AREN AKOPYAN
Toivonen takes the back after a takedown but something goes wrong and and Akopyan escapes, and after a swift change of kicks Toivonen is down, Akopyan takes the TKO with heavy fists from Toivonens back.  Win goes to the man from gym which logo is an angry pear in a ring.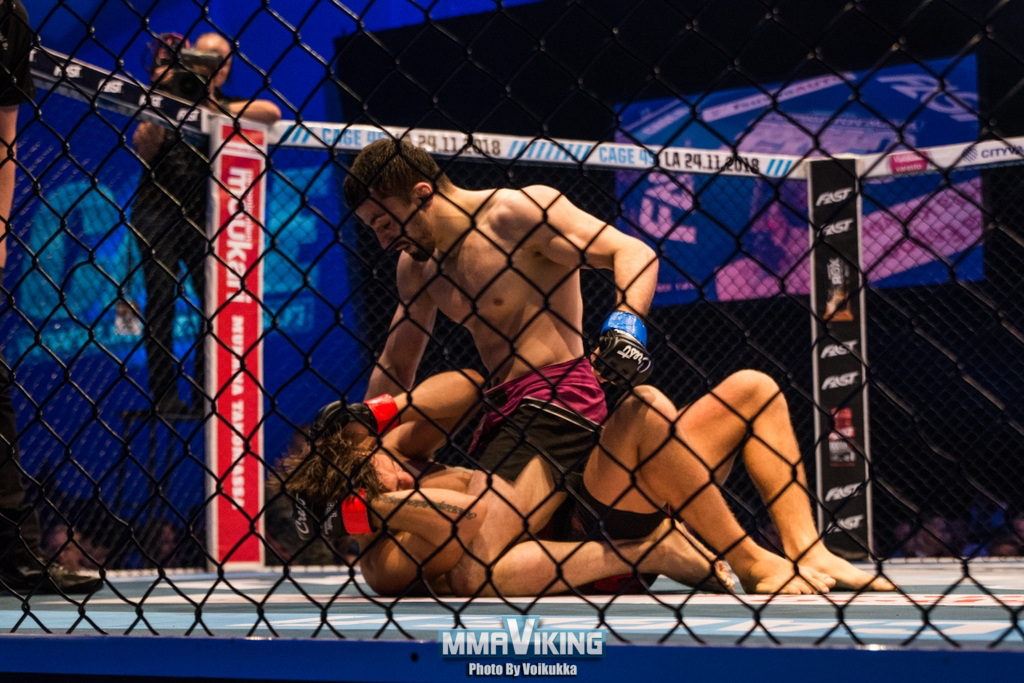 Akopyan wins by TKO in first round.
ANTON KUIVANEN VS VALERIU MIRCEA
First round is an even change of punches and kicks, Kuivanen controlling the circle and confronting Mircea carefully. In the second round Kuivanen is overwhelmed by the fast and strong punches of Mircea and is forced against the cage where match ends him unable to defend himself.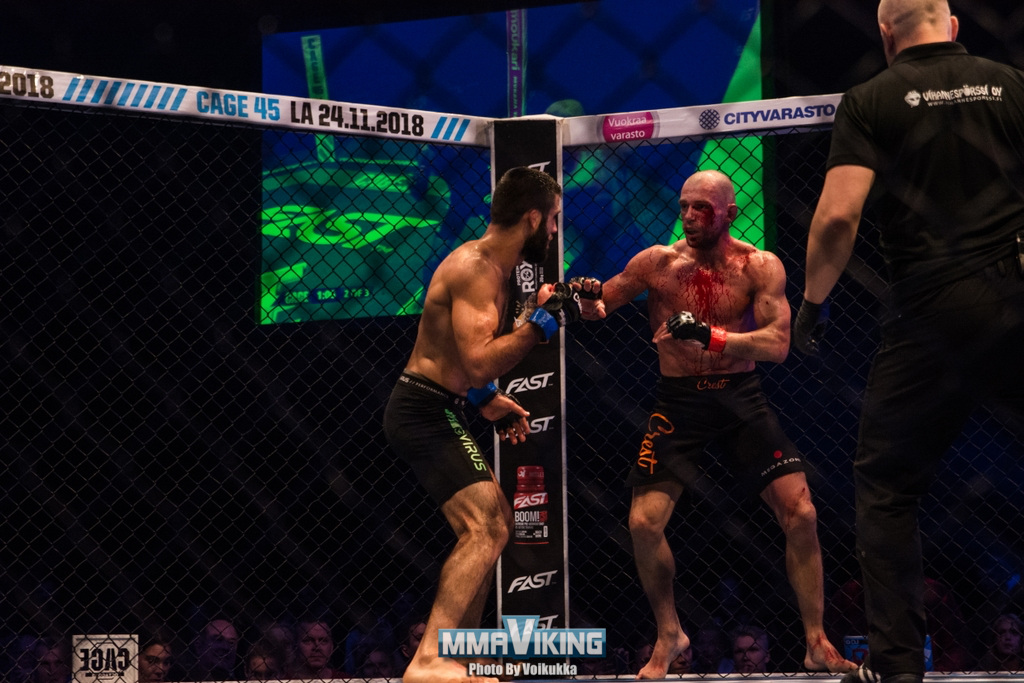 Mircea wins by TKO in the second round.