Sweden's Sirwan Kakai (11-2) will make his UFC debut at the Seminole Hard Rock Hotel and Casino in Hollywood, Florida today. Zohan will face American Danny Martinez at UFC Fight Night 70.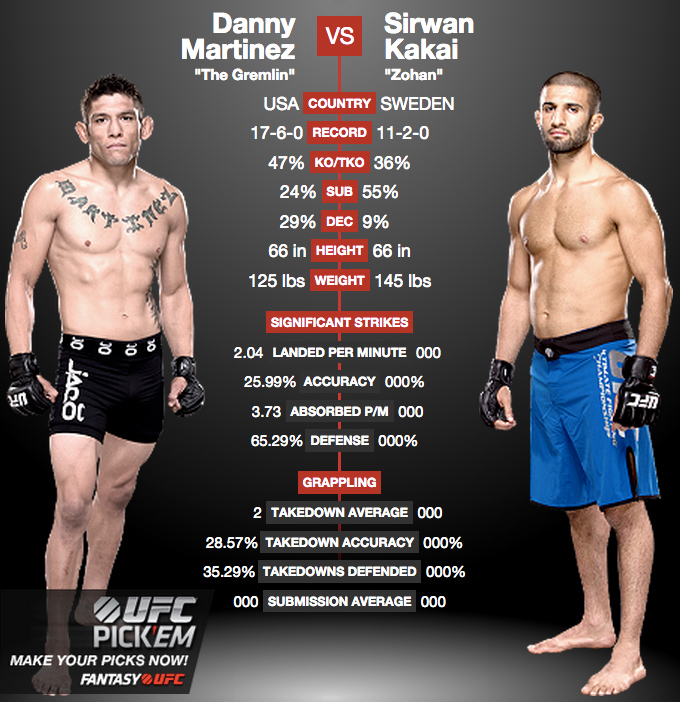 Live Play-by-Play & Results
Round 1
Here we go! John Mccarthy is the third man in the ring. Both fighters with nicely manicured beards.
Martinez is the aggressor looking for punches. Kakai looking to counter. Kakai in the blue corner tonight. It is the Swedish raised fighter with a take-down in just over a minute into the first round. Martinez is up against the fence looking to get up, and he does, but Zohan lands a good knee on the way up. Again it is the ATT fighter that backs up, looking to counter. HUGE left knee from Kakai, and the American is dropped. Kakai pounces but can't finish, and Martinez scrambles up to his feet, but he is hurt. Martinez lands a punch and snatches a guillotine. Wild events here with one minute left. Kakai lunges with an uppercut, and the two continue to exchange.
Left high kick from Martinez lands, but Kakai shakes it off. A few more good blows from Martinez to finish the round.
MMAViking.com Score : Kakai 10-9
Round 2
Thirty seconds into the first and the two are peppering each other with hands, no power between these punches. The aggression pics up, and Kakai with a nice counter. The left hand of the American lands, and has hit Kakai in the face repeatedly. Kakai with a double-leg take-down two minutes into the round. Martinez is scrappy, and hard to hold down, but Kakai puts him back down on the mat against the fence. The Swede with a good controlling period here, staying on top as the clock nears one minute in the round. At the 30 second mark, the American is up and he is a wild man encouraging more exchanges as Kakai lands a knee.
MMAViking.com Score : Kakai 10-9
Round 3
Kakai enters the third with the first and second likely in his pocket. The Swede with his hands up high, but Martinez pushes some power punches through the guard. Looking to counter with an elbow, Kakai is getting creative to counter the winging punches. Nice right hand from Martinez, and he tries to follow up after with a high left kick. We are half way through the round.
The fans aren't yet full for the first night of the fight, but fans getting a treat with this one. Kakai again with a double-leg take-down and moves to back. One minute and forty seconds left, and Kakai holds on like he knows this is his fight. One minute left, and Kakai grinding as Martinez makes his way to the feet. Martinez just want to bang, and Kakai encourages it as he dodges big left hands.
MMAViking.com Score : Kakai 10-9 (Kakai 30-27)
OFFICIAL SCORE : Kakai Unanimous Decision (30-27, 30-27, 30-27)
"This victory represents so much for me. It's a dream come true. I knew it wouldn't be easy. I've been through a lot and this win just shows me you just have to believe in yourself."