Finland's Juha Saarinen will be making his return to the cage at Carelia Fight IX. The FFG fighter was set to face UFC headliner Ilir Latifi at Cage's card in February, but had MCL and meniscus damage in training for the bout that put him on the sidelines. "Juice" will head back to the cage after almost a year layoff at Carelia Fight IX, which will take place on September 7 in Imatra, Finland.

Saarinen (right) Returns to Action  Pictures from SHERDOG.COM
The light heavyweight Juha Saarinen (9-2-0) FFG last fought at Carelia Fight 8 in September, where he won with punches in only 24 seconds against Florian Martin. Saarinen is ranked #3 in the Nordics, only behind other 205 lbs. Alexander Gustafsson and Ilir Latifi.
Carelia Fight shows have traditionally focused on presenting local talent, but for Carelia fight 8 it had international talent facing top Finnish talent: Niko Puhakka, Lucio Linhares, Ville Räsänen, Juha Saarinen, Toni Valtonen and Timo-Juhani Hirvikangas.
Carlia Fight IX is shaping up to do much of the same by bringing back Saarinen, and now promotes the card as "International MMA Event".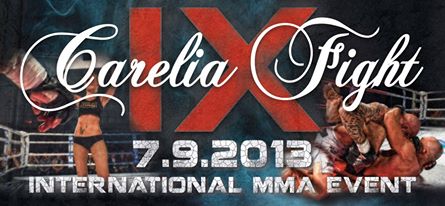 Today, the promotion posted the following card on Facebook :
3x5min
Juha Saarinen FFG vs TBA 93
Antti Virtanen MMA Imatra vs TBA 70,3
2x5min
Eeva Siiskonen MMA Imatra vs Sanna Laitinen Barreto Lahti 63.5
Aleksi Savolainen MMA Imatra vs Lasse Äijö GB Gym Helsinki 70,3
Aleksi Mäntykivi MMA Lpr/Team East Front vs TBA 73
Jani Ridasmaa MMA Lpr/Team East Front vs TBA 77.1
Lauri Tonteri MMA Utti/Team East Front vs TBA 77.1
Saarinen Versus Martin from Carelia Fight 8