Sadri Kelmendi will make his highly anticipated debut against Julius Zurauskis at Superior Challenge 8, on October 6th in Malmö, Sweden. Superior Challenge officials made the announcement today.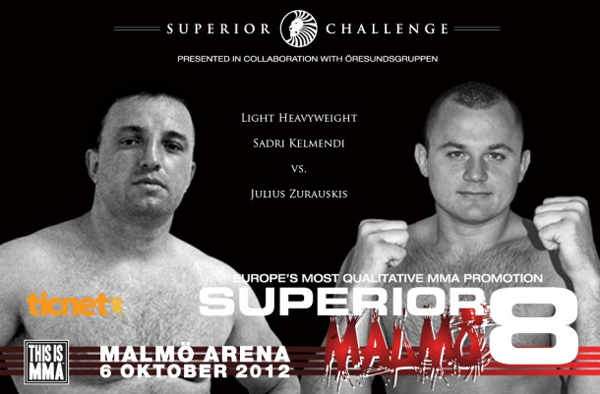 Press Release
The Kosovo Albanian born Sadri would have already made his debut back at Superior Challenge 2 – Resurrection, but the event doctor stopped him from fighting because of a fever. Together with his brother Visar, they are head instructors and founders of Sweden's Forca Fighting MMA academy, which is the responsible athletic association of Superior Challenge. The 33 year old has competed successfully in Submission Wrestling and has during the last year focused on his boxing.
His opponent was born in Lithuania but is now living in Ireland. Julius has a boxing background and has fought a lot of bouts in the discipline.
Babak Aghavali, CEO Superior Group International comments :
– Sadri and Visar are my MMA trainers and I've trained under them since 2006. Besides that the brothers are good friends of mine, I'm also involved in Forca Fighting as chairman of the association, which makes me feel incredibly jittery about of this fight.
– I've trained with Sadri for many years and I've witnessed the incredible strength he possesses. He is a rock hard, and tough fighter who normally weighs less than 100 kg in solid muscles. This guy is a light heavyweight, but moves like a lightweight, and he is an incredibly technical and talented grappler. I can't imagine anyone stand in his way when he is in good shape.
– This is again a classical match-up between striker vs. grappler, where the grappler Sadri has to neutralize the merited boxer Julius. Both men have similar physical conditions except that Julius is slightly taller. A very interesting and even match-up, which I can almost promise will become a crowd favourite.