Swede Sirwan Kakai will now face Russian Vladimir Karasiov on the August 31, Royal Arena 2 card. Nordic's top bantamweight has been waiting for an opponent after his original opponent Bruno Marques (4 wins and 0 losses) was injured two weeks ago.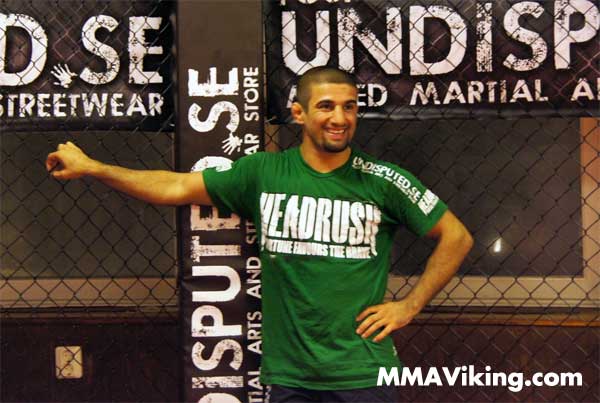 "It seems like each fightcard has one jinxed match-up. And unfortunately, this time it was Sirwan Kakai's opponents, who kept getting injured. I think we're down to number 4 or 5." says Royal Arena match-maker Tue Trnka.
The Kakai versus Marques match was seen to be another solid test for the GBG MMA trained fighter, that now spends time at Florida's American Top Team. "I was really excited about matching him up against Bruno Marques, and then we had the very explosive Abdulmezhid Magomedov in the picture. But he pulled out due to weight issues with 10 days to go. And finding someone to face a fighter of Kakai's caliber at such short notice is a terrible puzzle to solve. Then add to the fact, that he fights at bantamweight, which is kind of a minor weight divison in Europe." explains Trnka.
Finally the bout has been put together, and "Zohan" will be seeking to improve on his impressive 7 win and 1 loss record. Karaslov, however, is a bit of a mystery to many European MMA fans, as he has been limited to fighting on Fight Club Baltic Bears cards. His 7 win and 3 record (his most recent bout was a victory, and not yet in Sherdog's database) shows that he has never gone the distance, so expect a lot of action in this fight.
The Danish match-maker describes Karaslov as "a young, up-and-coming prospect, that is coming to win." "It was important to me, that I didn't come up with someone, who'd just take a dive. That wouldn't serve Kakai, the fans or Royal Arena. Of course, Karasiov, with all respect, isn't the opponent I hoped for, but he's got everything to win and he's bringing a solid skillset."