Three Swedes will take action tonight in Cage Warriors 59 takes place at Motorpoint Arena in Cardiff, Wales.  Both Häggström and Svensson are seeking titles, while Nilsson hopes to take one more step closer to a shot at the welterweight strap in his bout.  Fight preview and live play-by-play is below.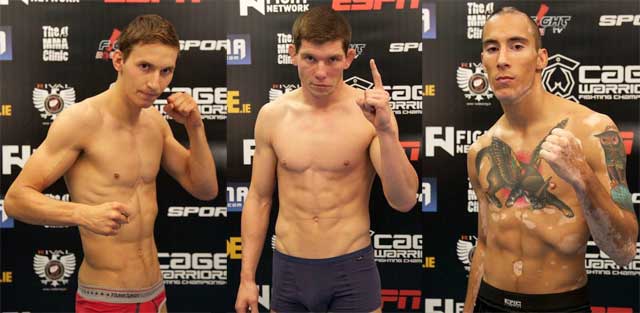 Fight Preview
David Häggström (7-1-1) versus Brett Johns (6-0) is the second leg of Cage Warriors 59 bantamweight four-man tournament in Cardiff, Wales. Swede Häggström fights from the Renyi Fight Camp in Umeå, and for this fight he has also been training with James Doolan at his gym, the Dinky Ninjas. The winner of this bout will meet Kris Edwards or James Pennington in the main event, which will determine the new bantamweight champion. You can see Häggström vs. Johns at Cage Warriors Facebook page for free, between 20.45 and 23.00 (CEST). Read our pre-fight interview with the Swede!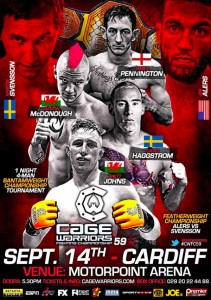 Mats Nilsson (10-2) versus Denniston Sutherland (20-11) landed on the main card of Cage Warriors 59. Swede Mats fights out of Rumble Sports gym in Copenhagen and Kaisho Martial Arts in Helsingborg. The middleweight have only lost against top ranked opponents Tor Troéng and Timo Suhonen. The main card can be viewed at Cage Warriors own page, which starts 23.00 (CEST).  See preview video.
Martin Svensson (12-3) versus CWFC Champion Jim Alers (10-1) will be the co-main event of the Cage Warriors 59 card, which also is a featherweight title fight. Swede Martin fights out of Frontier MMA in Malmö, and will take on "The Beast" for the FW belt. The big and charismatic Swede have won against top quality opponents, and his next meeting might be his toughest yet. Jim Alers last successful defended his belt against the Finn Joni Salovaara, and won by a triangle armbar. The main card can be viewed at Cage Warriors own page, which starts 23.00 (CEST).
Play-by-Play & Results
David Häggström versus Brett Johns – bantamweight-tourney opening round
Round 1 – Häggström fires a hard kick to start things off, but both men looks respectful. Häggström throws another kick, this time toward the head, followed by a combination blocked by Brett. Häggström looks sharp and quick, but Brett is keeping up. Häggström slips a punch and lands two clean shots, doing a great job controlling the stand up. Brett hit Häggström with two straight punches, but Häggström fires back. Brett looks to take Häggström down, and almost succeeds but Häggström pops right back up, and looks comfortable against the cage, but Brett drives forwards and gets him down. Häggström stands up again relatively easy, but Brett is pushing hard. Häggström now looks for the kimura, probably to improve position, but Brett still pushing against the fence. Häggström now with good striking in the clinch, and breaks up, and fires on Brett! And he looks hurt! Bells rings, that was close. MMAViking scores this round 10-9 to Häggström.
Round 2 – Brett is the agressor but Häggström slips and keeps out of his punches. Brett fires a great body kick that lands perfectly, but Häggström with a great counter combination. Brett shoots but Häggström lighting quick defends and throws a hard body kick that lands, and Brett looks hurt but answers quickly with a knee. Häggström continuing with the kicks. Again Häggströms slips and throws a combination, and Brett instantly goes for the takedown, and eventually gets it, but Häggström jumps up as he have done throughout the fight. A scramble on the ground and they're back against the fence, but Brett slams Häggström to the mat and looks to do some damage on top. Brett not doing any damage, but controlling the fight on the ground. Häggström not really being able to much, and the bells rings. MMAViking scores this close round 10-10.
There will be a third round.
Round 3 – Häggström explodes, and looks good, but Brett still in the game and dives for the takedown, but Häggström won't go down easy. Brett picks Häggström up and slams him down to the canvas, ending up on top. Häggström is cut open with what looked to be a elbow. Brett is happy with his position, and is successful with his ground and pound. Brett is showing his wrestling, and keeping Häggström on the ground, doing some damage and scoring points. MMAViking scores this round 10-9 to Brett Johns.
Official decision: Brett Johns wins by Unanimous Decision and will move on to the finals of CWFC bantamweight tournament.
"It was not my way tonight, I break down and sulking today and tomorrow. On Monday, the road to the next game, then I'll be even better. Thanks to my wonderful girlfriend Anette Sandstrom who are always there, both in success and failure. Thanks to all the friends who came with the place and from a distance, it warms my heart. Thanks Thomas Brooks for all your help in my corner, and last but not least, I thank my sponsors who make this trip possible: Epic, Timelab, Costas, MMsports and Filip at Red Dragon." – posts Häggström shortly after the bout.
Mats Nilsson versus Denniston Sutherland 
Round 1 – Mats firing punches right away, and eats a couple aswell. Takes Denniston down, and secures side control, and moves into full mount right away. Looking for posture, to do some damage, but also looking for submissions. Mats jumps back to side control, throwing very hard knees to Denniston's side. Mats controlling Denniston with ease, and lands punches and hard knees. Mats looking very comfortable on the ground, being creative with his knees, pummeling Denniston against the cage. And now slams him back down to the canvas! Right into full mount, it looks like Mats can do whatever he likes, showing off great grappling with sharp ground and pound. Mats finishing off the round with aggressive ground and pound. MMAViking scores that round 10-9 to Mats Nilsson.
Round 2 – Mats calm and relaxed on the feet, throwing couple of punches that lands. Mats now pressing Denniston against the cage, but they break it up. Denniston looks very tired, and Mats lands a hard body kick. A beautiful inside leg kick and punches from Mats staggers Denniston! Super tired and backs away from Mats, gets taken down and Mats is now in full mount trying to posture to do more damage. Mats trying to finish with a barrage of punches, and finally the referee saves Denniston from more punishment!
Official decision: Mats Nilsson wins by TKO in the second round.
Martin Svensson versus CWFC Champion Jim Alers – featherweight title
Round 1 – Martin starts off throwing a good kick and a left hand, and Jim gets Svensson down, looking to improve his position near the fence. Jim secures a rear naked, and it looks extremely tight! He changes grip and Svensson looks to be in pain, but somehow gets out of it! Jim active on top and throws some ground and pound, while Svensson is trying to work his way out of it. Jim goes for the armbar, and its deep, but Svensson keeps composed and gets out finally. Now reigning down punches, and he got Jim turtled up. Bit of a scramble on the ground, and Svensson coming out on top, throwing a HARD elbow that lands clean. Really creative ground and pound from Svensson. MMAViking scores the first round 10-10.
Round 2 – Jim throwing combinations that hurts Svensson, and they end up against the cage, with Jim pressing. Svensson flips Jim around, and staying active. Both men are aggressive, Svensson with a low blow, and the referee lets Jim rest for a bit. Jim takes Svensson down, a little ground and pound while looking for the guillotine. The Swede recognizes the danger and brings Jim into his guard. Referee breaks them up, and they start standing, Svensson recklessly striking and gets taken down again with a lateral drop. Bell rings with Jim in sidecontrol. MMAViking scores the second round 10-9 to Jim Alers.
Round 3 – Jim runs forward and after a couple of punches landed he takes down Svensson, right into side control. A little scramble but Jim still on top, now postures and lands with his punches. Not much happening, Jim is on top and trying to improve position, while Svensson is doing a good job keeping him there, but not much else. Jim now threatening with a guillotine, but Svensson gets up. Svensson landing some kicks, but technique is a bit sloppier. And Jim counters with clean punches, going forward to close distance. Svensson now takes Jim down, with a solid trip. Postures up and ends the round with some ground and pound. MMAViking scores the third round 10-9 to Jim Alers.
Round 4 – Both men trading, Svensson eats a big right hand but takes Jim down. Posturing up, looking to do damage. Now got Jim turtled up, and sneaks in a hook, but Jim scrambles and Svensson ends up in side control. Svensson landing some ground and pound. Now both hooks in, but Jim scrambles, Svensson ends up on bottom. Jim not doing much, while Svensson is trying to sneak in a guillotine, but without any success. Referee stands them up, both men trading some shots, and Jim hurts Svensson with a sidekick to solar plexus! And the bell rings, Svensson walks back to his corner hunched. MMAViking scores the fourth round 10-9 to Martin Svensson.
Round 5 – Svensson slips after a kick, and Jim jumps on him with ground and pound, now in Svenssons guard. Jim finally posturing up, landing a couple of good strikes, and ends up in side control. Jim changing for a north south choke, but doesn't do anything with it. Jim is not taking any risks, but finally gets up, trying to land some strikes. MMAViking scores round five 10-9 to Jim Alers.
Official decision: Jim Alers wins by Unanimous Decision, and stays the CWFC featherweight champion.