Undefeated Swede Max 'Power' Nunes will face former Golden Glory competitor, Dutch Jason 'The Villain' Jones tonight for the BAMMA World Light Heavyweight title.  The event takes place at the National Indoor Arena in Birmingham.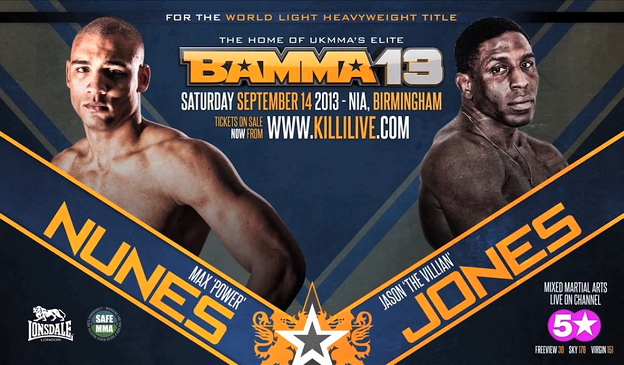 Fight Preview
Max Nunes (11-0) versus Jon Jones (19-10) will be for the BAMMA Light Heavyweight belt at BAMMA 13. Swede Max is undefeated and have won all of his 11 fights, 11 finishes, and only two of them have made it out of the first round. He fights out of New Wave Academy MMA gym in London, but have also prepared in Allstars Gym in Stockholm and Alliance Gym in San Diego. His opponent trains at Golden Glory, Amsterdam and have finished 15 fights of his 19 wins.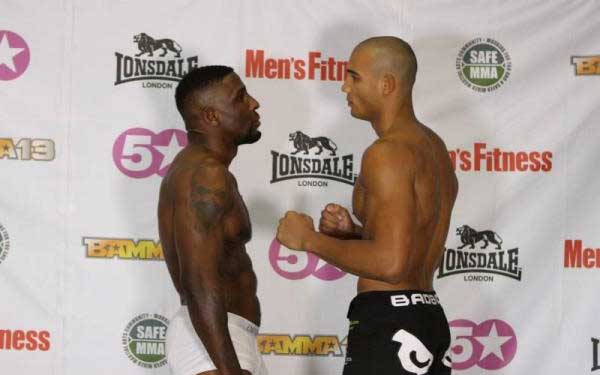 Play-by-Play
Jason Jones is the first to walk into the cage. The Villian looks calm, and awaits the Swedish-born fighter. Nunes is wearing a Swedish colored Tapout logo on his black shirt Nunes has racked up weeks of training at Alliance Training Center in San Diego before making his way back to the UK and New Wave Academy. The crowd is behind him tonight, as the cheers come in for Nunes.
Round 1
Nunes starts out with kicks, both low and high. The Swede looks physically stronger and stronger each bout. Another low right kick. Left hook from Jones that lands, and the Dutch fighter lands again and throws Nunes to his back. Jones takes mount briefly and remains on top with two minutes into the first round.
Jones in the tie-up goes for another take-down, but Nunes scrambles and is out. Both fighters are waiting for the other to make a move with a minute left in the round. Nunes goes for his take-down, but doesn't get it. Nunes with an elbow at the end, but it's the visiting fighter taking this round.
MMAViking.com Score : Jones 10-9 Round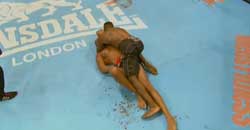 Round 2
Nunes is again starting the round with kicks, but both fighters then tie-up against the cage. Jones with a nice trip take-down slam, but Nunes goes to work immediately with several elbows to the top of the head. Jones goes back to work with his own ground and pound.
Nunes is cut above his right eye as he take a left elbow, and a side choke from Jones…. and Nunes taps. It's over, and the Villian silences the crowd as he ends the fight quickly.
3:50 into round 2 is the official ending time of the bout. Nunes shows class as he accepts defeat, and claps for the Dutch fighter as he is awarded his belt.