Max Nunes will be fighting this Saturday in Kansas City, Missouri. Today his name was added to the announcement of the "US versus UK" card, being hyped as The British Invasion for the Global Warrior Challenge (GWC) promotion. While GWC has not announced Power's matchup, he tells MMA Viking "I think it's Justin Davis".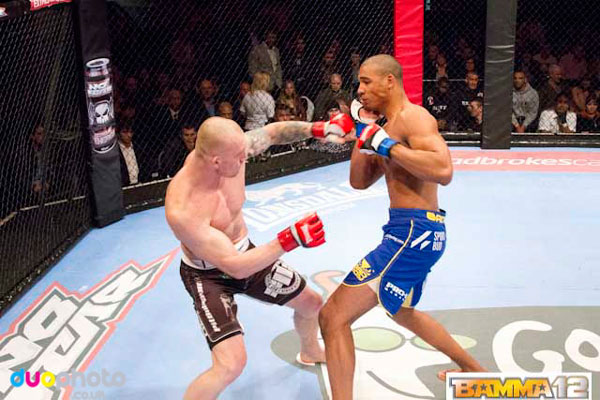 Max Nunes looks to improve on his 10 win and 0 loss record before he gets his BAMMA title shot on September 14 in the UK. Nunes will face Ason Jones for the BAMMA Light Heavyweight Title at the National Indoor Arena in Birmingham for it's 13th event.
Nunes was born and raised in Sweden, but with a father from the UK and now living there, he is representing the UK in this event.
Justin Davis is 30 years old with a 13 win and 10 loss record. The veteran has loss the last 3 of 4 fights, and has not fought since July of 2011.
Here is the updated fight card for Global Warrior Challenge minus one HUGE fight still to be announced.

Fight Card
255 lbs: Kevin Asplund vs. Oli Thompson (10-5)
155 lbs: Drew Fickett (42-18) vs. Andre Winner (14-7)
215 lbs: Ricco Rodriguez (49-18) vs. Marcin Lazarz (5-1)
185 lbs: Kendall Grove (17-11) vs. Danny Mitchell
185 lbs: Wayne Cole vs. Jack Marshman (11-1)
135 lbs: LC Davis (19-5) vs. James Saville (11-5)
205 lbs: Max Nunes (10-0) vs. Justin Davis (13-10)*
170 lbs: Colby Covington (3-0) vs. Michael Johnson (8-5)
265 lbs: Jake Heun (5-2) vs. Dayman Lake (3-3)
155 lbs: Jake Murphy (8-2) vs. Tony Hervey
* Not officially announced, and the promotion is expected to announce another high-profile bout.
GWC will take place at the Sprint Center in Kansas City, MO. The promotion says "There will be Twelve matches pairing the best of the US versus the best of the UK. Conducted under the governing rules of the Global Warrior Challenge in a country vs country format, this series will bring the best from each paired country to face off in the most popular combat sport. The first in the series, "The British Invasion" US vs UK kicks off this exciting series of country versus country competitions."