Cage Warriors today announced the bouts and schedule for the upcoming 8 man middleweight tournament.  Sweden's Victor Cheng will be the lone Nordic fighter, and will look to get his shot at another belt –he currently holds The Zone FC belt– as he starts off the tournament on February 11th against Matt Gable.  Cheng is now just 3 bouts removed from getting the CWFC middleweight title.  Read the press release from Cage Warriors below :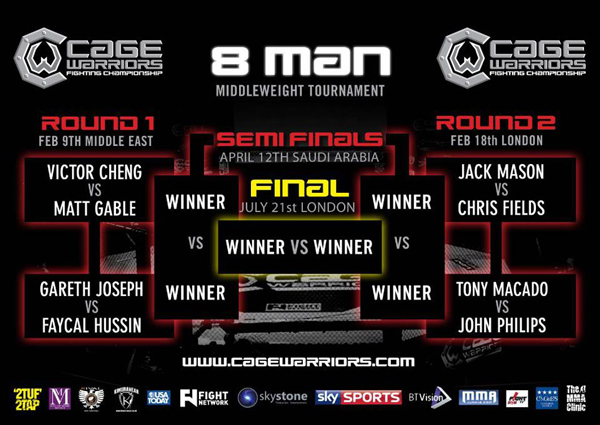 CWFC middleweight title tournament
BEGINNING at Cage Warriors Fight Night 3 in Beirut next month, eight men will battle it out to get their hands on the coveted CWFC middleweight belt.
Cage Warriors revealed plans for an eight-man tournament back in November, with the last man standing being rewarded for three victories by collecting the strap in London in July.
The tournament will swing into action at Fight Night 3 in the Lebanese capital on February 11 when Victor Cheng takes on Matt Gabel in the first quarter-final. That bout will be followed by the meeting of Gareth Joseph and Faycal Hussin.
Seven days later at Cage Warriors 45 at the HMV Forum in London, John Phillips will face Tony Machado, before Jack Mason and Chris Fields bring an end to the quarter-final action.
The winner of each of the four bouts will progress to the semi-finals (Cheng/Gabel v Hussin/Joseph and Phillips/Machado v Mason/Fields) in Saudi Arabia on April 12, and the final will take place in London on July 21 when a new champion will be crowned.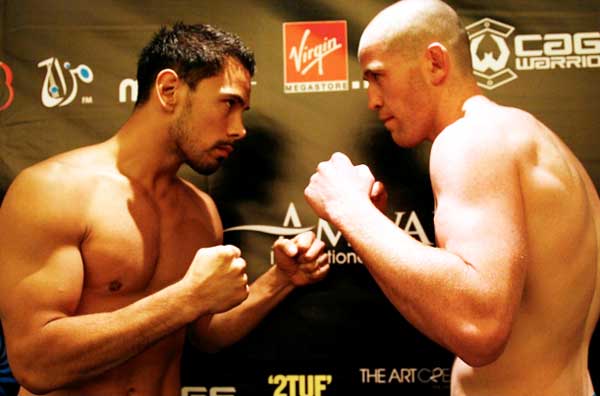 Cheng (7-2-0), who fights out of Gladius MMA in Sweden, impressed on his Cage Warriors debut at Fight Night 1 in Jordan last June, despite suffering a third round TKO defeat to John Michael Sheil.
His opponent, Matt Gabel (7-2-0), of Fiore MMA in Illinois, will be fighting on a Cage Warriors card for the first time and has gained a reputation as a clinical finisher having secured six of his seven professional victories inside the first round.
Joseph (9-4-0), who made three Cage Warriors appearances in the USA in 2008-09, has picked up key wins over the likes of Derrick Mehmen and Danny Babcock. Based in Florida, Joseph is likely to be a local favourite in Beirut as his father hails from Lebanon.
He'll fight Frenchman Faycal Hussin (6-2-0), another Cage Warriors debutant who's on a four-fight win streak. His last loss came at the hands of M-1 vet Jordan Radev in 2008
Phillips (14-4-0-1nc), one of the UK's highest-ranked middleweights, lost to Frank Trigg last year by TKO (doctor stoppage) but the 26-year-old from Swansea made a winning return against Matt Ewin in October.
His opponent, Tony Machado (4-0-0), of London Shootfighters, debuted for Cage Warriors by defeating Brett Sizeland via first round TKO last February.
Chelmsford native Mason (17-9-0) is another one of the UK's top middleweights and will be keen to return to winning ways following his defeat to UFC veteran Brian Foster at Cage Warriors 44 last October.
He'll take on Chris Fields (8-3-0), the Dubliner who made his Cage Warriors debut in May of last year by defeating Mario Stapel.
Cage Warriors middleweight title tournament
QUARTER-FINALS
February 11 (Lebanon): Victor Cheng v Matt Gabel and Gareth Joseph v Faycal Hussin
February 18 (London): John Phillips v Tony Machado and Jack Mason v Chris Fields
SEMI-FINALS
April 12 (Saudi Arabia): Cheng/Gabel v Joseph/Hussin and Phillips/Machado v Mason/Fields
FINAL
July 21 (London): Cheng/Gabel/Joseph/Hussin v Phillips/Machado/Mason/Fields

"Like" MMA Viking on Facebook and follow us on Twitter for updates on the UFC in Sweden and all things Nordic MMA.