Despite what has been a revolving door of featured fighters on this Saturday's card at Kelvin Hall Sports Arena, Glasgow, the Scottish Fight Challenge organizers have staged a solid fight card with up-and-coming prospects that is sure to be a great night of action.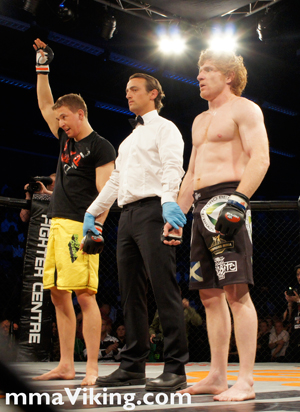 SFC 5 features two title bouts, including top Swedish prospects Martin Svensson and Jonatan Westin going for titles against Scotland's Dinky Ninja Fight Team fighters John Cullen and Dan Hope respectively.
MMA Viking interviews co-owner and promoter Chris Crowe, who along with his team has quickly built up Scotland's top promotion, and a quality one at that.  The show has brought in fighters from across Europe to take on Scotland's best, and this card is no exception as planes from France and Sweden touching down at Glasgow's airport for a chance upend local athletes.
Production has also been a key ingredient in event's growing buzz, which is energized by 1,500 cheering fans.  The promotion, just two years in existence, says "production value is only second to the fight card for us….  our company ethos has been to improve on every show, and re invest all resources in improving the show."
"I'm so pumped for this show – let the magic happen!"
This event was originally built on a rematch between Paul Reed and John Cullen and promoted as "Rivals", but Reed pulled out due to work commitments.  To further complicate the headliner match-ups, Steven Ray, SFC Welterweight Champion, decided to head out to Las Vegas for the TUF trails instead of facing Swede Jonatan Westin.  However, Cullen and Westin have been paired with quality opposition to the credit of SFC.  The show is going on with the newly vacated welterweight title and featherweight title on the line, plus five additional pro MMA bouts on the main card.  Add in a stacked undercard full of up and coming local and international talent, and MMA fans can expect fireworks agin.
Let's hear is directly from SFC co-owner and promotor Chris Crowe in this exclusive interview.
Interview
MMA Viking : It's been challenging keeping up with this card, with all the changes.  Tell us about this.


You are completely correct with the amount of changes with this fight-card – I supposed that is MMA isn't it? (Laughs to himself ) – I think around 19 pullout/ changes since we first put the card together.   All that said however – we as a promotion strive on changing the past for the future in a positive light – the glass is half full – to coin the phrase!
MMA Viking : How does this card stack up with your previous galas?
I think this is actually believe it or not out strongest fight card to date!  We not only have two of the top championship bouts to top the card- I mean these fights could feature on any fight card in Europe – all of the title contenders are very well respected across their respective nations and also in Europe.
The main body of the fight card is also very strong – with some great young fighters coming through the ranks to turn professional for the first time – and on the undercard – we have some of Scotland's top prospects looking to become champions of the future – what more could you look for in a fight card? I'm so pumped for this show – let the magic happen!
Promo Video for SFC
MMA Viking : John Cullen has been a feature of the card since the beginning.  Tell us how he's handled headlining a card with so many changes.
One aspect of the card which has continued to give me strength and a resolute vision outlining the success of our show – has been the fact that at least one side of our planned main event – John Cullen has stayed fresh, strong, and throughout everything that has been happening – has stayed extremely positive and excited about competing for our Featherweight crown! John is an extremely exciting fighter – in fact having watched him fight a good half a dozen times in the flesh – I believe that he is the most entertaining and unorthodox fighter in Scotland. This coupled with the fact that the replacement to Paul Reed – is I would argue one of the most unique and exciting fighters in Europe – sets for me, the best possible replacement for the main event.
I do have to say that when I heard that Paul Reed was out of the main event – on the back of around 12 pull out's to that point – I did start to question whether the event was supposed to happen – but we rallied together – and with great teamwork matchmaking from Hessam Zanganeh, myself and Rob McCrum I feel we have as exciting a main event as Cullen v Reed two would have been.
MMA Viking : Are tickets still available? What is the best way to buy them?
Tickets are selling well – but we want the atmosphere to be electric – so tickets will still available online – at www.fightchallenge.net in the lead up to the show – and we anticipate a flourish of sales on the door of the event as well! But sales are strong – so we would expect a really good atmosphere and MMA experience for anyone attending.
MMA Viking : For those Nordic fans interested seeing the event, will it be available for viewing on-line?
At the minute we are finalizing the details for whether the show will go online – and if it does it will be secured portals – to allow people in Europe to see the fights – we really want to ensure the atmosphere at the event itself is maintained – and therefore – streaming the show online at this stage is a secondary issue to putting on a good event overall and with that making sure the venue is packed and as buzzing as possible come fight day!
MMA Viking : What does it mean to have Swede's on the card?
We are very excited to have Martin and Jonathan over from Sweden – and I personally cannot wait for this show to happen!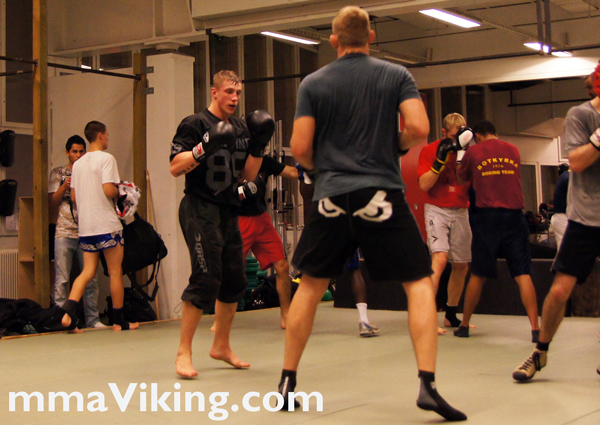 Main Card
John Cullen seems to be very confident facing Martin Svensson who is well known for being a huge featherweight.  "The guy's a giant for this weight division but the bigger they are the harder they fall." says Cullen in a recent interview about his Swedish opponent.  Below is a listing of the main card bouts.
John Cullen (DNFT) vs. Martin Svensson (Sweden) – Featherweight Title
Dan Hope (DNFT) vs. Jonatan Westin (Sweden) – Welterweight Title
Neil Laird (Lycans) vs. Vincent "The Warrior" del Guerra– (France) – 80kg Catchweight
Ally Smith (Wossabamma) vs. Medhi Benmakhlouf (France) – 74kg Catchweight
Adam Stevenson (SMAC) vs. Lova Randrianasolo (France) Lightweight
Alan McCauley (DNFT) vs. Phil Flynn (Predators) – 75kg Catchweight
David Hamilton (EKMMA) vs. Shaun Taylor (Lycans) – Welterweight B Class Pro
Undercard
Abdel Lif (France) vs. Ian Posstlewaith (Lycans) – 57kg
Calum Murrie (SMAC) vs. Adrien Caillol (France) – 68kg
Andy Burns (DNFT) vs. Darren Kinloch (Shooters Dundee) – 68kg
Calum Hunter (Gladitorial) vs. Chris Bungard (Scottish Hit Squad) 77kg
Graham Black (Lycans) vs. Bobby White (Lions Den) – 77kg
Martin Donaldon (Fusion) vs. Scot Mulgrew (Lions Den) – 77kg
Gerry Kennedy (Lions Den) vs. Peter McAfferty (Chimera MMA) – 62kg
Matty Malon (Spartans) vs. Kevin Devine (Scottish Hit Squad) – 70kg
"Like" us on Facebook for updates on Nordic MMA news.  And stay tuned to MMAViking.com, as we will be reporting live from Scotland.