MMA Viking will be reporting live from Gothenburg on the 'Survival' card taking place Saturday evening.  Doors open at 17:30, and fights fights start at 19:00 local time.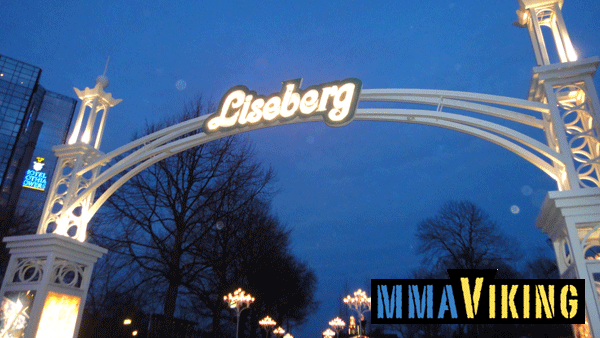 Play-by-Play
The crowd is rolling in here in Gothenburg. Always fun to see Orcbite's Christian Lindell, one of our first "lifestyle" interviews. Him and Meddi are doing their thing growing that brand in MMA, Video games and more.
The MMA Viking crew tonight includes Christoffer Jonasson, who will be rocking pictures and taking video. So stay tuned for interviews coming throughout the next day or two.
Interesting card tonight with Swedes taking on primarily French and Lithuanian fighters. Only one Swede versuse Swede bout.
Send me questions on Twitter at @mmaViking, and I'll get back to you.
Vladislav Scheblikin, The Knight of Plunge, Russia vs. Erik Carlsson, Frölunda Kampsport Center, Sweden

Round 1
Erik Carlsson has an amateur background and he became the Swedish champion 2011 in amateur MMA in middleweight. He looks relaxed and lands two left hooks to start off the bout. No fighter is looking for takedowns as they stand straight-up countering each others striking attempts. These middleweights have power, and are looking to end the fight early. Scheblikin is gaining some momentem with his punches, and is beginning to establish his left hand, but he's looking for a big right. A spinning backfist from the foreigner. Carlsson ties up Scheblikin, but looks composed. The Swede goes for a takedown, but gives it up and tries to land a knee. He is on his back, and the Knight of Plunge fighter lands some kicks from standing to the legs. Right hand from Scheblikin, and he is stalking the Swede. The Swede lands a big blow at the end of the round, and tries for a front headlock as time runs out. Close first round, but Scheblikin landed with more damage, so 10-9 for Scheblikin.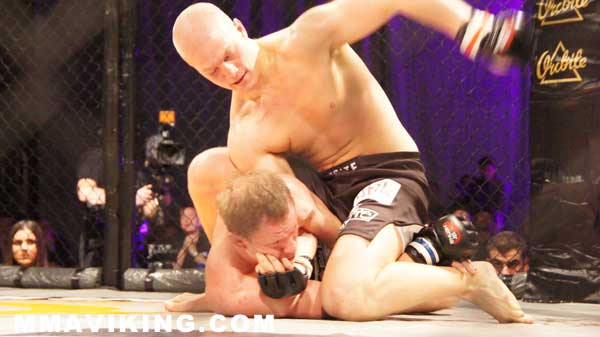 Round 2
The two tie-up, and throw punches. Carlsson with a take-down. and he looks to pass from half guard. The Swede is in control, nad looks for ground and pound. Scheblikin throws up triangle, but doesn't look to have anything. Carlsson looks like he has a kimura if he wants, but gives it up in favor of better positioning. The Swede lands punches, but now looks for a front choke, which looks tight,. He has the arms of Scheblikin trapped and is raining down punches. Scheblikin shows heart and stands up. The Knight of Plunge fighter is tired. Clear round for Carlsson 10-9.
Round 3
This round should decide it. Both fighters look tired… but composed. The crowd chants "Eric" and the Swede responds by moving forward. Carlsson finally finishes the take-down off of the cage, and is on top 2 minutes into the round. Full mount for the Swede, and he is punches his way to victory here. He takes full mount, and flattens out his opponent. And it is over. Carlsson wins by TKO stoppage.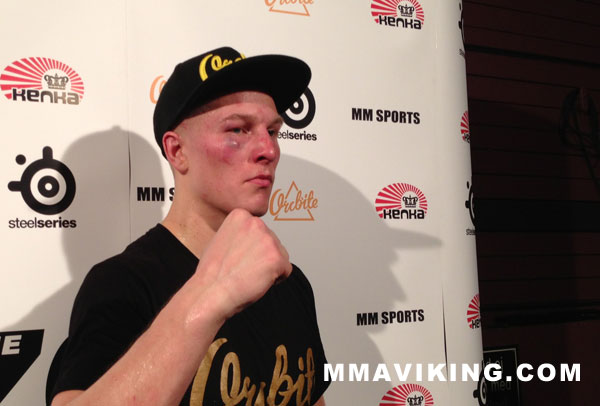 Gianluca Scottoli, Shoot Team Modena, Italy vs. Emil Hartsner, Frontier MMA, Sweden
Round 1
The two tie up to start the second bout of the evening…. but the Swede is able to take it to the ground, but quickly the Italian looks for submissions. The Swede takes back, and is looking to finish. A rnc attempt, and it looks locked in. And a tap, and it is over by rear naked choke. Hartsner celebrates with a little dance… not gangnam style… but perhaps a bit inspired.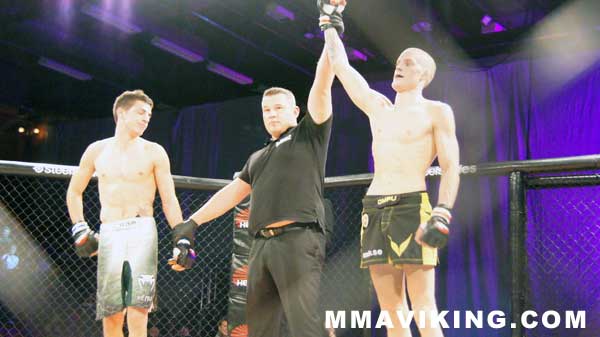 Emil Ahlqvist, Örebro MMA Center, Sweden vs. Rami Aziz, Frölunda Kampsport Center, Sweden
Round 1
The two come out swinging. Aziz looking both high and low. Ahlqvist presses Aziz against the cage. The two dirty box, and continue to lok for short punches and knees. Aziz finds himself with his back to the cage more often. Two minutes left in the round. And Aziz is slammed on the mat, but gets up and lands a huge blow, and now Aziz is using his reach to score some points. Tactical battle again as the two go back to the clinch. The ref breaks the two with 20 seconds left, and Ahlqvist looks for a superman punch. Close round, and Ahlqvist seems confident after that round. Very close, but I'll got with Ahlqvist that had a nice slam and good offense toward the end of the round.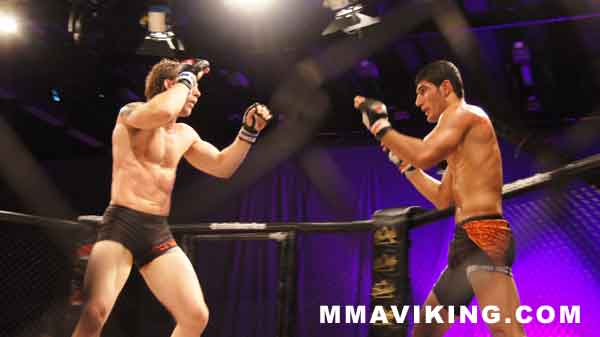 Round 2
Aziz landing some nice strikes to start off round 2. Ahlqvist is a strong guy, and seems to have size on his Swedish opponent. Again, Aziz finds himself pressed up against the cage. The two exchange punches, and Aziz sees an opening to shoot for a double leg. He finishes, but Ahlqvist looks to be at home on his back, and is looking for offense from his back. Aziz looks cautious, but takes full mount. High mount, and trying to inflict damage with punches. This fight has a nice momentum to it that is building. No fighter has fully established themselves yes. Two minutes left in the round. Aziz landing some puches, giving him the advantage. Ahlqvist is able to get his way to his feet, but Aziz smothers and gets the fight back to the ground… but the fight is standing again. Round 2 for Aziz.
Assan N'jie is in the corner, and seems to be the lead coach here. If you haven't seen the video that we did with him at May's event, watch it now or forever regret it!
Round 3
Again, the two tie up against the cage. They assume their positions with Aziz with his back to the cage. Aziz now looks for a take-down of his own, but Ahlqvist counters with a front headlock. Aziz is able to finish, and has 3 minutes to decide the fight. Aziz has side control, but Ahlqvistis out. Aziz now moves to back, and takes a deep breath as he maneuvers to sink in two hooks, which lead to full mount. The crowd chants "Emil", but that is short lived as Aziz land some ground n' pound from mount, and now is whooping up on Ahlqvist… letting it all go. Aziz is taking home the victory as he slams right hands to the face of Ahlqvist. Clear 10-9 for Aziz.
29-28 for Aziz on MMA Viking's card. Let's see if the judges agree.
Yes, unanimous decision for Rami Aziz.
Dimitri Anghelou, Sausset Fight Team, France vs. Marcus Andersson, Örebro MMA Center, Sweden

Round 1
Andersson bullies his way to top position to start off the bout, and has Anghelou pinned against the cage. Full mount for the Swede, and an arm is there for the taking, and the Swede snatches the open armbar. The humble fighter bows, ans the bulky Anghelou shakes his head in dissatisfaction. Armbar finish in Round 1 for Andersson.
Reda Sidhoum, Hybrid Fight Team, France vs. Per Franklin, Gladius MMA, Sweden
Franklin is the fitter of the two, and shows it as he defends a take-down then secures one of his own. The Swede is in control on top, and slams his opponent… damages again with punches. Franklin is in control and looking for an armbar to finish the bout, and he gets it. Franklin celebrates by hugging coach August Wallen.
15 minute break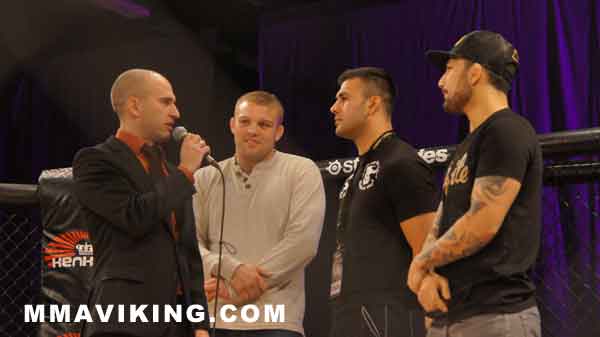 Jerome Vaulerin, Boxing Squad, France vs. Jonathan Svensson, Vallentuna Boxing Camp, Sweden

Round 1
Svensson steps into the cage, after the break.  Kicks and punches from Svensson.  The Swede pushes Vaulerin against the cage, and lands knees to the thighs… but not the friendly type, these look damaging.  Svensson ties up Vaulerin, and puts him on his back with a takedown.  Just over a minute left and Svensson takes full mount, and now has back and punching Vaulerin to the face.  Now the two scramble, but it leads to more damage.  Punches from the top and Svensson is dominating this round.  As the round finishes, Svensson throws one more blow to the bloodied French man.  The doctors take a look at the cut.
Round 2
Svensson smells blood and seems to be looking for a highlight KO as he loads up on big punches, and teases wtih ckicks.  It backfires a few time sand he is being counter struck by Vaulerin.  But Svensson seems in control and almost toying with his opponent. Leading with the hands and finishing with kicks is how the Swede gets into the clinch.  Just a big brother style slam of Vaulerin, who lands on his back.
Big punch from standing to the downed opponent who looks to be covering up, hoping he gets hit a few more times and the fight will be over. Svensson lays a few nice punches in there, and now takes back. With less than two minutes left, Svensson and Vaulerin go back to the feet, where the Swede damages with knees again.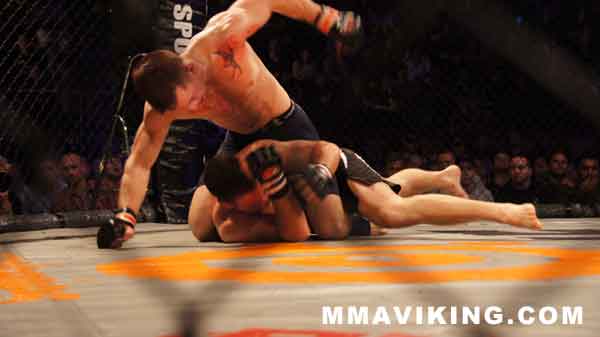 The eye of Vaulerin looks bad, but he actually has some fight left and fires back some big punches ,and a few of them get through. However the referee steps in to stop the fight, and the doctors agree that the cut is too big. Fight stopped in round 2. No complaints from anyone, except a few isolated fans.
TKO in Round 2 for Jonathan Svensson.
Aruna Vilius, Knight of Plunge, Lithuania vs. Magnus Strandner, GBG MMA, Sweden
Round 1
Magnus Strandner on top and in full mount. The strong Swede is looking to move up and press Vilius against the cage. STrandner moving for a side choke , but he gets too high and is flipped over by Vilius as time runs out in the first round. 10-9 round for Strandner.
Round 2
Strandner goes for a shot, but Vilius spins around and has back. Seems like the Swede can get out, and now he decides to do so. Full mount for Magnus again as he controls Vilius in this slow second round. With one minute left, the Knight of Plunge fighter is able to reverse… and the Swedish crowd clap to encourage their fighter. 10-9 round for Strandner.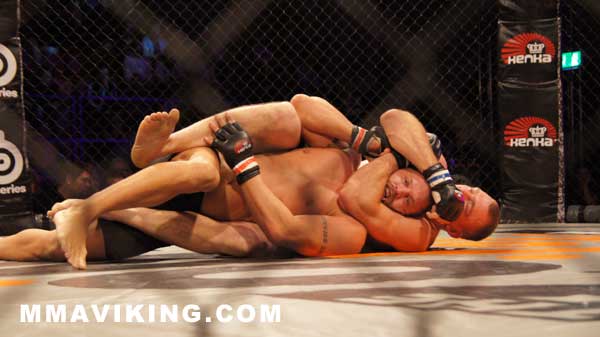 Round 3
Good left hand from Vilius, and Magnus shoots for a takedown, but it is stuffed, and the tide seems to be turning here. Big knees from the Lithuanian to the body, and again. Vilius takes the fight to the ground and is pounding away on Magnus, and the referee urges him to fight back. Two minutes, and the Swede is in trouble. If the foreign fighter had ground game, the armbar was there for the taking, but he decides to pound the side of the head of Strandner. With 1 minute left, Strandner is able to reverse and take top position. 10-9 round for Vilius.
Unofficial from MMA Viking 29-28. And the judges agree, and give a majority win for the Swede.
Jean Francois Lenogue, Team Lenogue, France vs. Martin Wojcik, Pancrase Gym, International

Round 1
Wojcik is looking to break a four fight skid, including a recent one at Superior Challenge 8. Wojcik is southpaw, tries a kick before getting his opponent against the cage. Lenogue was scheduled to face August Wallen, but he pulled out due to injury.
Lenogue leads with several punches, and finishes with a successful double-leg take-down. The crowd is quiete in this slow bout that is half way through round 1. The two go back to their feet, but the action is stopped after the Swede takes a groin kick. Uneventful round 1. 10-9 for Lenogue.
Round 2
The Frenchman is starting to get his rythme, mixing kicks and punches, and them finishing with take-downs. AFter being down, the Pancrase gym fighter is inspired and goes for an aggressive take-down, but can't finish it. A good kick for the Swede, and the two exchange. Little action in that round. 10-10.
Round 3
Round 3 and the two turn it up. The Swede goes for a headkick, and the frenchman responds . The pace has picked up, and they are swinging some leather. The crowd starts to pay attention to this slow bout. Nice combination for Wojcik, then he shoots for a double-leg, which he cannot finish against the cage. The crowd starts to clap, with 3 minutes left in the bout.
WOW. Out of nowhere Wojcik picks up his opponent and slams him on his back, but the two pop back up quickly and again clinch on the cage. Wojcik looks tired, and to his credit he took the fight on a week or so notice. Another groin shot, and we have a time-out. The fight finishes, without a clear cut winner.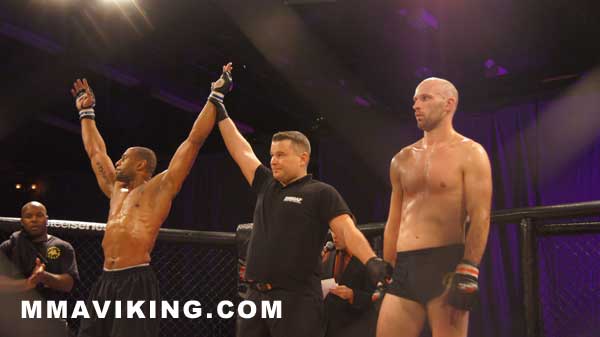 Split decision 30-27, 28-29, 29-28 for Jean Francois Lenogue.
Ion Pascu, Ministry of Martial Arts UK & Absoluto FC, UK vs. Victor Cheng, Gladius MMA, Sweden – Middleweight Title Bout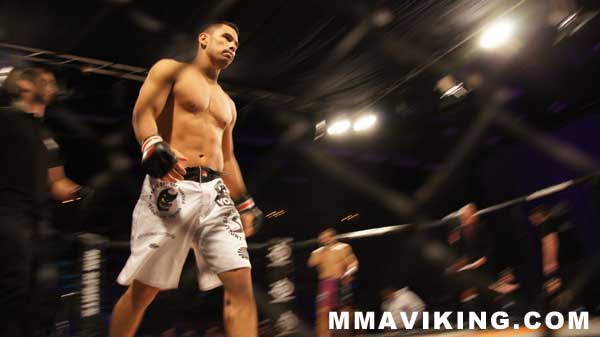 Round 1
Cheng lands a nice outside leg kick early, and repeats. Both fighters look to be confortable standing… and use their jabs to measure their opponent. The southpaw foreigner tries to defend the takedown, but Cheng is relentless with his finish and is able to get it to the ground.
Cheng working slowly to try and get to full mount. He is smothering on top, and moving forward, but the referee stands the bout up.
Pascu took the fight on short notice, but looks like a rock. Again with less than a minute left, Cheng finishes a take-down. Cheng tries to land big left hands, and the crowd encourages, but not too much damage. He does however cement round 1. 10-9 for Cheng.
Round 2
Round 2, and on the feet this fight. The two are quick, and look for their openings. A nice left from Pascu, and Cheng goes to his instincts by shooting for a double. The UK fighter defends the take-down, and seems to be waiting for a left hand. Victors signature move of a combination, leading to a double-leg takedown works nicely. There are two and a half minutes left, and the Swede is in control. Cheng lands a few good punches with his left hand, and now he passes guard, now launching knees to the body of his downed opponent.
"Victor" clap, clap, clap, "Victor" clap, clap, clap, "Victor" clap, clap, clap, is the choice cheer for tonight. Cheng again is landing with his opponent against the cage. Left an right hands now, but the power and pace of the punches are slowed. 10-9 for Cheng.
Round 3
Pascu's punches are still sharp, but it doesn't look like he will have any time to actually land… as he is put on his back after 30 seconds. Cheng fights like an American wrestler turned MMA fighter, with good wrestling instincts and natural finishing ability. He is now raining punches on Pascu, that has the crowd cheering.
Pascu with closed guard, and probably not a smart move, as he absorbs more punishment. Two minutes left. Cheng is just pounding away on the downed opponent. On his way to a unanimous decision. Cheng is tired, but the belt will be back in his hands.
Unanimous decision for Cheng.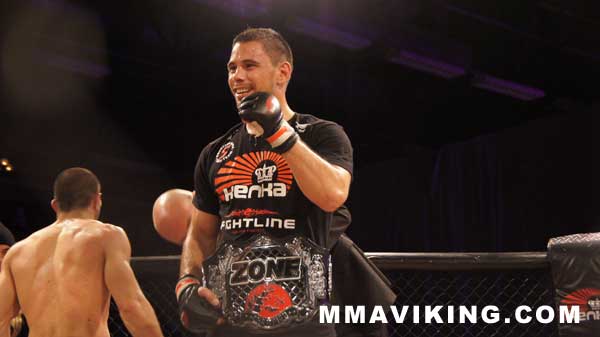 Dmitry Poberezhets, Combat Dobro, Ukraine vs. Eddy Bengtsson, Gladius MMA, Sweden – Heavyweight Title Bout

Round 1
Last fight of the night. Here we go. Bengtsson lands some nice right kicks to start. They look to be crisp and damaging. Nice addition to the Swedes game. Eddy now goes to southpaw, and tries a big head kick. Good combination for Poberezhets, as he looks to time his fighter. WOW, WOW, WOW. Poberezhets lands a crushing shot, and Bengtsson is out. The Ukrainian fighter follows-up with more short blows, but it is done, and the referee comes in to stops the bout.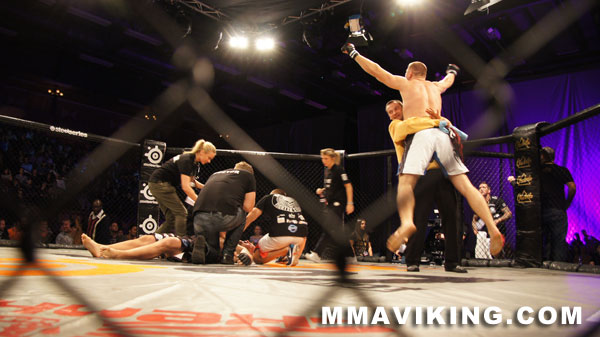 The belt is turned over to the Ukraine fighter, and the place empties quickly.
Poberezhets wins by TKO in round 1.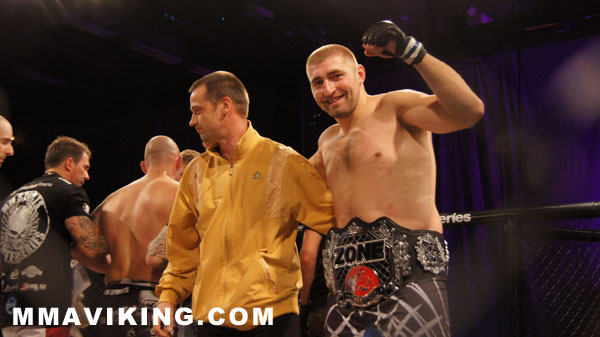 PICTURES AND VIDEO INTERVIEWS WILL BE POSTED SHORTLY. PLEASE COME BACK AND CHECK THEM OUT.