Frontline Academy fighter Joachim Tollefsen (1-0) will go to England for Phoenix Fight Night (PFN) 25 next Saturday to move forward in his pro career. Tollefsen claimed a bronze at the IMMAF World Championships, and still wants a rematch with rising Finnish prospects Aleksi Nurminen, who took gold.  The 23 year old will face Englishman Krystian Ostrowski, who got his first pro win at PFN last October by submission. Let's learn more about the Norwegian in this interview.
Interview
How did you get into MMA
I didn't choose MMA, it chose me! In the beginning I wasn't too fond of the grappling and favoured the standup. But eventually I realized how crucial it was and then I discovered a passion for submission wrestling too. MMA it was from then on.
"I remember coaching him in his first Muay Thai and grappling matches. He was so calm and cool before competing, I already knew that this kid is a natural and he is going to do great things in this sport." – Coach Mohsen Bahari
Tell us a little bit about your amateur career?
My amateur career started With the European Championships in C-Shooto in 2012 where I took bronze. After that a few matches here and there including a 16-man tournament win in the 2013 Respect FC amateur championships in the 75 kilo class. Finally I went over to Vegas for the IMMAF World's last year and took the bronze there too, but I really feel I should have won.
What are your goals for your pro career?
My goal is to be the best. To be recognized as one of the best ever.
Are there any combat sport athletes, regardless of style, you look up to and why?
Not at the moment, no. But if I had to choose it would be Jose Aldo. Just look at where he comes from and how much he has achieved.
What do you think is important for achieving success in such a tough sport as MMA?
To stand out. To be honourable in defeat and respectful in victory.
Anyone in Your weight class who you'd consider a dream opponent?
Only fight I really want if I could choose is against Aleksi Nurminen! He's a tough opponent suited to my style of fighting. And I want the hard matches right now.
When that is said he did keep me from taking gold in last year's IMMAF's World's when I broke my knuckles on his head. With two injured hands I saw no point in continuing the fight when I couldn't use my elbows. Here you go, I said, and gave the gold away.
After one round of taking a beating from me he took the title in about 10 seconds…. He owes us both the true finals match. I know I'm the best of us two and so does he.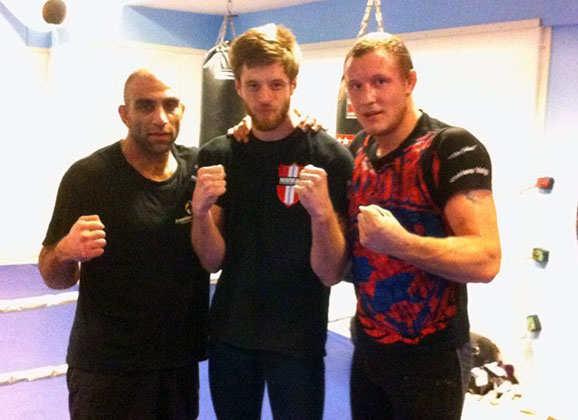 Lastly, is there anyone you'd like to thank or give a shout out too?
I want to thank my manager, Andreas Lagaard, most of all family and friends and my brothers in crime at Frontline Academy, my coaches Eduardo "Teta" Rios, Mohsen Bahari, and Jack Hermansson.