Dana White finally announced the UFC is coming to Sweden. Yesterday, a day before UFC 141 featuring Alexander Gustafsson, White gave the official word to the mainstream Swedish news outlet Aftonbladet. White talks to Patrik Syk and confirms the date and location for the much anticipated event as April 14 at Globe Arenas.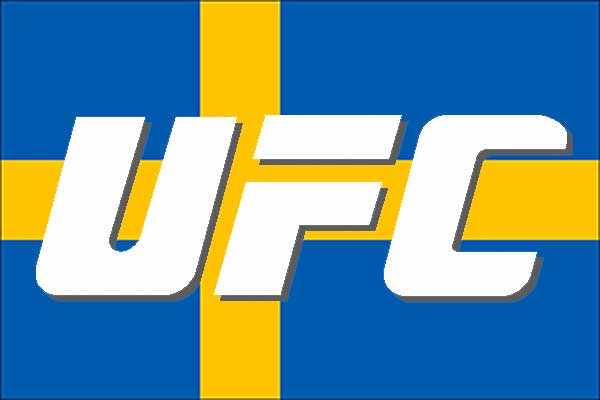 See translation of article, originally printed in Swedish, below:
Done: UFC is Coming to Sweden – Event in April

Coming to Stockholm in April: "A show of world class"
The world's largest martial arts organization, the UFC, will for the first time hold a gala in Sweden. It reaffirms the organization's president Dana White exclusively for Sportbladet.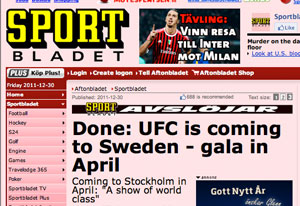 – We are coming to the Globe on April 14, it will be absolutely fantastic, he says.
The Ultimate Fighting Championship or UFC as it shortened the world's largest martial arts organization based in Las Vegas, USA. The sport is MMA (Mixed Martial Arts) and the concept, an evening of complete show, with dazzling fighting in the world of the legendary Octagon.
– One thing is for sure, we always put up a show in the world and the games we will put together for this gala, which will always be of the highest class. It is still not clear what the fighters who will participate but we want to of course have a number of Swedish interests in the ring for the home crowd, says Dana White.
One of the Swedish fighters will probably be listed as one of the attractions is Alexander Gustafsson, 24, from Arboga, which since 2009 has competed for the UFC. He is seen as one of MMA sport's greatest promise for the future and go tonight, perhaps his most important match in his career against veteran Vladimir Matyushenko in the light heavyweight class.
'Cool with Alexander'
– If he (Gustafsson) gets past (Matyushenko) him he will have proven to be among the top layer and is a future contender for the title. It would be cool if Alexander did it and we could put together a real top match for him at home in Stockholm, says White.
Natural step
The UFC now found its way to the Swedish capital is of course no coincidence. In recent years the business has expanded considerably from that particular holding galas in galas in North America to include Australia, Brazil and the UK. And expansion into new markets is exactly what Dana White look like the natural step for the giant organization.
– MMA is growing worldwide and for us it is important to continue to grow. It has snackats of Scandinavia long and it has long talked about what a fantastic MMA country is Sweden. We know that there is a large audience and lots of good MMA gym, so I am confident that there will be a superb gala. I'm really excited and proud that we got to this, says White.
Fourth in Europe
And Dana White has every reason to be proud. 2001 bought the company Zuffa, which White is a partner in, a rather weak and yelled at UFC organization for about two million dollars. Today the brand is valued at just over 2.5 billion. White himself has a big part in that success and has several times been called the sports world's answer to Steve Jobs (Apple's founder) for his visionary ways to drive their business forward and make a reality of their dreams. MMA is now one of the world's fastest growing sports, thanks to Dana White and UFC.
– We are the MMA sport's major league, so high you can get. I always thought that we would get where we have reached in the day. To be honest, I think actually we are not even close to what we will be, we've only scratched the surface. The potential for MMA as a world sport is huge and I am convinced that in ten years we will be where we want to be. Now we come to Sweden and I would not have missed for anything in the world.
Sweden becomes the fourth European country to be visited by the UFC, the gala will also be the first in Europe for 2012.
Visit original article : http://www.aftonbladet.se/sportbladet/kampsport/mma/article14144032.ab
"Like" MMA Viking on Facebook and follow us on Twitter for updates on Botnia Punishment and Nordic MMA news.