Alexander Gustafsson kept his winning streak going with another victory on his first UFC main card appearance. The Swede is now a title contender, and made a splash tonight with a TKO at 2:13 and 4 straight wins in the Octagon. A left jab sent Vladimir Matyushenko to the canvas at the two minute mark of the fight, and followed up with punished on the turtled-up veteran to bring an end to the fight. Much of the fight prior to the finish, was a slow pace of faints by the Swede, with the Janitor looking for opportunities to counter.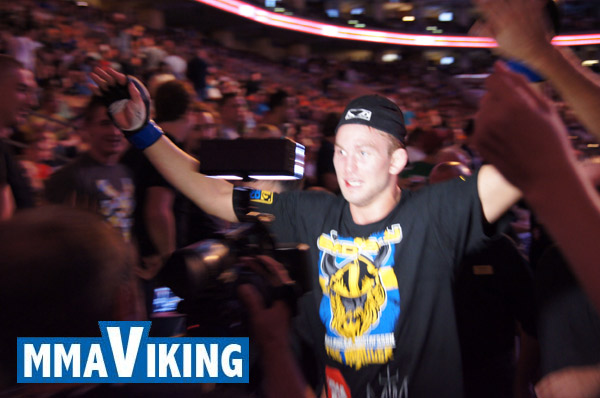 Gustafsson was making his debut in Las Vegas, and made a splash in a week filled with Swedish MMA news, as Dana White announced that the UFC would come to Sweden April 14.
The Mauler runs his overall record to 13 wins and 1 loss. The Stockholm Shoot fighter, who adds training at Alliance in San Diego, is now 5 and 1 in the UFC, and will be set to take on a top-contender in the light heavyweight division as he climbs his way toward a title shot.
Full Results
Diego Nunes Winner Manny Gamburyan
Decision (Unanimous)
Jacob Volkmann Winner Over Efrain Escudero
Decision (Unanimous)
Dong Hyun Kim Winner Over Sean Pierson
Decision (Unanimous)
Danny Castillo Winner Over Anthony Njokuani
Decision (Split)
Ross Pearson Winner Over Junior Assuncao
Decision (Unanimous)
Jim Hettes Winner Over Nam Phan
Decision (Unanimous)
Alexander Gustafsson Winner Over Vladimir Matyushenko
TKO (Punches) – Round 1 at 2:13
Johny Hendricks Winner Over Jon Fitch
KO (Punch) – Round 1 at 0:12
Nate Diaz Winner Over Donald Cerrone
Decision (Unanimous)
Brock Lesnar Versus Alistair Overeem
TKO – Round 1
"Like" MMA Viking on Facebook and follow us on Twitter for updates on Nordic MMA news.