"Life is so complicated." says Reza Madadi to MMAViking.com shortly after finishing wrestling practice at Allstars Training Center.  "Mad Dog" has served his time in jail, and is now philosophic about where he is as a 36 year old free agent fighter, that last downed UFC title contender Michael Johnson two years ago in the Octagon.
"I'm disappointed in myself.  Guilty or not guilty.  I still put myself in that position." says Madadi that has now been putting his time into getting back into where he left off.  "I love to fight. And the feeling….. Maybe I will fight till I'm 40."
On the 3 year anniversary of his UFC debut in Stockholm, we look back at the exciting debut of the Swede versus Cuban Yoislandy Izquierdo.  "I had the Cuban flag underwear, and he was crazy." says Madadi that says he was more focused on enjoying himself and hyping the crowd than fighting.  "One of the biggest mistakes in my fight life.  I was so happy, it was like walking to the night club." admits the lightweight that forgot about fighting.  "The important thing is to never give up." says Madadi that thinks his mental toughness is what makes him different than others with similar talent.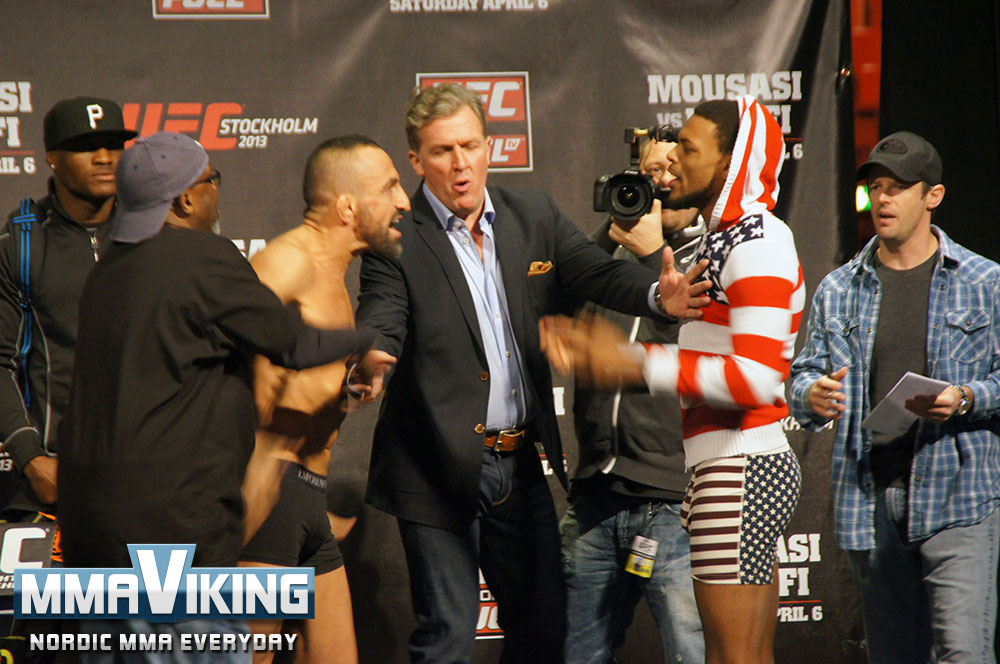 "Everything happens for a reason" says Madadi, who beat Michael Johnson back in 2013 with a brabo choke.  The American has gone on to win 4 straight bouts since then.  "I am so happy for him.   He grew up without his father, and we had the same situation."
"One of the biggest passions of my life is to come here." says Madadi that is a magnet walking around the gym, greeting every person by name and joking with them individually.  "You can't keep fighting your whole life, you need space for the younger generation." confesses Mad Dog that talks about being a continual target for the younger fighters that come in and test him everyday.
Madadi also talks about the last time he almost got near the UFC cage, as a coach for Niklas Backstrom this last October, while he was still doing time.  The fighter got permission to leave prison to coach his teammate that he frequently coaches.  "I wanted to be in Backstrom's corner, but the UFC didn't let me."
"It is my destiny to come back to the UFC." continues Madadi, that plans to move forward with his career as opportunities present themselves. See the full video interview here:
Video Interview
Filmed and edited by Daniel Schälander