Official Nordic MMA Rankings
Since 2011, MMA Viking has published the official Nordic MMA rankings.  MMA Viking's Joona Pylkäs led the creation of the ranking system, which show where fighters out of Iceland, Denmark, Finland, Norway and Sweden rank.
The well-respected rankings have been used by such promotions as Cage Warriors and Royal Arena.  The list includes the top five in each of the weight classes for men and the top five overall for women.  "Contenders" are also listed in each weight class to recognize fighters that have been in discussion for a top 5 ranking.
View Current Rankings:
Past Rankings :
• April 2013 Update
• January 2013 Update
• October 2012 Update
• June 2012 Update
• April 2012 Update
• March 2012 Update
• November 2011 Update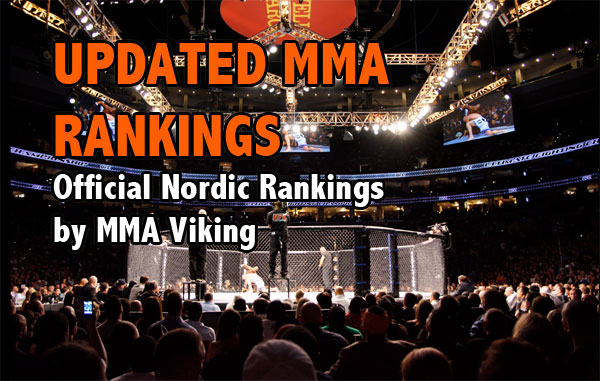 MMA Viking's ranking criteria.
A fighter can be ranked in MMAViking's Official Nordic Top Five rankings if he/she meets following conditions:
Born or permanently living in one of the Nordic countries (Iceland, Denmark, Finland, Norway and Sweden)
Fought in MMA within a year
Note 1: Rankings are always somewhat subjective no matter how you do them. Things that we try to emphasize when we rank the Nordic fighters: actual results, activity and quality of opponents.
Note 2: Fighters that drop down or go up a weight class will not be ranked in their previous weight class when it seems that the move is somewhat permanent. However their previous status in the upper or lower weight class will be taken into consideration when ranking them in their new weight class. Weight class changes will be handled on a case by case basis since there's hard to find any universal rules for these cases.