MMA Viking's Official Nordic MMA rankings have been updated once again. We have taken into consideration all recent events including UFC, Bellator, Cage, Cage Warriors, Superior Challenge and many other shows.  This is the second update of 2014.
Heavyweight Rankings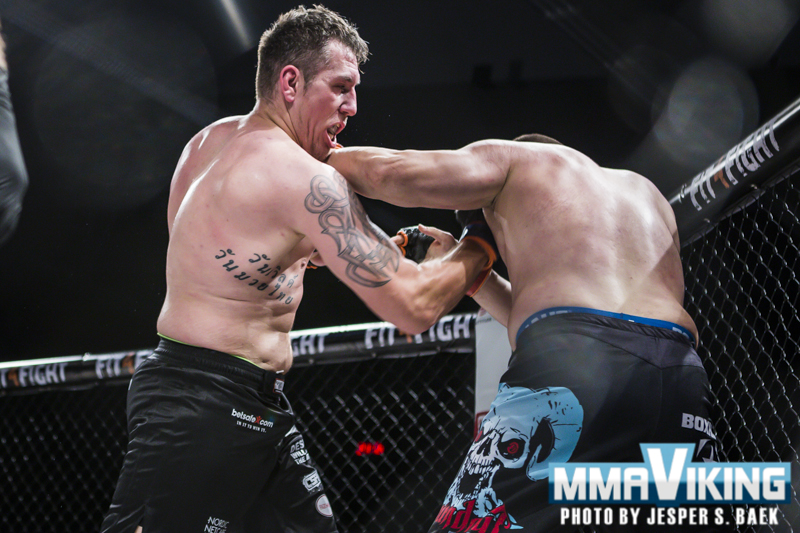 Summary: Nordic heavyweight division is still thin in number of fighters.  While we also track with Estonian MMA with the rising Denis Smoldarev (8-0-0), the Nordic big men are few.
Denmark's Christian Colombo has gone 5-1 during last twelve months. At European MMA 6 in September of 2013 the Dane took a dominant decision win over German vet Andreas Kraniotakes (17-7). Colombo hasn't fought since.
Yosef Ali Mohammad continued his string of quick victories at Superior Challenge 10 where he submitted last minute replacement Mike Neun of England with a kimura after a minute of fighting. Gigantic Mohammed is exceptionally athletic for a man of his size which alone makes him one of the most interesting prospect in the Nordics considering all weight classes.  Look for him at Strength & Honor Championship X in September.
Christian Golcic was set to fight Mohammad at SC 10 but SMMAF suspended the athlete before the fight due to ongoing criminal investigation.
Light Heavyweight Rankings
Contenders: Karl Albrektsson (Swe), Magnus Strandner (Swe)
Dropped out: Antti Kästämä (Fin) due to inactivity.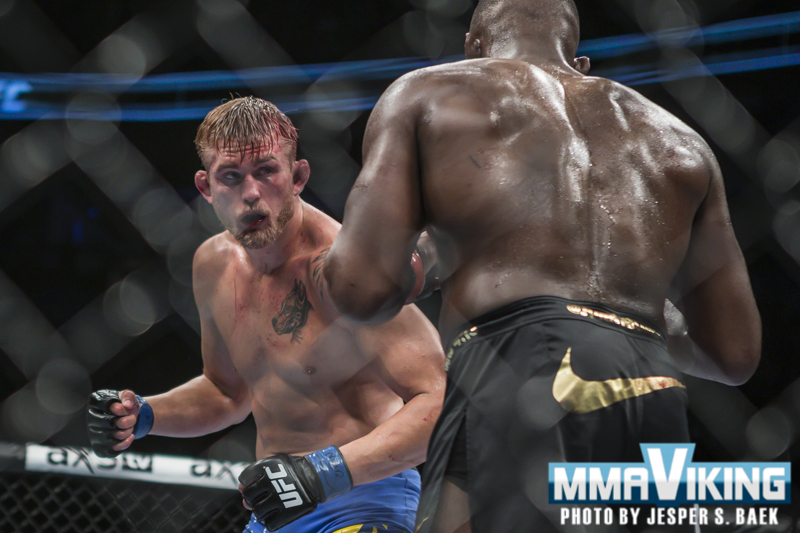 Summary: Sweden's superstar Alex "the Mauler" Gustafsson is in a league of his own at the Nordic light heavyweight division. The Swede extended his string of impressive performances at UFC London where he send British striker Jimi "Posterboy" Manuwa to oblivion with strikes in the second round.  Gustafsson is currently rehabing the injury that took him out of the rematch with Jon Jones. The Mauler has said that he will hold out for the title shot, but in reality he will probably lock horns with Anthony "Rumble" Johnson if the UFC has its way for the undisputed #1 contender spot.
Sweden's Ilir Latifi took his second UFC win of the year at UFC Dublin with a quick knock out win over American newcomer Chris Dempsey. Latifi will welcome Polish Jan Blachowicz to the UFC at the UFC Sweden III in October.

Marcus "Caveman" Vänttinen defended his Cage light heavyweight title for the third time in 2013 at November's Cage 24 where the Finn won a decision over Brazilian Charles Andrade. Vänttinen has been injured twice since the win over Andrade, and recently pulled out of his anticipated bout at Cage Challenger Tampere. The Finn currently in rehab mode and expected to return to action in early 2015.
Danish BJJ black belt Joachim Christensen won a hard fought decision over Sweden's Matti Mäkelä at Superior Challenge 10 so the two switch places on our rankings.  Look for the Dane to return when Superior Challenge to defend his belt when the organization comes back to town later in the year.
Middleweight Rankings
Contenders: Alan Carlos (Swe), Mikko Rupponen (Fin), and Timo Suhonen (Fin)
Dropped out: Andreas Spång (Swe), Papy Abedi (Swe), and Marcus Andersson (Swe) due to inactivity.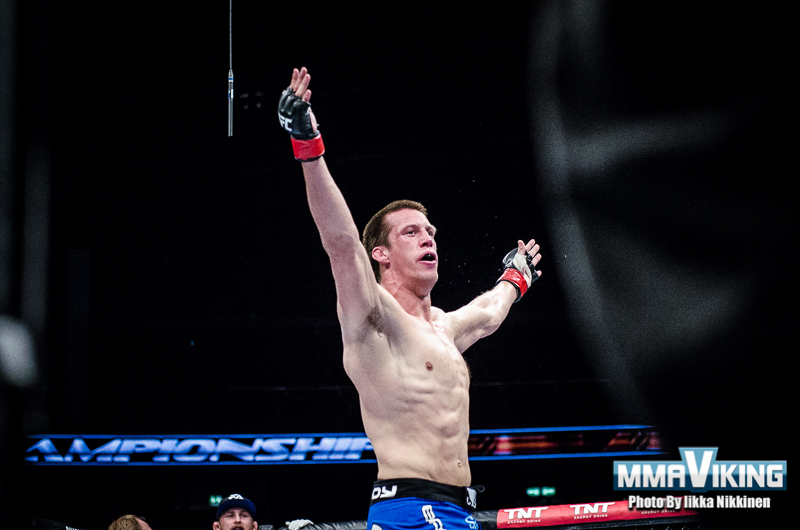 Summary: The top Nordic middleweights have been active lately with some winning and some losing their recent bouts. There's a new number one in the middleweight ranking as Sweden's Magnus Cedenblad takes the lead.
Hulking middleweight Magnus "Jycken" Cedenblad took his second straight UFC win in May at UFC Fight Night 41 where the Swede tapped out previously undefeated Polish Krzysztof Jotko with a guillotine choke in the second round. Cedenblad will face UFC newcomer England's Scott Askham in October at UFC Sweden III.
Danish tank Mikkel Parlo drops down to second spot. Parlo is coming off a win at Bellator 115 on 4th of April. The Dane dominated American Johnny Cisneros for three rounds and took home a clear cut decision victory.  Parlo had knee surgery and won't be in the cage soon.
Swede Jack Hermansson is on a meteoric rise and goes straight to third spot. After an unsuccessful stint at Bellator, Hermansson has stepped up his game and gone 4-0 in 2014 in Cage Warriors. In June he took the Cage Warriors belt with a quality win over tough Frenchman Norman Paraisy. In August Hermansson defended his belt successfully and knocked out Bulgarian challenger Deyan Topalski in the first round at Cage Warriors 71.
Umeå's Tor Troeng lost to Trevor Smith by decision at UFC Dublin in July. That was Troeng's second loss in a row in the UFC so the Swede will be fighting for his job at UFC Sweden III where he will locks horns with Poland's Krzysztof Jotko.
Sweden's Mats Nilsson made his UFC debut on the London card where he faced UK's rangy Luke Barnatt. Nilsson showed off his improved striking early in the fight but Barnatt's head kick sent the Swede crashing down late in the first round. Next bout for Nilsson hasn't been announced yet, and is likely to be in the welterweight category.
Welterweight Rankings
Contenders: Glenn Sparv (Fin), Jonatan Westin (Swe), David Bielkheden (Swe), Johan Vänttinen (Fin), Morten Djursaa (Den), Bruno "BC" Carvalho (Swe), Kai Puolakka (Fin),  Simeon Thoresen (Nor), Juho Valamaa (Fin), Bessam Yousef (Swe), Emil Weber Meek (Nor), Mark O. Madsen (Den)
Dropped out: Martin Kampmann (Den), Chris Spång (Swe) and Arni Isaksson (Ice) due to inactivity.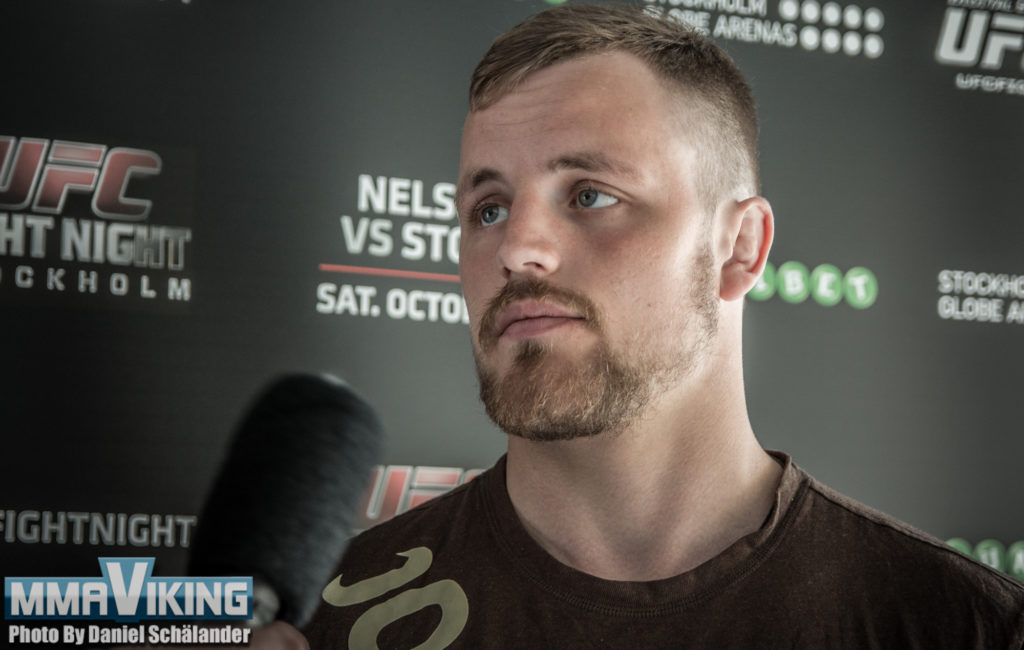 Summary: Nordic welterweight division is getting stronger and deeper all the time with hungry young prospects emerging from every Nordic country. Danish UFC star Martin Kampmann drops out due to inactivity. At this point it is unclear if the Dane will still continue his fighting career or will permanently move into coaching and playing poker.
Icelandic fighting phenom Gunnar Nelson continued his string of impressive performances at UFC Dublin where he submitted tough American Zak Cummings late in the second round. Undefeated Nelson is now 4-0 in the UFC with three submission victories and two Performance of the Night bonus checks. The Icelander will face a big step up in competition at UFC Sweden III where he will face experienced Rick Story who holds a win over current champ Johny Hendricks.
Sweden's Nico Musoke dropped a hard fought decision to TUF winner Kelvin Gastelum at UFC Fight Night 44 in June. Musoke, who is 2-1 in the UFC, will look to bounce back to win column at UFC Sweden III where he will battle Russian Alexander Yakovlev.
Denmark's next welterweight star Nicolas Dalby fought Ukranian  Sergei Churilov at Cage Warriors 66 in Copenhagen. Dalby sent Churilov to sleep with a devastating head kick in the fourth round and captured the Cage Warriors welterweight belt. It's quite safe to say that we'll see the Dane soon in the UFC, and another impressive win from the Rumble Sports fighter against former champion Gael Grimaud on September 13 could do it.
Norway's Mohsen Bahari won another tight match as he followed up his victory over Bruno Carvalho with one against former UFC fighter Ben Alloway at CWFC 69, which extended his three fight winning streak.  The Frontline MMA fighter seems to be building confidence with each bout, and could challenge for the Cage Warriors Belt soon.
Andreas "Real Steel" Ståhl finally made his UFC debut at UFC on FOX 12 where the Swede dropped a decision loss after a grueling fight with Gilbert Burns. Ståhl suffered serious fractures to his face early in the fight but never gave up. It will probably take few months until we'll see Ståhl back in the Octagon.
Lightweight Rankings
Contenders: Niko Puhakka (Fin), Mikael Nyyssönen (Fin), Fernando Gonzalez (Swe), Ott Tõnissaar (Est), Diego Gonzalez (Swe)
Dropped out: Kennt Mattson (Fin) due to inactivity.
Summary: Nordic lightweight division is going through a bit of a turmoil right now with the most well known fighters suffering setbacks lately while the young prospects are just beginning their journey to the international level.
UFC vet Anton Kuivanen stays barely at the top spot after a flash knock out loss to high level American Dakota Cochrane at Helsinki Fight Night in June. Before the loss Kuivanen had racked up two impressive knock out victories over Euro circuit veterans Diego Gonzalez and Oriol Gaset.
Denmark's Damir Hadzovic, who just entered our rankings in April, rises now already to the second spot. The Bosnian Bomber scored another solid win in the Cage Warriors promotion when he won a decision over previously undefeated Scotland's Martin Delay at Cage Warriors 69 in July. Before that Hadzovic knocked out UFC vet John Maguire at Cage Warriors 66.
Dane Ayub "Zap" Tashkilot hasn't fought since February when he took home a hard fought decision win over Estonian Ott Tonissaar at EUMMA 8.
Finnish veteran Juha-Pekka Vainikainen lost UFC vet Efrain Escudero by stoppage in the third round at Superior Challenge 10. Before the loss to Escudero, the Finn beat a decision win out of German TUF alumn Nordin Asrih at Cage 26.
Finland's Teemu Packalen enters rankings with clean 5-0 record. FinnFighters Gym's grappling ace has finished all of his opponents so far and four of them in the first round.
Featherweight Rankings
Contenders: Greger Forsell (Fin), Frantz Slioa (Swe), Makwan Amirkhani (Fin), Rami Aziz (Swe), Matteus Lähdesmäki (Fin), Tommi Marttinen (Fin), Jorgen Matsi (Est)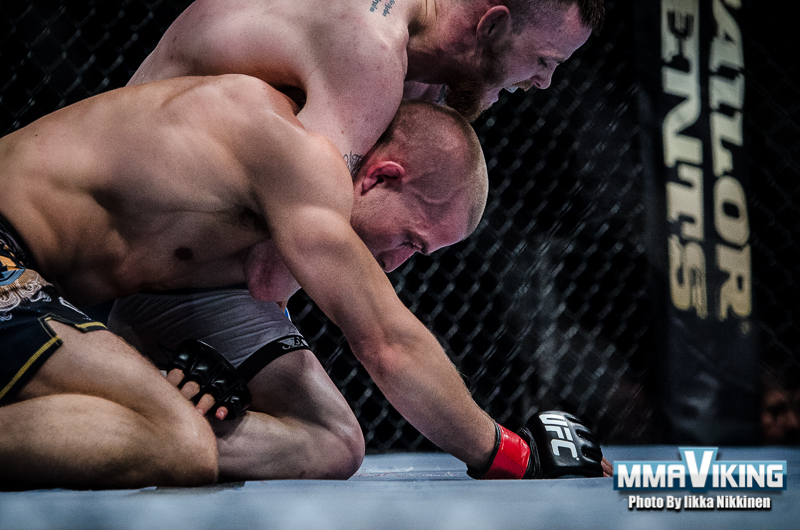 Summary: Nordic featherweight division is a shark tank at the moment with an army of hungry fighters working their way up the ladders.
Undefeated Nicklas Backström takes the lead of the featherweight pack with an impressive submission win over Finland's Tom Niinimäki at UFC Berlin in May. The Luleå fighter will face The Ultimate Fighter alumn Mike Wilkinson of England at UFC Sweden III.
New Jersey based Akira Corassani put on a great performance against top ranked Dustin Poirier at the TUF Nations finale but eventually lost the fight by TKO. The fighters were awarded with the Fight of the Night bonus checks. Corassani will face another stiff test at UFC Sweden III where he will scrap with the Max Hollway.
Tom "Stoneface" Niinimäki was submitted by Chas Skelly in the first round at the UFC Fight Night in Tulsa. The Finn is now 1-2 in the UFC with a loss to Backström and a quality win over Rani Yahya in the debut.
Sweden's Martin Svensson climbs a spot with a decision win over England's Dave Hill at Cage Warriors 71.
Finland's Joni Salovaara looked sharp at Cage Challenger event in Tampere where the Finn scored a headkick knock out over Frenchman Nicolas Joannes.
Bantamweight Rankings
Contenders:  Mika Hämäläinen (Fin), Martin Akhtar (Swe), Tuomas Grönvall (Fin), Mohammad Badadivand (Swe)
Dropped out: David Haggström due to inactivity.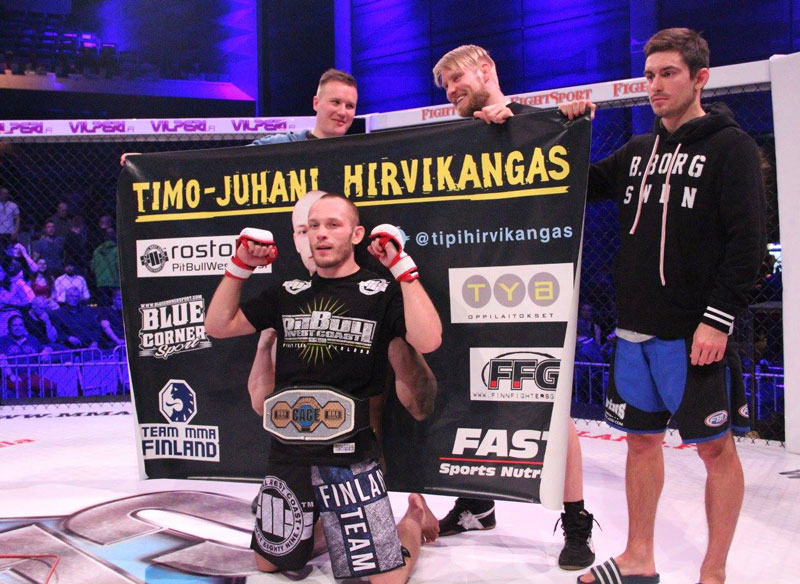 Summary: Nordic Bantamweight Top Five is a competitive  bunch with the top three being potential UFC fighters in the very near future. There's also good amount of potential also in the contender section.
Three time ADCC Euro champ Tipi Hirvikangas is the leader of the pack. The skilled Finn is riding a four fight win streak. Latest win came at Cage 26 where Hirvikangas TKO'ed Polish prospect Tymoteusz Swiatek (12-2) in the first round with strikes from the mount.
Finland's Toni Tauru hovers around at second place after an impressive performance at Cage Warriors 66. The Finn dominated Sweden's Martin Akhtar on the ground and finished job with a rear naked choke late in the first round. Tauru has won his last nine bouts with last six ending to a submission. The Finn is set to fight Englishman Cory Tait at Cage Warriors 72 in mid September.
Sirwan Kakai returned to action at the Zone 13 where he TKO'ed England's Carl Fawcett late in the third round.
Finland's Janne "Jamba" Elonen-Kulmala extended his winning streak to six consecutive victories at LFN 10 where he beat tough Ukranian Vitali Branchuk by decision.
Swedish prospect Emil "Megahertz" Hartsner enters the bantamweight rankings with a solid 5-1 record. The lone loss came in the hands of Toni Tauru but Hartsner bounced right back to winning ways at EMMA 9 where he submitted Dimitriy Shapoval in the first round.  He will headline the upcoming Trophy MMA card in Malmo.
Flyweight Rankings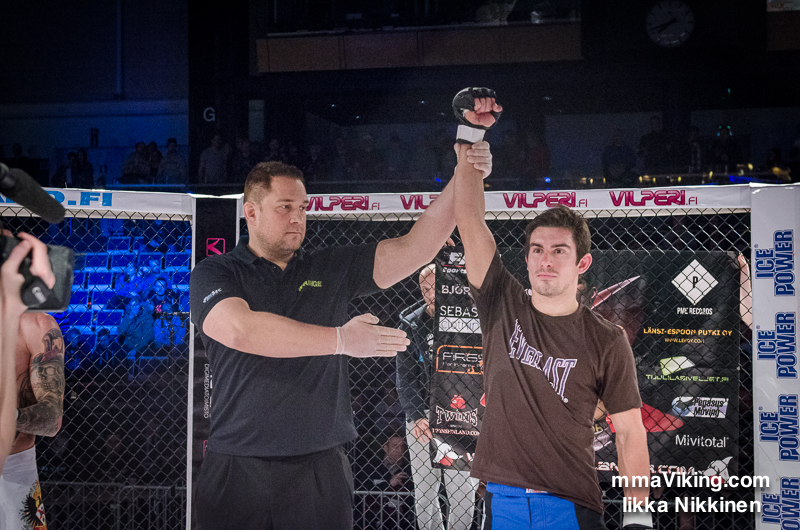 Summary: Finnish flyweight prospect Mikael "Hulk" Silander took his 4th straight win at Cage Challenger where he submitted Bulgarian Dimitar Kostov with a standing guillotine choke in the second round.
Sweden's Bilal Musa enters the flyweight rankings with a decision win over Englishman Craig Derbyshire at Superior 10.
WOMEN Rankings (All Weight Classes)
Contenders: Elina Nilsson (Swe), Eeva Siiskonen (Fin), Linn Wennergren (Swe), Iman Darabi (Swe)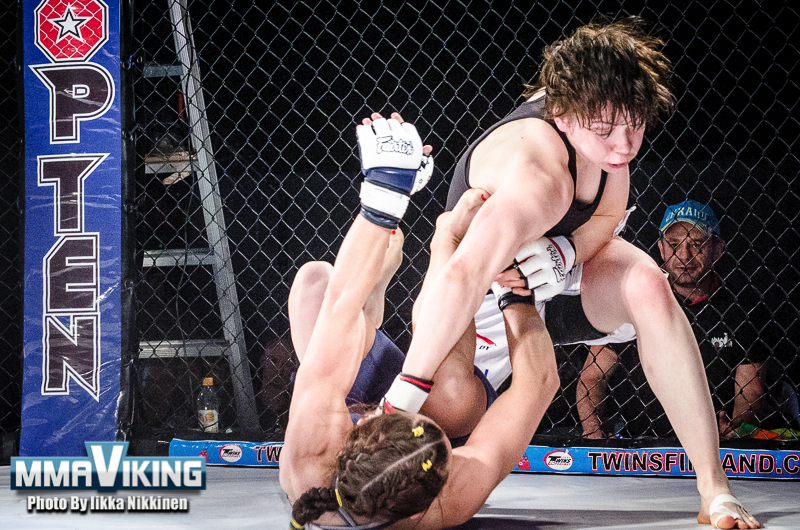 Summary: Finland's Katja "Killer Bunny" Kankaanpää keeps her top spot with a submission win over tough Alyona Rassohyna at LFN 10. Kankaanpää will fight American Stephanie Eggink for the Invicta belt at Invicta 8 in early September.
Undefeated Pannie "Banzai" Kianzad hovers at second place with two recent wins. Kianzad was victorious in May at Superior Challenge 10 where she took home a decision win over Italian Annalisa Bucci. In August the Swede beat Holland's Megan van Houtum at Cage Warriors 71 by TKO in the 3rd round.
UFC fighter Tina "Jellybean" Lähdemäki suffered her first defeat in her UFC debut at UFC Fight Night 45 in July. The Finn put on a good performance against Glaudia Gadelha but in the end it was a clear cut decision win for the Brazilian. The bout between the two was the first ever strawweight fight in the UFC.
Lina Akhtar Länsbarg rises to fourth spot with a dominant first round TKO win over England's Laura Howarth at Cage Warriors 71.
Denmark's Maria Hougaard Djursaa lost by decision in a close bout to Italian Annalisa Bucci at EMMA 9.
For the previous update from Aprl 2014, or more information regarding MMA Viking's ranking criteria and full listing of previous rankings.